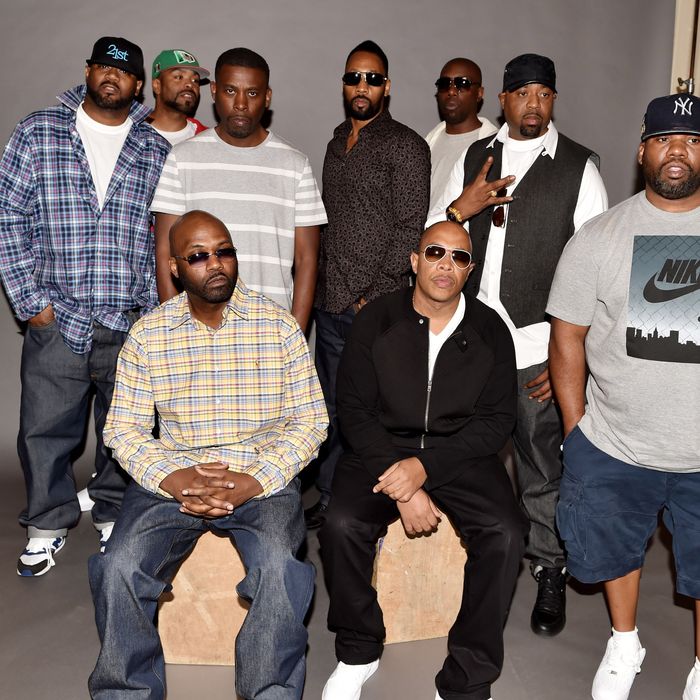 (L-R, standing) Rappers Ghostface Killah, Method Man, GZA, RZA, Inspectah Deck, Cappadonna, Raekwon, (L-R, seated), Masta Killa and U-God of the Wu-Tang Clan pose at a press conference to announce they have signed with Warner Bros. Records at Warner Bros. Records on October 2, 2014 in Burbank, California. (Photo by Kevin Winter/Getty Images)
Photo: Kevin Winter/Getty Images
Here's something we never thought we'd say: Today A Better Tomorrow (Warner Bros.), the Wu-Tang Clan's sixth studio album, is finally tracked, mastered, and available to buy. Yes, after years of internal turmoil that often spilled into the media, all ten members of the Wu are once again together. (RIP, Ol' Dirty Bastard.)
It seemed like this might never happen. Just over six months ago, Raekwon went "on strike," which prompted RZA to issue an ultimatum and tell SI Now, "it will either be an album without Raekwon, or an album that never sees the light of day." You could fill an entire printer tray with the trials and tribulations of the Wu — hell, we did! But unlike that last update on our Shaolin friends, this timeline has a surprise twist and a happy ending.
March 7, 2011: Raekwon releases Shaolin vs. Wu-Tang, a solo concept album. It includes three verses from Ghostface Killah and boasts appearances by GZA, Inspectah Deck, and Method Man, though not RZA. Though originally perceived as division in the ranks, Raekwon clarifies to Vibe, "RZA doesn't have to be on every album. I wanted to give some other producers a chance. It's not about beef."
June 29, 2011: Raekwon tells Spinner: "It's kind of early to announce a new album right now. We've been working on some things, though … As far as Wu-Tang goes, it's something that we really got to get together first for."
July 15, 2011: With the whole group on tour in Edinburgh, Ghostface Killah sits down with DJ Semtex backstage: "Probably in May [2012]. A Wu-Tang album should be on the streets in May, y'nah mean?"
December 5, 2011: Raekwon, to Billboard, on plans for the group's 20th anniversary: "We've been sitting around talking. We got something lined up. I can't speak on it yet because it's still confidential until it's actually solidified."
December 9, 2011: RZA, to Billboard: "I don't know, yo. I see the Wu-Tang guys the next few weeks from now, we'll see what the energy is."
February 1, 2012: "Working on new music." —a Wu Tang Clan post on Facebook.
February 2, 2012: In an interview with DJ Vlad, Raekwon says, "I feel like us — in a certain way — doing our own projects hurt us. I never told nobody that. When we had something so strong and so pure, so solid together, it could've been structured more togetherly. It could've been more stronger if it knew it had to stay like that. But when we allowed each other to do us, some did better than others. And when some did better than others, it created a whole reaction in the movement." He says if the group had only done Wu-Tang projects, they would "have 30 albums by now."
April 3, 2012: "There's been talk [of an album]. But I don't know what going on, you know? I can't say." GZA tells Rolling Stone, "I mean, we haven't been on the same page in years […] Sometimes that match burns out." He says he's still working on his own, so he's not entirely bothered by the situation.
September 5, 2012: Wu-Tang posts on Facebook: "Who's ready for a new album?"
October 9, 2012: While promoting The Man With the Iron Fists, RZA goes on a one-man tour to get this album happening. First, with the Breakfast Club morning show, he reveals that "everyone's onboard" for the planned 20th anniversary: world tour, a record, everything.
October 10, 2012: … Then to "Sway in the Morning": "Next year, November 2013 — I'm going back from 1993 to 2013, that's our 20-year anniversary. So I told the brothers we should definitely come together and maybe do something to close the book. So we've been building about it. If life permits and the energy is proper, maybe next year on the same date or the same time we put out 36 Chambers, we'll put out a final chapter of recorded music."
October 17, 2012: … And then to the New York Times: "There's one last job Wu-Tang Clan must do. The 20th anniversary [of Enter the Wu-Tang (36 Chambers)] is next year. And we need to, one time, completely, efficiently, properly, professionally represent our brand. One more time. But this time, showing up on time for press and for concerts and studio. Do it one time, perfect."
October 22, 2012: "It is not easy to get these guys all together, but we got them all here tonight." —Jimmy Fallon, introducing the Wu-Tang Clan before they perform "Six Directions of Boxing" from The Man With the Iron Fists, on his Late Night show. Raekwon and Method Man are not on the song, so they are not there.
November 5, 2012: "New WU TANG CLAN Album coming soon." —Wu-Tang Clan on Facebook.
November 15, 2012: "We've been talking about it and it's a lot of discussion about it, but it's not consolidated yet," says Raekwon, to the people at Global Grind. "We know as a group that 20 years in the business is something serious, so there was a couple of conversations going on about it … you know, everyone's so nonchalant about shit, like they don't know if it's going to happen. For me, it's like I don't respect that because it should happen. It should happen in a way where it can help us from all the shit we've been through together."
November 27, 2012: Ghostface Killah and Sheek Louch combine to create Wu Block, an album that features Raekwon, Jadakiss, Cappadonna, Method Man, Styles P, Masta Killa, GZA, Erykah Badu, and Inspectah Deck. RZA is a notable absence.
December 15, 2012: Raekwon to Hip-Hop-N-More: "We've been talking about these things. You know, it's important to know that we're really gonna do it right. So, it's been speculations, you know what I mean? At the end of the day, I can't see us not doing it in the greatest way … and the right way, neither. I don't want to do it any other way but the right way. We've been talking about doing a couple of things. Maybe you might see the Wu do their own reality show. You know, something that makes sense to the masses for the last twenty years."
January 9, 2013: Wu-Tang posts on Facebook: "Wu Tang Album is in the works. Hold on tight." (This is later deleted.)
March 3, 2013: "This year will be [the Wu-Tang Clan's] 20th anniversary. How many brothas kept a job for 20 years? The same job. That's the shit. We owe that shit to each and every fan that ever supported our music, and that's real talk." -—Method Man, in concert in L.A. He goes on to say, "Man, we got an anniversary coming up. The Wu-Tang anniversary album coming up, we working on that now. Some nice treats on there." And as for a release date? "This year. This fucking year." Okay.
March 10, 2013: "I already spoke to the RZA," Wu-Tang affiliate Cappadonna says in an interview with Radio.com. "We've been texting each other. We're definitely concentrating on more positivity and teachings and trying to put that back into the original recipe for this next Wu-Tang album." He adds, "The recording's already started. It's all being done in the secret Wu-Tang bat chamber."
February - October 2013: Drake puts out a song called "Wu-Tang Forever." A remix is promised, featuring all the members of Wu-Tang Clan. While everyone is initially on board, verses only come in from Cappadonna, U-God and Masta Killa. Raekwon claims it's because the group was on tour. Inspectah Deck felt it wasn't a tribute to the group at all. It's another thing to fight about. The remix is scrapped.
June 15, 2013: Wu Tang posts on Facebook: "Wu-Tang Clan rocks Bonnaroo. Raekwon the Chef got issues again. Basically he was a no-show."
June 15, 2013: Soon after, Wu-Tang again posts on Facebook: "My apologies Facebook fans sometimes we get a little overwhelmed when having to deal with business. After all we've been friends since elementary school. We will make a deal and get this shit popping."
June 27, 2013: RZA, to HipHopDX: "It's looking real promising. Method Man did a lot of verses already. [Ghostface Killah] is writing some verses. U-God came over last week and took some music to write his verses. Masta Killa's been very on-point with his verses. Inspectah Deck, myself [have been working too]." Raekwon and GZA haven't contributed at all, he says.
July 7, 2013: Cappadonna tells DJ Vlad the album's halfway done but they had to stop because of recent shows. That being said, whatever the direction is, he sort of wants to change it: "I wanna reach out to some of my brothas, man. We don't got nothing on there from Swizz [Beatz]. I think RZA should only do half of that album and the rest should be like Swizz Beatz, Primo, even get one from Puffy, man, c'mon."
July 25, 2013: Inspectah Deck says, "RZA has a bunch of Ol' Dirty tracks and verses that for years nobody's heard and, from my last conversation, we're supposed to have an Ol' Dirty track on there. It may be by itself or we might join it on to another song. But Ol' Dirty is going to be part of this album, that's a fact." While everyone has been claiming this will be Wu-Tang's last album, Inspectah Deck says, "I feel young, young enough to do like three more."
July 26, 2013: The brief festival tour they've been on — where they headlined Coachella, Bonnaroo, and Hot 97's Summer Jam, which somehow wound its way through Europe as well — ends. A planned documentary, meant to coincide with the anniversary, filming all summer, is scrapped.
November 8, 2013: In an interview where he also calls out Raekwon, RZA seems to have given up hope: "If they give that energy, I will give us a great last album. If they don't give us the energy, I gotta figure out a plan B."
November 9, 2013: RZA tells Grantland, "The dream was to have it come out this week. It should have came out on our anniversary date." Today is the 20th anniversary of 36 Chambers.
November 12, 2013: XXL asks Method Man what he can say about the 20th anniversary, which has now passed: "Nothin'. Nothin'." He then says, "I'm about to give you some real shit — it started off shaky dog. Niggas didn't like the concepts that RZA was comin' with at first, or this whole overall look for the album. He wanted it to be light, we wanted it to be dark."
November 12, 2013: Wu-Tang posts to Twitter: "RAEKWON NOT GIVING INPUT HOLDS UP WUTANG CLAN 20TH ANNIVERSARY ALBUM AND MOVEMENT." RZA goes on Arsenio, repeating his claims that Ghostface's been giving 20 percent, Raekwon none at all.
November 21, 2013: RZA does an interview with the AP where he says the album is "at least six weeks off," and says, cryptically, he's not sure if the project can be completed without Raekwon: " Raekwon is a valuable energy to the Wu-Tang, his voice, his lyrics, his approach."
January 4, 2014: RZA posts to Twitter: "Leaving NY after 10 days in studio working on A better Tomorrow, it's not easy being Abbott of the Wu but I'm blessed with this position."
March 18, 2014: "Keep Watch," a new Wu-Tang single, drops out of nowhere. Simultaneously, A Better Tomorrow becomes available for preorders via their website. A press release says the album's "in the works and almost ready to ship." Raekwon tweets, "Keep dreaming."
March 26, 2014: Forbes reveals that Wu-Tang has an album (a double album, even!) completed, recorded in secret over the past several years. Called Once Upon a Time in Shaolin, it's a single-pressing, one-of-one original, which can be bought for $5 million. Everyone, including Raekwon, is supposedly on it.
April 2014: Raekwon is on the phone with Rolling Stone, where he says he's "on strike" because of RZA's "mediocre music." He says, "I would never let my fans down and make something I feel is mediocre just to say I made it. That's not Raekwon."
April 22, 2014: RZA tells Raekwon (through Fuse's Esteban Serrano), "I want Raekwon to be a part of the new Wu-Tang Clan album."
April 23, 2014: Wu-Tang posts on Facebook: "How bad do you want a copy of the Album?"
May 12, 2014: The Wu-Tang official website proclaims: "Breaking news : Raekwon and Rza truce : Raekwon scheduled to hit studio to complete verses for album : A Better Tomorrow, Details coming!"
July 24, 2014: U.K. music site Clash gets the exclusive from Raekwon: "We finally reached some kind of great agreement, me and RZA. And, yeah, everything is starting to happen … it's starting to make sense."
August 7, 2014: All nine members of the Wu-Tang Clan appear on The Daily Show, where Jon Stewart asks, "Simon and Garfunkel couldn't hold two guys together. How do we, 20 years later, have nine guys come together?" The group performs "Ron O'Neal", which is sold on iTunes immediately after the show airs.
September 30, 2014: Billboard sits down with RZA after a Wu-Tang show in San Francisco. He says, "It's called A Better Tomorrow. The full-length album should be available by Black Friday."
October 1: In bizarre news, Boombotix, a portable audio company, partners with RZA to release the newest Boombot REX, featuring six songs and two instrumental tracks from the currently unreleased A Better Tomorrow. Fuse reports that "the pre-sale of the gadget sold out its 1,000 units in a matter of hours."
October 3, 2014: Wu-Tang Clan signs to Warner Brothers and announces the date for A Better Tomorrow will now be December 2. The Boombotix version will now be in stores on Black Friday. All the living members are photographed together for the announcement. Raekwon sits next to RZA.
November 3, 2014: The single (and opening track) "Ruckus in B Minor" is released, and the iTunes preorder link is published. That night, RZA holds a listening party in New York, where Masta Killa and U-God make appearances. Jason Lipshutz of Billboard notes the return to '90s boom-bap and says, "With A Better Tomorrow due out in less than a month, it feels like a joyous reunion is right around the corner."
November 28, 2014: Reviews begin coming in, with a lot of space devoted to the inner turmoils of the past few years. The Guardian says "it's better than the bickering might suggest." Consequence of Sound gives it a C-, saying, "Obligation isn't a good motivator when it comes to making art." AV Club calls the group "a Disney-fied revival act," and The New Yorker's Sasha Frere-Jones calls it "generally strong" but filled with "slightly obvious inspirational talk."
December 9, 2014: The members are already moving on — Ghostface's 36 Seasons is set to debut on this day.