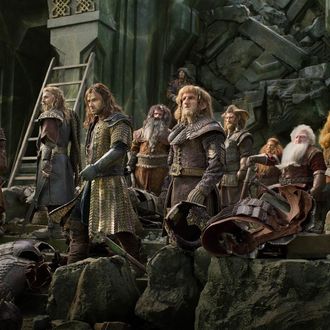 Photo: Todd Eyre/Warner Brothers
Though The Hobbit: The Battle of the Five Armies didn't surpass the first film's $100.2 million haul, it still took the top spot at the box office, with $56.2 million for a five-day total of $90 million. Night at the Museum: Secret of the Tomb marked a low for the series, bringing in $17.3 million over the weekend. Meanwhile, Annie did almost just as well while playing in almost 400 fewer theaters with $16.3 million. Otherwise, last week's box-office winner, Exodus, fell a cursed 66.6 percent to bring in just $8 million. The Hunger Games, meanwhile, stuck around the top five with $7.7 million, bringing its total to $289.2 million. It now sits in second on the 2014 list behind Guardians of the Galaxy, which leads with $332.6 million.
Meanwhile, Top Five had a rougher second week as it expanded slightly, bringing in just $3.6 million. Reese Witherspoon's Oscar vehicle Wild did well in a measured expansion, bringing in $4.2 million for the weekend. Mike Leigh's Mr. Turner debuted in five theaters to bring in $109,000 for a $21,800 per-screen average. The movie still performing best in limited release over the weekend is Benedict Cumberbatch's The Imitation Game, which had a per-screen average of $26,324 in its fourth week.