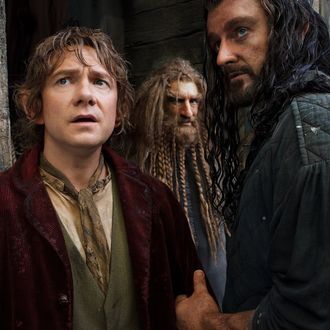 Movie theaters ended a somewhat lackluster year on a high note, with $210.2 million in ticket sales over the holiday weekend. The Hobbit: The Battle of the Five Armies stayed on top for the second week in a row, with $41.2 million. The other two big releases, Angelina Jolie's World War II epic Unbroken and the Stephen Sondheim adaptation Into the Woods, came in second and third with $31.7 million and $31 million, respectively. Meanwhile, the kids-oriented Night at the Museum: Secret of the Tomb and Annie expanded, bringing in more revenue than the week prior with $20.6 million and $16.6 million. The Gambler, starring Mark Wahlberg, was crowded out, earning just $9.3 million for its opening weekend. Tim Burton's Big Eyes saw a similar fate, opening to a sleepy $2.9 million.
As for the movie that the internet could not stop talking about, The Interview brought in $1.8 million over the weekend for a modest per-screen average of $5,471. Other films in limited release fared better: Clint Eastwood's American Sniper earned $610,000 over four theaters (per-screen average: $152,500) and Ava DuVernay's Selma brought in $590,00 over 19 theaters (per-screen average: $31,053).
As expected, the No. 1 movie of 2014 was Guardians of the Galaxy, which had a grand haul of $332 million. The Hunger Games: Mockingjay — Part 1 is in second with $306.7 million. Captain America: The Winter Soldier was third with $259.8 million. In sum, 2014: the year of Chris Pratt.