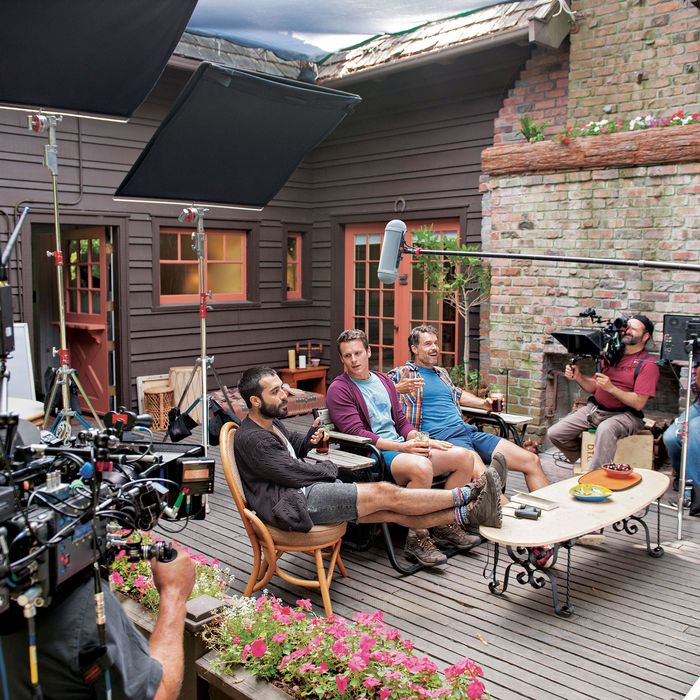 Frankie J. Alvarez, Jonathan Groff, and Murray Bartlett shooting season two of Looking.
Photo: Richard Foreman/Courtesy of HBO
The marquee above San Francisco's Make Out Room reads PDA ENCOURAGED, and outside the club on a drizzly November morning, Looking star Jonathan Groff is taking those words to heart. He's just greeted the HBO show's creator, Michael Lannan, and the two are now locked in an unusual embrace, gripping each other's forearms and maintaining intense eye contact as Groff leans forward to plant soft kisses on either side of Lannan's bushy beard. They pull away, continuing to stare deeply into each other's eyes for several significant seconds, then collapse into giggles.
"Michael added the staring contest," Groff says afterward, explaining the evolution of what turned out to be an inside joke. "We had the kiss part, and then he was like, 'I feel like at the end of the kiss, we should stare into each other's eyes for five beats and then leave.' It's supposed to make everybody else feel uncomfortable."
Lannan is a connoisseur of the awkward man-on-man moment. That, as much as anything, is what his show has been about: This is not a series full of those sassy, ready-with-a-quip gays who magically always know the perfect thing to say, or do, and who have so often provided the culture's only representation of the gay experience. Instead, there is a warmth and intimacy to Looking, which returns January 11 on HBO. And after two years, that supportive, self-confident feeling suffuses the set, too. "We have a lot of hugging on this show," says Lannan. "Antonio, our first A.D., likes to say we have ten o'clock rehearsal call, 9:48 crew call, and a 9:30 hugging call."
The camaraderie is apropos, given Looking's diaristic portrayal of the lives of a handful of gay men in contemporary San Francisco, including Groff's sweetly naïve video-game designer, Patrick, and his two closest friends, the impetuous sometime artist Agustín (Frankie J. Alvarez) and the fetchingly mustachioed Dom (Murray Bartlett). There's also a bit of hard-won camaraderie going on — the series has suffered its share of growing pains. The first season, which premiered in January 2014, was lauded for eschewing easy pay-cable provocation, with our own Matt Zoller Seitz noting its "anthropologically specific" depiction of "San Francisco singledom." But other pundits, who were apparently anticipating a more hot-button show than the creators ever intended to make, were stymied by Looking's low-key tone and relatively minor stakes, as if they were impatiently waiting for the characters to interrupt their frequently stoned, extremely leisurely hangouts to launch into a disquisition on the cultural ramifications of Truvada. There seemed to be some foggy notion floating around about what kind of entertainment the weekly half-hour was supposed to offer.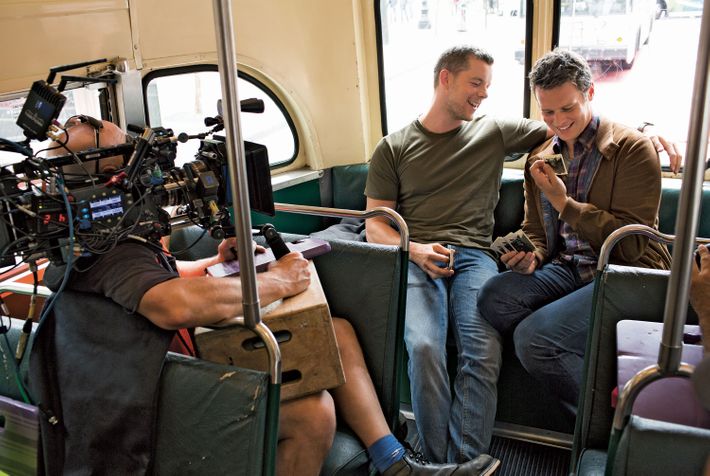 "If you were expecting a fast-paced comedy, this is not that show, and if you were expecting something super-­dramatic, it's not that show either," says executive producer and showrunner Andrew Haigh, a 41-year-old British director who has also directed many of the show's episodes. "HBO never said Looking was the gay Girls, but [the reaction to it] was like, 'Oh, it's the gay Girls.' "
And like Lena Dunham's lightning-rod comedy about young singles in a big city (the two shows will air on Sunday nights this season), Looking came in for plenty of early, and intense, scrutiny. "Why Is Looking So Boring?" asked Slate, which also pegged the show as insufficiently politically engaged, while the Daily Beast's headline ran: "Yes, Looking Is Boring. It's the Drama Gays Deserve." At Gawker, writer Rich ­Juzwiak acknowledged, "I have more in common with these gay guys than any I've seen on TV before," but he nonetheless dinged the show for its modesty. Even at its raciest, he noted, Looking is "less graphic than Girls' tamest sex scene."
Lannan, a serene and hirsute 37-year-old, understands that there will be critics among his fellow gay men. He, too, has "a lot of opinions about any kind of gay show or movie that comes out." Even so, he admits that Looking's mixed reception initially bothered him. "I spiraled a couple of times reading comments," he says, relaxing between shots at a table in the Make Out Room. "During the early episodes, I wanted everyone to be over the moon about the show, and that's just not possible. There is no show, possibly in the history of the world, that everyone loves — except for maybe The Sopranos and Six Feet Under." But those classic HBO series had the good fortune to debut well before the Twittersphere's big bang.
Encouragingly, as Looking's first season continued, its modest ratings steadily ticked up and the show seemed to find itself. But given that the season was already in the can when it started airing, maybe it's more to the point to say that critics finally understood what the show was trying to do. The pivot came via the fifth episode, a lovely little idyll that followed Patrick as he played hooky from his job, meandering through San Francisco with his new beau, Richie (Raúl Castillo), and engaging in revealing conversations. ("You've got bottom shame," Richie told his reluctant lover.) That humble two-hander, which shared plenty of DNA with Haigh's acclaimed 2011 gay indie film Weekend, had Indiewire raving that Looking had gone "from boring to brilliant." Though the episode served as the season's creative high, Haigh argues that it wouldn't have been as effective if it had aired sooner. "That's a good episode, but I don't think it would've worked unless you had the buildup," he says. "I'm a firm believer that you have to start slowly. You can make people work for it." And HBO is an ­unusually patient patron.
While the second season of the series remains recognizably Looking, the show has evolved. Most notably by upping the physicality — and the romantic stakes — by several degrees. The premiere episode kicks off as almost a knowing parody of the first season's more conservative instincts, transporting its central trio to a getaway cabin near Sonoma's Russian River — where the mild Patrick would rather play Parcheesi than do anything more risqué. But at the episode's halfway point, the guys stumble upon a raging forest party full of gay men and women who are far less inhibited, and the change of scenery prompts more skinny-dipping, Molly-dropping, and hot sex in a single sequence than in all of season one.
"We made the choice to use sex as a story­telling tool," explains Lannan, who is careful to add that he wasn't chasing any prurient attention. "It's not just: have sex for sex's sake," he argues. "The moments before sex and after sex can be as interesting as what actually happens." So while Looking is now willing to supply some premium-cable nudity in, for example, an early season-two episode where Patrick has a hotel-room assignation with his boss, Kevin (Russell Tovey), it's done in the ­service of setting up a moment of tenderness that's dashed when Kevin wriggles out of bed, heads quietly to the bathroom, and places a whispered call to the longtime boyfriend that he's been stepping out on.
Groff is willing to admit that Looking's creative team took some of the season-one criticism into account. "We don't get a lot of opportunities to tell gay stories," he says, "so it's important to listen to what people are saying or liking, or what people are not liking, and try to take that constructive criticism and apply it."
The tweaking went further than just adding more skin: The tart fan favorite Lauren Weedman, who plays Dom's best friend, Doris, has become for all intents and purposes a regular and even gets her own love interest (Bashir Salahuddin), while all sorts of flare-ups from the first season are being addressed, including ­Patrick's unprotected sexual encounter from the season-one finale. And as the scope of the show grows and new characters come onboard, more physical types have been added to a cast that was ­heretofore either white or Latin and pretty much exclusively gym-fit.
"We've done Q&As with people who had seen the show," says Groff, "and this older bearish gentleman raised his hand at one, on the verge of tears, and was like, 'I really enjoy the show, it's been great to watch, but I'm not seeing myself in it. This is about a group of gay men, but I don't know them.' And for me, the biggest thing about the reaction to the show was a reflection of just that: There were obviously people dying to be heard and to be seen."
And while Lannan cautions "we don't want to try and represent an entire community, because that's just silly and impossible," the show's expanded cast does make room for the, yes, bearish Eddie (Daniel Franzese), an unexpected potential love interest for Agustín. As far as Alvarez is concerned, the sweet relationship that blossoms between his character and Eddie has come none too soon. "The tough thing about last year," he admits, "was dealing with fans who were like, 'It's really nice to meet you, and you're such a nice, open guy. Why are you such a dick on the show?' " Agustín spent most of season one ­rumbling through San Francisco like a storm cloud, antagonizing his boyfriend, quitting his job, and alienating his friends, and though cable characters are often given to bad ­behavior — "In comparison to, like, Breaking Bad, I haven't done that much nasty shit!" Alvarez says, laughing — the mercurial Agustín was a divisive figure among fans. "He still sometimes says the wrong thing and makes a mistake," says Alvarez, "but this season, he sort of starts to pick up the pieces and figure out who he wants to be. It's a beautiful arc."
That attempt — the effort to figure your shit out — is the essential theme of Looking: More than any prior generation, these gay men have the latitude to determine their own lives, and that lack of a reliable road map can be both ­exhilarating and paralyzing.
"The notion that you can understand yourself by the age of 24, it's just not a truthful thing," contends Haigh. "That can come in your 30s, it can come in your 40s, it can come in your 50s — and it can take gay men just a bit longer than other people. It takes time to find out what you want."
There's an obvious parallel here: A gay television show — the sort of thing for which there's so little precedent and which compels so much doubt and self-criticism — can take a little more time to come into its own, too. "We were building a plane in midair last year, and this year we just got to fly it to exciting places," says Lannan about making the first season. "As bad a metaphor as that is, it does feel like it was such an adventure, and it was a bit harrowing, and we didn't know what the show was quite yet, you know?"
Now they do. Or are closer to knowing, anyway. The evening after the Make Out Room shoot, Haigh sits in his cozy office at Looking's production headquarters and ponders the possible critical and popular reaction to the upcoming slate of episodes. "You want it to be about the show that we've made," he says, "not the show that people would like it to be — what it is." He rises from his couch, ready to head over to a nearby location where the cast and crew are set to film the second season's final few scenes. Behind him, on a whiteboard, are three words scrawled in huge letters: NEARLY ALMOST THERE.
*This article appears in the December 29, 2014 issue of New York Magazine.