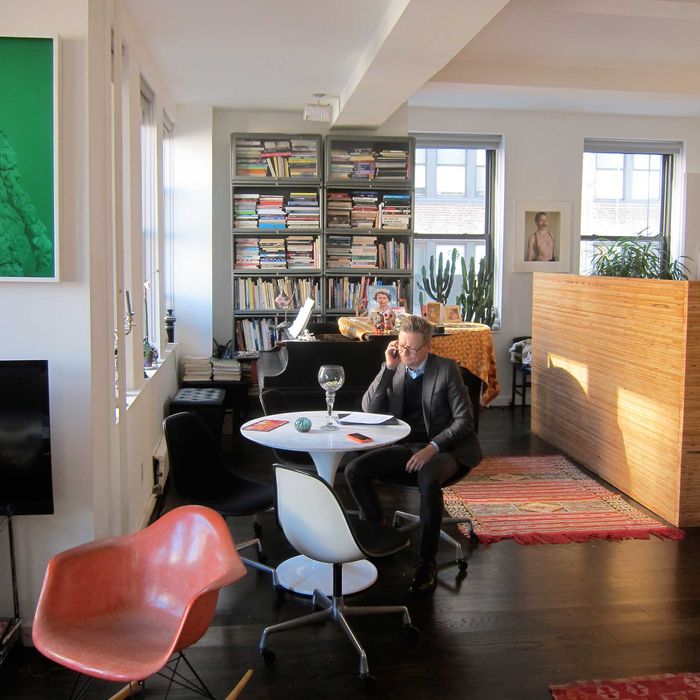 Renfro working through lunch
"Damien Hirst is in a drawer somewhere, is that horrible?" Charles Renfro asks rhetorically when I meet him in the apartment he shares with concert pianist Daniel Gortler in the garment district. The apartment isn't huge — he also owns a modernist bungalow on Fire Island — and its walls are lined with mostly emerging artists. This Hirst is tucked away because "It's a spin piece and I never knew how to frame it, ever. It's a very small one, and I just never did it, so I have it sitting in a drawer; it makes the drawer really, hot."
Renfro joined the husband-and-wife team of Elizabeth Diller  and Ric Scofidio in 1997, when they were themselves working out of their apartment and known for their innovative conceptual thinking. But they hadn't built much: All that was starting to change by the time he became a partner in 2004. Since then, Diller Scofidio + Renfro has changed the landscape of New York City with the design of the High Line and the renovation of Lincoln Center. They have a high-rise going up in Hudson Yards, which is attached to the Culture Shed, a telescoping multipurpose space, and are in the middle of redesigning MoMA. Next year, their Broad Museum will open in downtown L.A., along with the Berkeley Art Museum, and the Museum of Image and Sound in Rio. You might expect this home to be an Über-sleek, minimalist mansion in the clouds, for such a design superstar. Instead, I found a very down-to-earth, I-could-see-myself-living-here, kind of place with a very specifically curated art collection.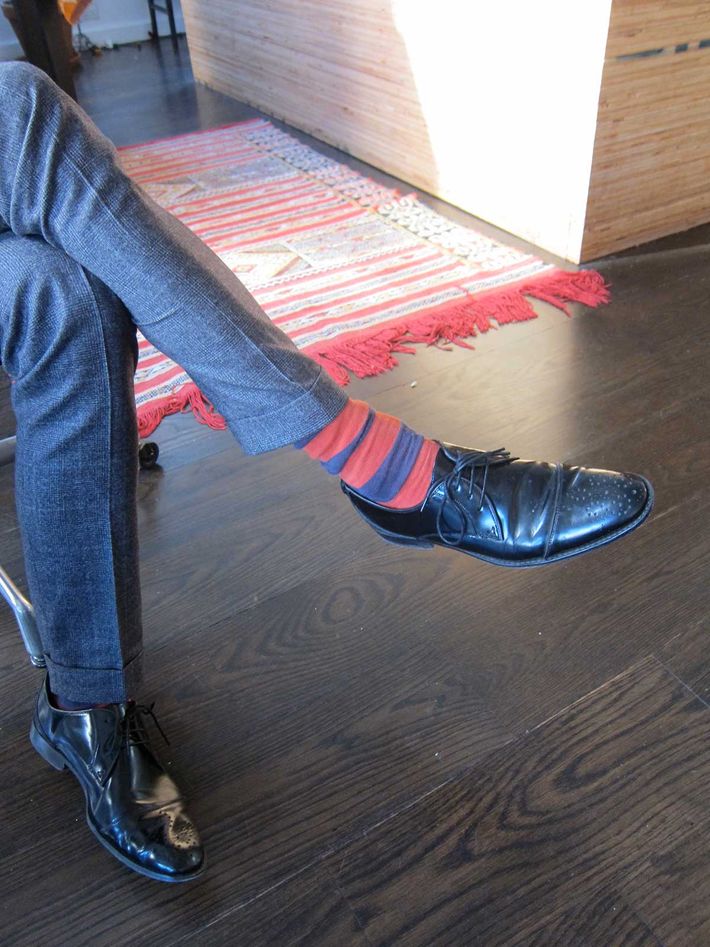 What was the state of the apartment when you first bought it?
There was a bedroom here [pointing to the area at the end of the room where with the L-shaped wall around the bed] that I took out, and then they called this little disgusting area over here [below] a bedroom, [showing me the hallway where he has put a desk] because there's natural light and windows, but the rest of my art is stored in there [indicating an area around the corner].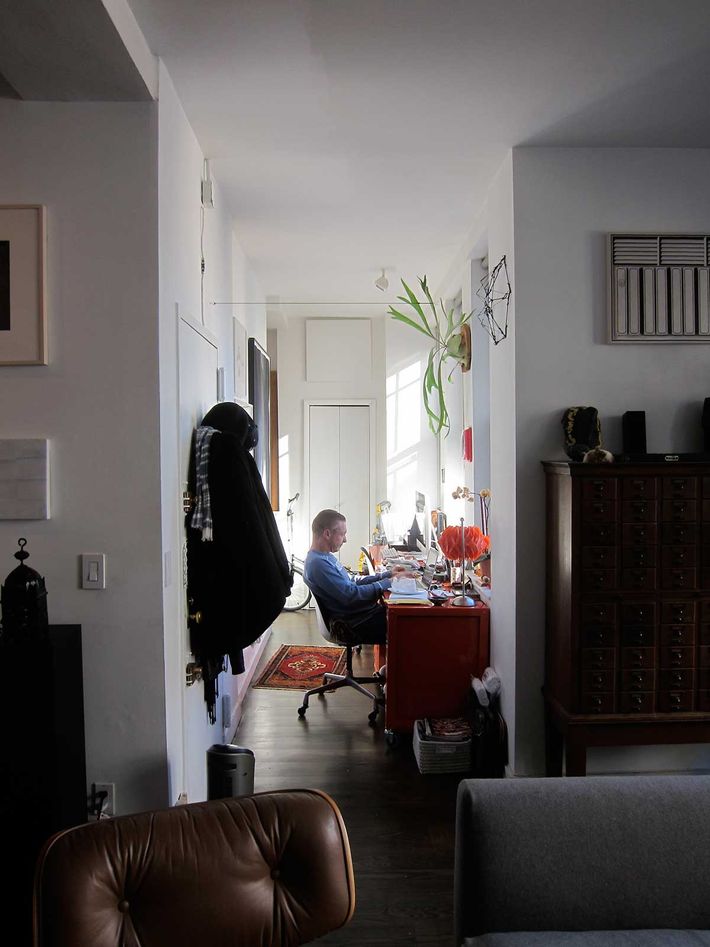 Can I take a peek around the corner?
Oh, it's so horrible, yeah, you can, but it's so horrible.
But you know what's so nice? You're this famous architect and you live like I live! 
I don't have time to be so put together. I'm never here. I am interested in art, and I do collect and I continue to collect, but I have way more than I can show in this little place. I have a house on Fire Island, so I am starting to split my collection between the two places, taking the more robust work there, and that place is much more minimal. They have just repointed the entire building, so my terrace has been unused for a year.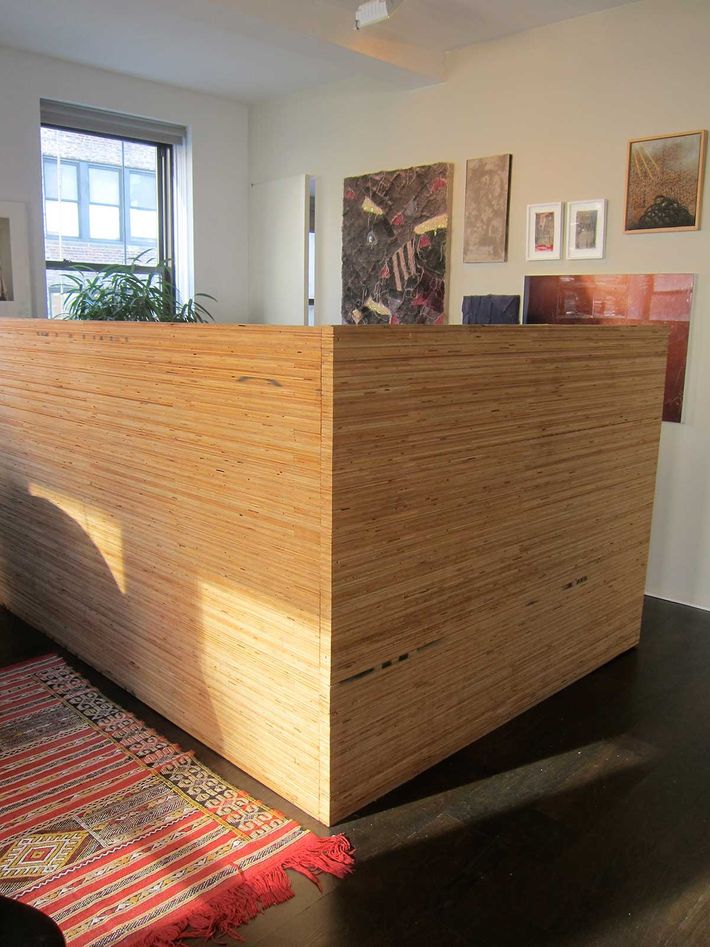 Tell me about the wall around the bed.
These are all parts of the old loft that I had brought over and just cut up, and it's just all willy-nilly, the place.

So you took down the wall there to make this?
My former loft was about 75 feet long; it was twice the size of this. Anyway, there was a big wall, and it went from end to end of the loft, and it made different rooms. I couldn't bear to part with it; it was such a labor of love over there, and I was so poor when I made it, and when I finally got the money to buy a place in town, I thought, I've got to bring a bit of that history with me.
How did you make this, actually?
It's plywood strips and I made it with some young builders from Brooklyn and they loved it; it was fun.
But here you took down a wall?
I took down the wall that they advertised as a two-bedroom and it had a door, the other space, they just called it a nook. And so it's kind of hilarious.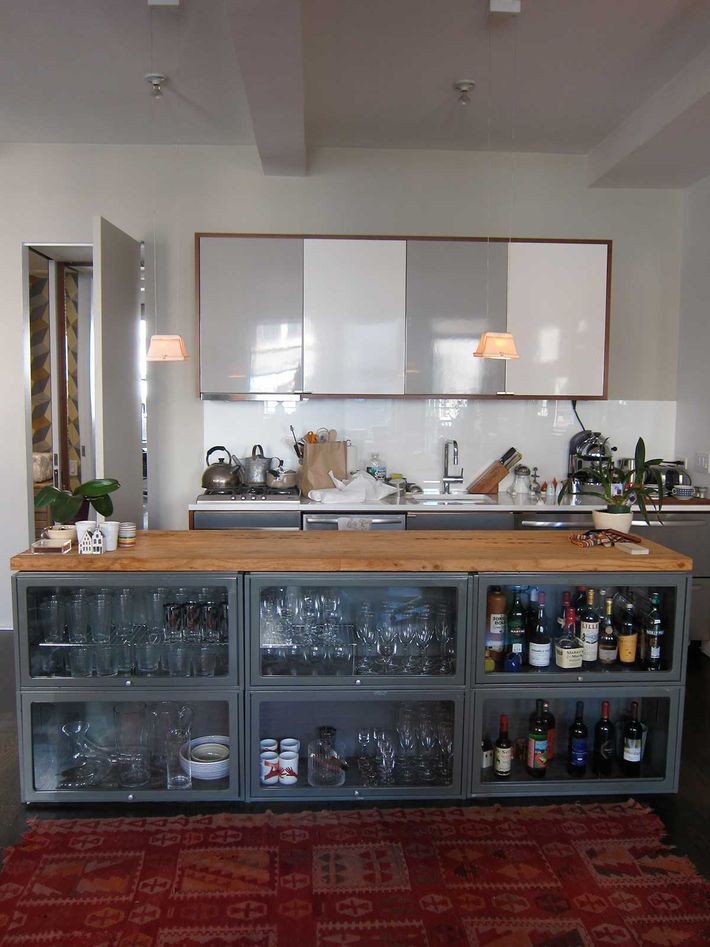 I have done some work here. I did the kitchen, I did the bathroom, and back here — this is "Pigro" [the bathroom sink] by Mary Ellen Carroll when she was in residency at Kohler.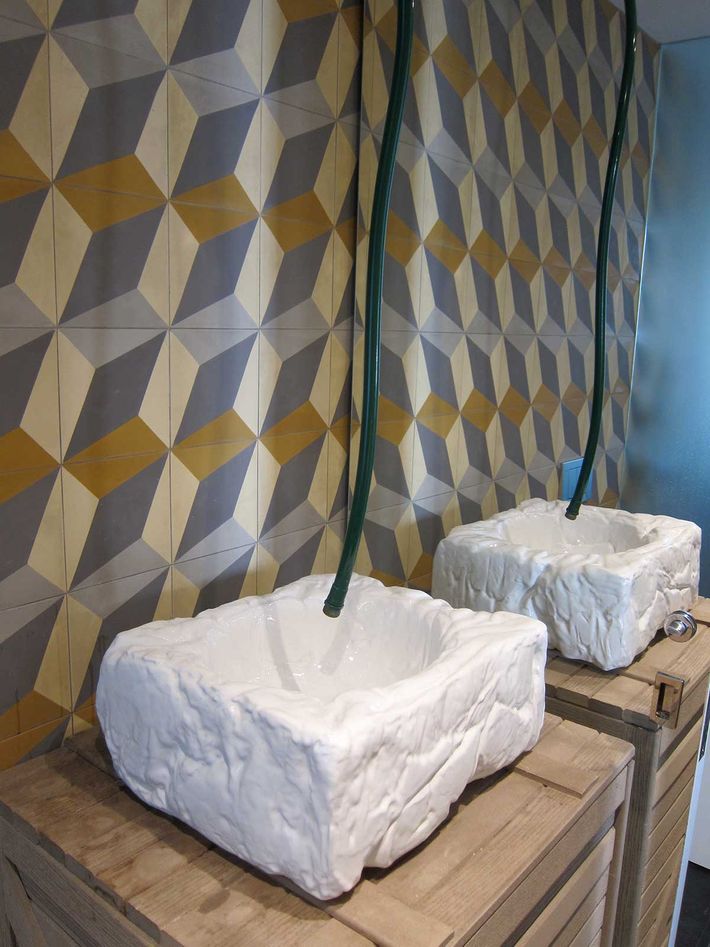 Did you work with anyone to do the renovations here?
I hired my best friend, Anne Nixon, who is also an architect, to redo my loft, and I hired her to redo my house in Fire Island. I worked on the design and she sort of did it. And she did this kitchen. I have been doing things to the apartment piecemeal over the years. I have been here about seven years.
As you can imagine, and as you can tell, there is a lot of my history in this place. I am sort of a pack rat; I refuse to throw anything away, and Daniel has brought his own zoo [laughing] from Israel.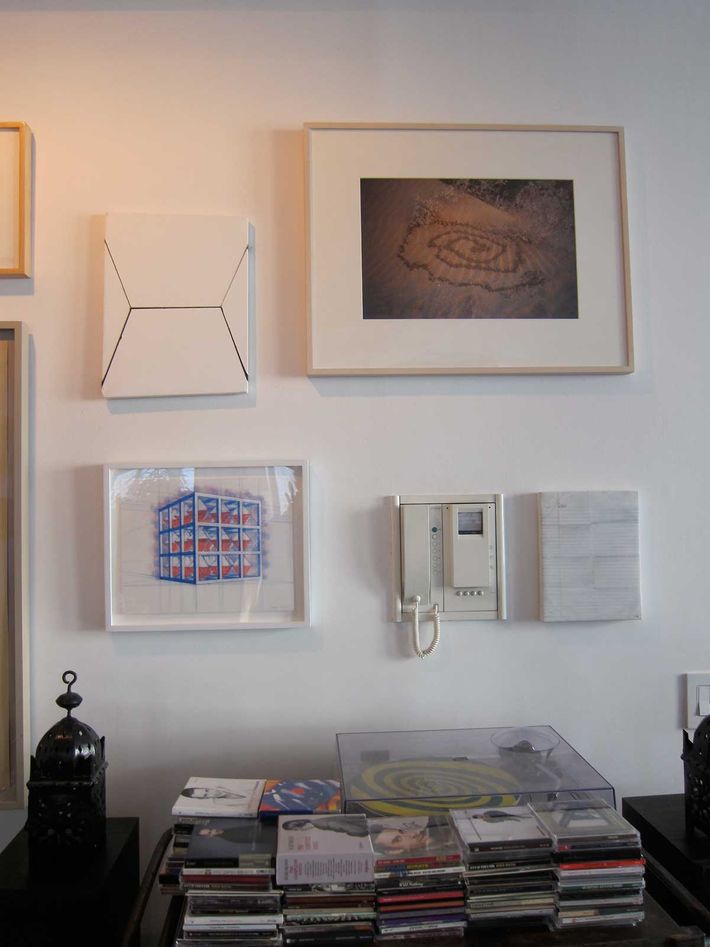 Who do you collect?
The people I collect, a lot of them are my friends, but most of the people I collect are young, up-and-coming, of course that's all I can afford — a lot of them do conceptual work. I don't really collect figurative things, so much. I like process pieces, that kind of thing.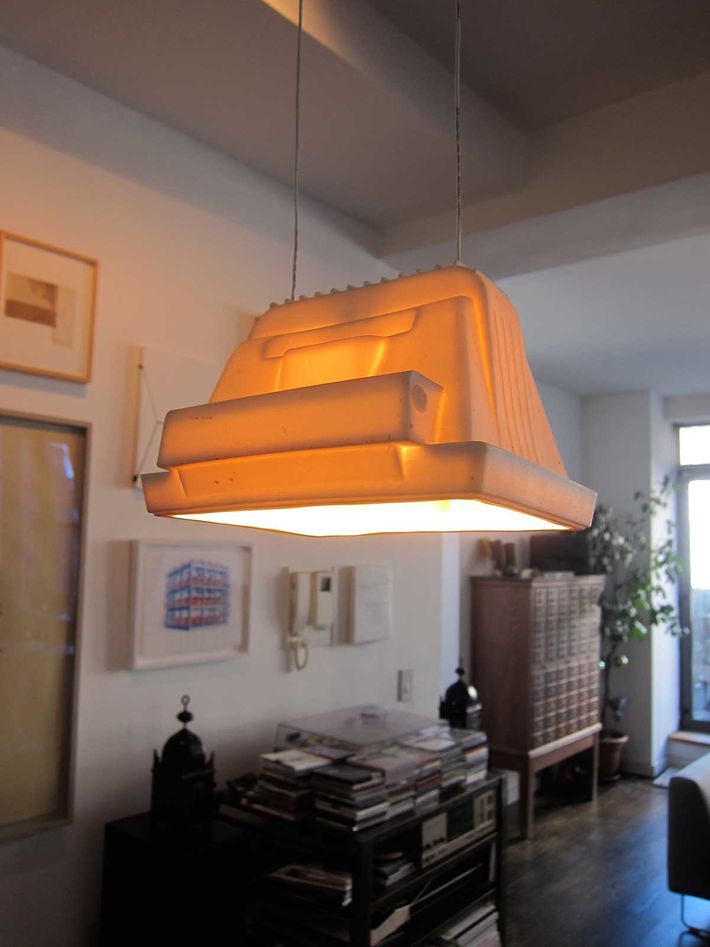 From where is the furniture in the living room?
That's Capellini, it's a Jasper Morrison couch; it's good stuff, but it's all basic, modern things. You recognize it all in terms of furniture. I actually started getting more special pieces for the house on the Island. God knows why I am putting more design energy into that, but I am.
What are these tiles in the bathroom?
We had them custom made in — I think in Honduras. They're cement tiles, and they are custom-painted and they are unsealed, but they are holding up really nicely. And I might get new different ones for Fire Island.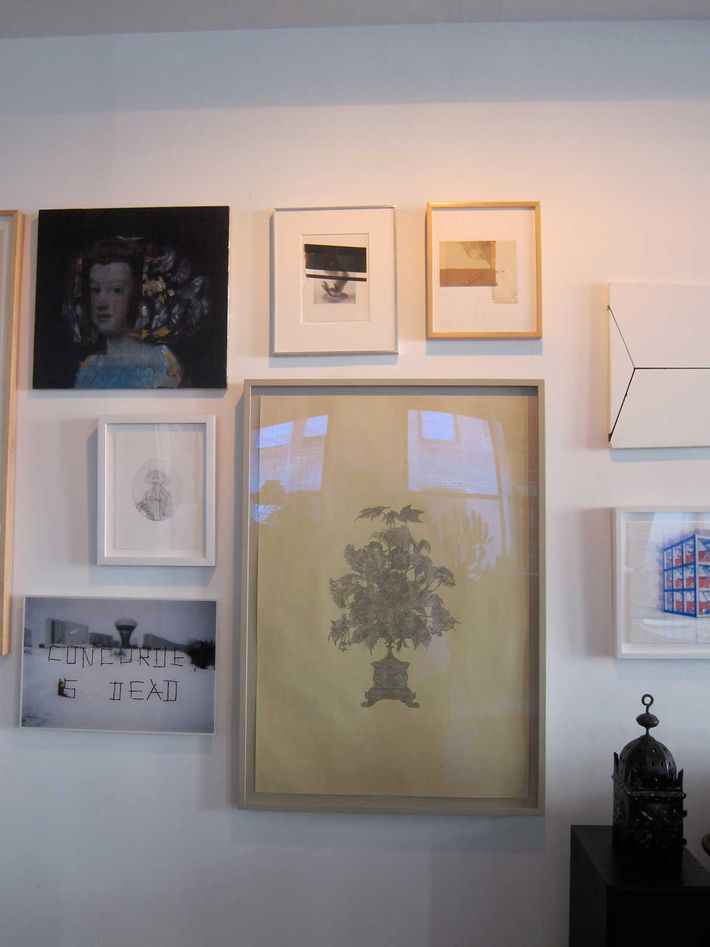 Tell me more about what catches your eye? What do you look for in art?
I look for, sometimes, double entendre, that things have flip sides; they aren't what they seem. And they often do that formally. Like, for instance, that Peter Peri: When you get up close, you realize it's thousands and thousands of little graphite strokes.
But there's always something else, and so I look for that kind of thing. That's why I don't collect just figurative anything; the figuration I have is always some trick.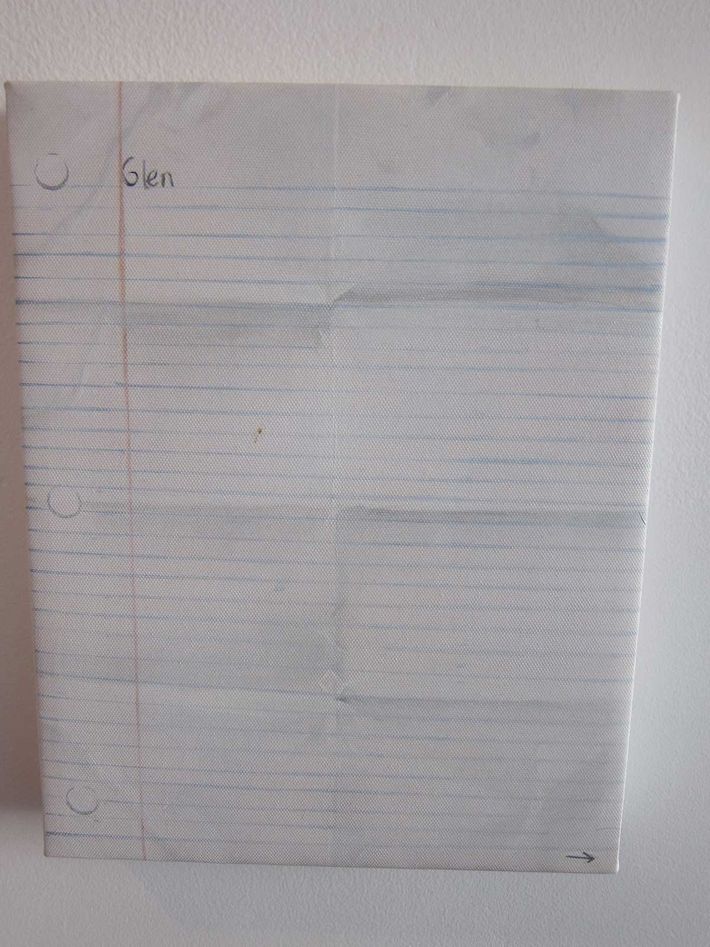 It's layered in its meaning, and often in its fabrication.
The younger people that are working now are all sort of thinking about similar things, and the cultural references are sort of similar, so I find more kinship with these folks when I go out and look at art. Like Rich Aldrich and Ben Schumacher, who is another Bortolami artist in there. They're working in the canons of modernism, but they're kind of understanding that it's falling apart, or it's fallen apart. So for instance, that Rich Aldrich, it's a broken frame, you turn it over and it's apart and it's perspective, but it's funny perspective; it's intended to be hung like that. Or Ben Schumacher, who deals with class and visuality, something I'm very interested in, and something we're very interested in in our practice. And also the formal construct of visuality, so you're not sure if they are finished minimalist pieces, or if they are referring to Mies van der Rohe. So there's always a little layered double entendre. But that said, there are a lot of inconsistencies.