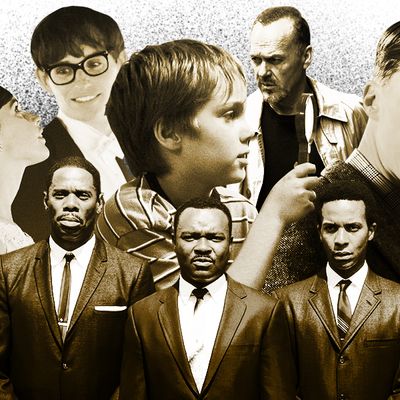 Now that every awards-season contender has finally screened for the press, we're left with a most unusual Oscar outlook: There appears to be no frontrunner for Best Picture. In previous years, you could typically count on a single movie like 12 Years a Slave, Slumdog Millionaire, or The Artist to announce itself as the one to beat; this time around, we don't even have a clarified two-film contest, as we did in 2009 when The Hurt Locker upset Avatar, or in 2010, when The King's Speech vied with The Social Network for Oscar's biggest prize. What we have instead in 2014 is a Best Picture field where any one of five well-positioned movies can still make a case for the win. Read on, and let us know which film you think will prevail.
Boyhood
Richard Linklater's 12-year coming-of-age story has had to run an awards campaign nearly as long in the making as the movie itself: Boyhood premiered to raves at the Sundance Film Festival last January, then came out in theaters in July. Oscar isn't always kind to movies that debut outside the fall/winter window, but that schedule may have actually worked in Boyhood's favor, since it set a high water mark early on with critics and voters that hasn't necessarily been surpassed, and has managed to accrue weight and import as this field's veteran. The New York Film Critics Circle just named Boyhood its best film of the year — the first of what will likely be many critics groups to do so — and the movie has box-office bona-fides to boot, grossing a stellar $24 million even though it never played in more than 800 theaters.
How It Can Become the Frontrunner: There's no overlap between Oscar voters and critics groups, of course, but if every group over the next few months falls lockstep in love for Boyhood, it will give the movie the bearing of a consensus choice. And if Boyhood's Patricia Arquette can fend off Into the Woods standout Meryl Streep on her path to the Best Supporting Actress Oscar, that will help, too: Best Picture victors often triumph in at least one of the acting categories.

Birdman
Rave reviews don't get much better than the ones Birdman earned when it debuted at the Venice Film Festival in August: Variety's Peter Debruge called it "a triumph on every creative level … that will electrify the industry, captivate arthouse and megaplex crowds alike, [and] send awards pundits into orbit." Certainly, Birdman has performed strongly, but some of its fellow contenders have done even better: Boyhood had a better critical average, The Imitation Game beat Birdman's limited per-screen debut, and The Theory of Everything had a far more lucrative wide-release expansion. Still, this wild-and-woolly backstage comedy will likely be the movie to score the most acting nominations this year — for Michael Keaton, Edward Norton, and Emma Stone — and with actors making up the Academy's largest voting constituency, that speaks to the movie's potential power with voters.
How It Can Become the Frontrunner: Two important precursors will give Birdman a big jolt. First, we've got the Golden Globes, where the movie is filed in the Comedy/Musical categories and, as such, will likely win the top prize and a Best Actor trophy for Keaton. From there, Birdman has to win SAG's Best Ensemble award (a loss to any other film on this list would be a significant blow to its momentum). With those two laurels in its talons, the movie has its best shot at going all the way.

The Imitation Game
When it comes to cracking the code of Oscar voters, no one is better at it than Harvey Weinstein. Over the last five years, Weinstein has gotten seven of his films into the Best Picture derby; all but one of them (last year's Philomena) won at least one Oscar, and two of them (The King's Speech and The Artist) actually won Best Picture. All this is to say, The Imitation Game reps an awfully strong hand for Harvey to play, since this story of genius code-breaker Alan Turing checks off several Oscar-friendly boxes: It's a British biopic about a tortured genius set during World War II. Traditional to a fault yet still progressive in its inclusion of a gay protagonist, it's the sort of movie that the older voters in the Academy will immediately take to.

How It Can Become the Frontrunner: Even if The Imitation Game wins Best Drama at the Golden Globes — and it well may, since this very British movie will go over well with the HFPA's international membership — I'm not sure it can become the undisputed frontrunner without an attendant Best Actor prize for its star Benedict Cumberbatch. Though he's been acclaimed for his performance as Turing, Cumberbatch is up against some massive heavyweights in his category, and it will be hard for The Imitation Game to punch through if none of its actors (including Keira Knightley in the Best Supporting Actress category) look like they're going to win. A significant trophy for Cumberbatch, then, can help propel the film forward.

Selma
Much as Boyhood benefitted from being the first significant Oscar contender to screen, Selma benefited from being among the last: Pundits, critics, and voters had been searching for one final, worthy contender, and in Ava DuVernay's well-respected Martin Luther King drama, they got it. Though Selma is a period piece, it feels like the most contemporary of these contenders thanks to the unmistakable parallels between the resistance that King (played by David Oyelowo) met in the 1960s and the racial flare-ups that continue to plague the country. If Oscar voters want to continue the socially conscious streak that began last year with 12 Years a Slave's Best Picture win, Selma affords them the opportunity. It helps, too, that the film is literally about the message that can be sent if people band together and vote.

How It Can Become the Frontrunner: An upset award at the Golden Globes or SAG would help. David Oyelowo for Best Actor? The whole cast for SAG's Best Ensemble prize? But I think Selma's strength will best be measured by how many Oscar nominations it can earn. A Best Picture slot seems assured, Best Director and Best Actor nods are absolutely necessary, but can it build from there and crack categories like Cinematography, Editing, and Supporting Actor and Actress? The more potent the showing, the better positioned Selma will be.

The Theory of Everything
In a year where nearly every major awards contender has a bristly lead who's hard to like (and we haven't even gotten into other Best Picture probables like Gone Girl and Foxcatcher), The Theory of Everything could break through simply by boasting two of the most ingratiating performances of awards season. As Stephen Hawking, Eddie Redmayne is immensely sympathetic and moving, and as Hawking's wife Jane, Felicity Jones matches him beat for beat. You root for these characters, and you cry with them. Even when each of them engages in infidelity, it's portrayed so sympathetically that it becomes an almost noble act. On its face, Everything has some major parallels to The Imitation Game that could prove perilous, but underneath the surface, there's a beating heart here that might be just what voters are looking for.
How It Can Become the Frontrunner: Redmayne needs to hold his Best Actor rival Michael Keaton at bay throughout awards season, and the film needs to continue expanding well over the months to come. (A box-office total over $30 million would be nice.) But while a Best Film precursor prize would help Everything's chances, what may work most in its favor is a field that continues to have no frontrunner. If all the aforementioned films continue splitting big prizes until the end, and voters look upon their ballots free to pick the movie that moved them most, it could be Everything that amounts to something.