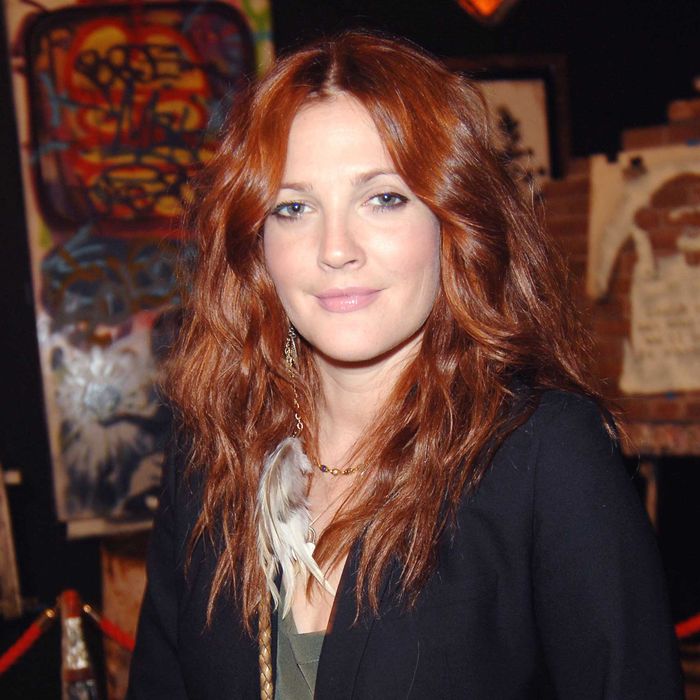 Drew Barrymore.
Photo: ? Patrick McMullan
Drew Barrymore might not be the first person who comes to mind when you think about powerhouse art collectors, but the actress has enjoyed enviable access to hard-to-get works for some time now. And that's not simply because of her personal fame or even her storied family. She's married to Will Koppelman, an art consultant to the Hollywood and Silicon Valley sets, with whom she shares New York and Los Angeles homes that display (and store) the impressive collection they've built together.
SEEN spoke with Barrymore at the Four Seasons not so long ago, where she and Koppelman attended an auction of commissions by Jeff Koons. (Sales benefitted the United Nations Foundation and the Shot@Life campaign.) We spotted her during cocktail hour chatting raptly with the artist — who'd made a Picasso-inspired addition to his Gazing Ball series and customized a handful of Birkins, donated by the likes of Sofia Coppola, just for the occasion. Barrymore had apparently never met the controversial superstar before but recalled some rather intimate experiences with his work: "Our daughter freaked out over the Jeff Koons show at the Whitney," she told SEEN. "We had to pry her off of the pieces. It was actually very hard to manage her in that show." She also shared her approach to displaying art, the pieces she'd steal from a museum, and her belief that auctions are the ultimate heartbreak.
I imagine you and your husband have a pretty extensive art collection.
Well, he has the art collection.
So if I walked into your house, where would I see all of this art? What would it look like?
Well, it's different because we live in New York and L.A., so it's a little bit split up. But I just pulled out his John Baldessari and I was like, "Can we put this next to the Raymond Pettibon, next to [an] old, vintage Karl Lagerfeld photograph?" And I was like, "I'm guessing my three-dollar, piece-of-shit, vintagelike canvas that I bought in Paris that I thought was so chic and so important because it meant so much to me and it looks like junk next to his work and it's in my closet now …"
Which piece is in your closet?
A Parisian, like, piece of shit landscape that was so meaningful to me.
So it didn't make it up there next to Lagerfeld.
His felt much more grandiose.
With Will, you probably spend a lot of time in galleries. Was there ever a point in your life when you were totally freaked out by galleries?
No. I always wanted, when I was younger [and] I thought about having children, I was like, I want to take my children all around the world in search of the best roller coaster, and I also want to take them in search of the best museum. And they would have to write essays about why their favorite roller coaster was their favorite and then the museums would be like, why was this your favorite museum, and why was this your favorite piece. And I always want to play the game with my children of what piece would you steal if you could steal any.
So what were their answers!? Recently.
Well, our daughter freaked out over the Jeff Koons show at the Whitney. We had to pry her off of the pieces. It was actually very hard to manage her in that show.
Did she have a favorite piece?
I think she really loved, I think it was Howdy Doody riding a horse.
And what about you? If you could steal — or legally take home! — any work in any museum, would would that be?
Shoot. God. That's such a good question. I for some reason immediately went to Guernica. Today, Guernica. Tomorrow, something else.
Are you just feeling the black and white and gray? Why Guernica?
I don't know! And it's — that in the Prado, there's the best Hieronymus Bosch, I think it's something about, like, "in the garden of good and evil."
Yes, the triptych. The Garden of Earthly Delights.
Oh God! And the French screen!
So you go for some kind of dark paintings! Those are all kind of creepy or upsetting.
But I really love Elizabeth Peyton, and there's nothing dark about that.
What do you like about her work?
Because it's how girls feel. It's like every girl's poetic crush in a perfect painting.
Do you own any pieces of hers?
No, I don't! I wish I did!
Well then, that should be next on your list!
I know. Wow. She's really priced out my league at this point.
What's the most expensive piece of art you've ever purchased?
I bought — speaking of, like, angsty-girl art — I bought the most amazing piece by a woman named Brigitte Waldach, and it's like a red girl with like dripping red and words painted on it, and it's huge, and it hangs in my daughter's bedroom.
And you bought it for your daughter?
Well, I bought it for myself, and then it ended up in my daughter's room.
How much did you spend on it?
It wasn't a lot compared to what people in this room will not only be spending tonight but what people spend in the art world. I'm small-fry. I'm still shopping at thrift stores. I don't have the baller sensibility that the art world takes. I bid on a Jim Dine piece and I lost it because I was too scared to keep bidding, and I forever regret it.
Where was that?
On the phone with my husband, and it was the day I realized I don't like auctions. Tell me the price, and I'll tell you if I'm up for it. Auctions are literally like the worst heartbreak ever. Auctions are the unattainable guy.
What was the biggest auction heartbreak for you?
The Jim Dine piece! Ahhhh! It still to this day gets me emotional and dry-mouthed.
Maybe one day the person who bought it will sell it, and you can buy it then?
No, I'll know it anywhere. I will know that piece everywhere.