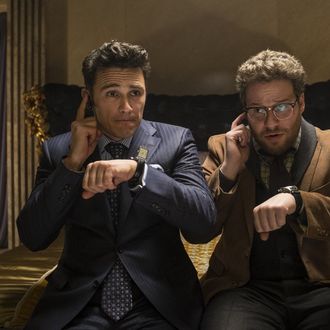 Soon streaming.
Photo: Sony Pictures
According to CNN, though the deal has yet to be finalized, YouTube has "tentatively agreed" to release The Interview for rent starting tomorrow, in conjunction with the film's small theatrical release. This comes after an earlier plan for Apple's iTunes store to distribute the film failed. (Though that might "re-materialize sometime after Christmas.") Hollywood has attempted simultaneous theatrical releases with VOD in the past, but a deal like this with YouTube would truly be unprecedented. Merry Christmas, freedom lovers.
UPDATE: According to CNN's Brian Stelter, you will be able to rent (or buy) The Interview today at 1 p.m. ET on streaming outlets including YouTube, Google Play, and Microsoft's Xbox Video. Go to SeeTheInterview.com or TheInterview-Movie.com, and you'll be able to rent it for $6 or buy it for $15.