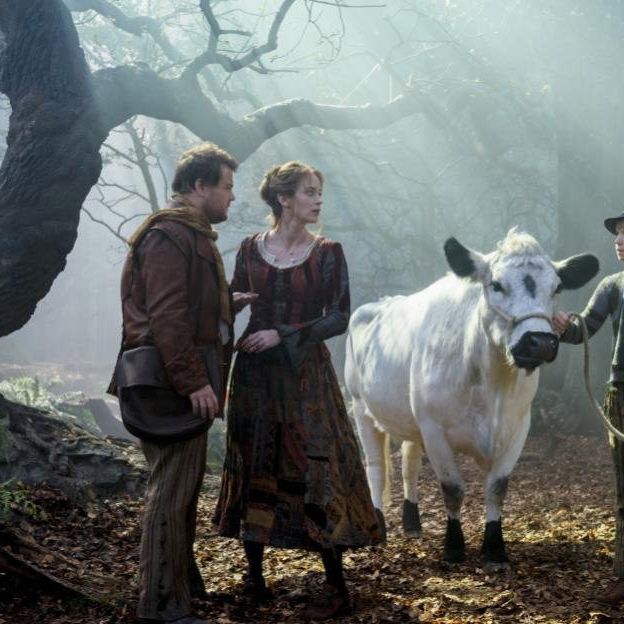 Photo: Walt Disney Productions
Into the Woods is a musical that many people care about. A lot. But perhaps you are not one of those people! With Stephen Sondheim and James Lapine's twist on fairy tales opening on Christmas Day tomorrow as a huge Disney movie, allow Vulture to explain precisely why your theater-geek friends are squealing every time its name is mentioned.
What, exactly, is Into the Woods?
Into the Woods is a musical that opened on Broadway in 1987 with a book by James Lapine and music and lyrics by Stephen Sondheim. It was the duo's follow-up to Sunday in the Park With George and grew out of Sondheim's interest in developing a "quest" story similar to The Wizard of Oz. The plot follows characters from disparate fairy tales — Cinderella, Rapunzel, Little Red Riding Hood, Jack (the beanstalk guy) — and two dreamt up by Lapine (the Baker and his Wife) as they collide in the woods in the midst of searching out what they wish for. It was revived on Broadway once (with Vanessa Williams!). Rob Marshall (Chicago) directed the upcoming Disney movie. (Lately, he's been humbly likening it to Bob Fosse's take on Cabaret).
I'm not really into happy-go-lucky musical theater. Will I still like it?
Into the Woods gets pretty dark! [Pretty Well-Known Spoiler Alert] The first act ends with a supposed "happily ever after," but then people die, adultery happens, there's a good deal of crying and screaming as children deal with the legacies their parents leave them. It's pretty wrenching, which is why kids' school productions sometimes omit Act 2. In his book Look, I Made a Hat, Sondheim says that Lapine was particularly interested in the "little dishonesties that enable the characters to reach their happy endings." Plus, the Baker and his Wife are essentially neurotic New Yorkers in fairy-tale clothing.
Now it sounds depressing. So why does everyone seem to care about it so much?
The original production was broadcast on PBS's American Playhouse in 1991, so it was basically life-changing for any artsy kid of the "80s. It's also pretty much an ideal introduction to the joys of Sondheim, the God of Smart-Person Musical Theater. The score has some of his most beautiful melodies ("Children Will Listen," "No One Is Alone"), most humorous wordplay ("Agony)", and most poignant, clever lyrical twists ("I Know Things Now," "On the Steps of the Palace"). And the original cast was perfect, capped off by Queen of the Broad Way Bernadette Peters as the all-knowing Witch.
Are any of these original-cast people in the movie?
Of course not! They are not terribly famous, though they are still gainfully employed and recently reunited for a read-through in San Diego. It was, apparently, the Best: Bernadette did the witch's rap! Jack still sounds like Jack! Cinderella is actually married to her Prince in real life! And in an amazing real-life fairy-tale-movie twist, Joanna Gleason (the Baker's Wife) is married to Chris Sarandon (Prince Humperdinck in The Princess Bride).
Has anyone tried to make this a movie before?
In 1995, Columbia Pictures approached Sondheim and Lapine with the idea to make a movie using Jim Henson puppets. Sounds pretty great, right? But thanks to a studio shake-up, it went nowhere. Too bad the Henson version didn't work out: The first reading had Martin Short and Julia Louis-Dreyfus as the Baker and his Wife, Neil Patrick Harris as Jack, and Rob Lowe as Cinderella's Prince; the second reading had Robin Williams and Goldie Hawn as the Baker and his Wife, Elijah Wood as Jack and Roseanne Barr as his mother, and Steve Martin as the Wolf. Sondheim signs off in Look, I Made a Hat with a cryptic "I wish …" So he's probably happy now?
Will this be any different from the original musical?           
Sondheim obsessives collectively gasped in June when the Man Himself seemed to reveal some significant changes. Rapunzel wouldn't be killed; Cinderella's prince would not sleep with the Baker's Wife; the great song "Any Moment" would potentially be cut, all due to Disney concerns. Sondheim later made a statement emphasizing his and Lapine's active roles in all decision-making, adding that "the Prince's dalliance is still in the movie, and so is 'Any Moment.'" There will be two new songs: "Rainbows," a duet for the Baker and his Wife, which Sondheim actually wrote for the botched Henson movie, and a mysterious new one written for Meryl. There's also a major character missing: the Mysterious Man, who narrates the proceedings and is ultimately revealed to be the Baker's father.
I like rap. Is this a musical with rap?
Why, yes! The Witch's Rap about stolen beans and assorted root vegetables is killer. And Meryl's take has been praised by Broadway's present resident rap expert, Lin-Manuel Miranda (In the Heights), who pronounced it "DOPE." (NOTE: We cannot find this Tweet, but it exists in Google searches.)
Everyone's making such a big deal out of Meryl singing. But didn't she sing once before?
Yes, most notably in Mamma Mia, and it was, you know, fine? (Being juxtaposed with Pierce Brosnan's impassioned mooing helped.) This time around, Meryl seems to give the role, well, the full Meryl, judging by this clip of her singing the Witch's tender but intense plea to Rapunzel, "Stay With Me." (Sondheim calls her "remarkable!") Turns out, as a teenager, Meryl studied with a well-known opera teacher: Two years ago, she admitted on NPR's "Fresh Air" that she used to have "a very good coloratura voice," but "I don't have [it] anymore."
I've heard there's a sexual wolf involved. Is this true?
Yes! In the original production, said Wolf (played by Robert Westenberg, on whom we had a slightly disturbing crush) had the most conspicuous package since Jareth's in Labyrinth.
How about other random animals?
Jack's cow Milky White is a central character. He sings a very lovely song to her at one point. May we direct you to Low-Budget Milky Whites, an excellent Tumblr chronicling the many unfortunate Milky Whites of productions past?