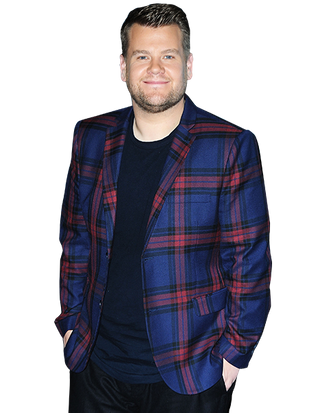 Photo: Dave J Hogan/Getty Images
He sings, he dances, he pratfalls, he charms the pants off everyone in a room — he's James Corden, Into the Woods leading man and heir to The Late Late Show throne. Steadily working in his native England for nearly two decades (Doctor Who fans know him well), Corden caught the attention of Broadway-goers with his Tony-winning role in the 2012 play One Man, Two Guvnors. Playing the Baker in Rob Marshall's adaptation of Stephen Sondheim's fairy-tale musical is his highest-profile role to date, a nice boost before the showman takes over for Craig Ferguson in March 2015. During a press event, Vulture spoke with Corden about climbing the success ladder, losing his character's big number, "No More," to the adaptation process, putting his stamp on American late-night, and spending a majority of Into the Woods with a cow (who was not very nice).
Did winning a Tony for One Man, Two Guvnors play a part in landing this role?
I was in One Man, Two Guvnors, and Rob and [Into the Woods producer] John DeLuca had come to see it. It was shortly after the Tonys that I went to audition for Rob to do a workshop in New York of what is now what we know as the screenplay with the songs in it — a cut-down version to show the executives from Disney. And I was doing it safe in the knowledge that we'd do the workshop, but if the film were green-lit, they'd get someone much more famous than I, and that would be that.
That would have been a bummer.
Well, no, it's fine. You're just pleased for the opportunity. You're enjoying doing it. But I'm not naïve; it's such a big part in the movie. Then we did the reading and he came up to me afterwards and he said, "If we ever make this into a film, I promise you're coming with us." And I was like, "Well, when it gets to the business end of it, I don't know if that'll be the case." To his credit, he stuck by me the whole time. I'll be in debt to him forever, really. It's overwhelming to think about sometimes.
Did Rob wind up fighting for you?
I know that he had to convince Disney. His thought process on it was that the character is very much an everyman on the street who's plucked out of his world and put in a situation that is so far removed from his own. Rob was like, "Let's cast that person. Let's cast someone without a greater international audience or any kind of baggage." 
What was the singing situation like on set? Was it all prerecorded? Do you still sing along when the recording runs?
Yeah, you sing all the time. Rob was very, very clear about that. Some songs are like 50-50 as to whether they're sung live on the set. There would always be moments when Rob would come in and go, "Do you know what, guys? I think we should try one live." So we'd put an earpiece in that's got the track on it, and you'd just sing it live. 
Which moments wound up being recorded on set?
All of Meryl's rap. Half of Emily's moments in the woods. Rob thinks it's probably 60-40 of what's sung live, because there are very few intros to the score, so you'll be talking and then they'll just go, [sings] "What was that? Was that me?" That's very hard to click in. So, there's a fair chunk of it that's like that. 
You spend a decent amount of time hanging out with a cow in this movie.
Oh, the cow was a nightmare [laughs]. It was a fuckin' nightmare. 
So she wasn't the best co-star?
The amazing thing about Rob is that he's not a huge fan of green screen. He thinks, particularly in a piece like this, that you want to be able to feel the texture and depth of those woods. And there is nothing more infuriating than watching Meryl Streep giving an incredible performance, only for it to be ruined by [mooing sound], as the cow just careens through the scene. Emily's pregnant, I'm protecting her, and it's rambling around. That cow was the biggest diva on the set. She'd storm off to her trailer. She'd only have a certain type of straw in the morning. What price was an animatronic cow? That was my question. 
One of my favorite numbers from the show, "No More," didn't make the cut. Did you wind up shooting that scene, or was it never on the table?
No, it was never in, and I think Rob's right. The truth with ballads in musicals, when they're movie-musicals, if you have a few ballads back-to-back, there starts to be diminishing returns. In a theater it's a very, very different thing. You're watching someone live in front of you, doing this amazing thing. In a film, you have to be very careful about when you slow the pace down. Don't get me wrong; I love that song. I'd give anything to sing it. But no one ever left a movie theater going, "I wish that had been longer." 
I mean this in the greatest respect: I think the best example of that is the film version of Les Misérables, where Eddie Redmayne's performance of "Empty Chairs at Empty Tables" is completely brilliant. It's utterly brilliant. It's gobsmackingly good. But the first time you watch that film, it sort of goes for nothing because of the mammoth amount of ballads that have been before that. That's why Rob is the best movie-musical filmmaker in the world right now, no question. He understands what you're feeling when you're sitting in a cinema. Into the Woods runs at three hours, ten minutes. This film is just under two hours. So, stuff has to go, and what he wanted to do was protect "No One Is Alone." He was like, "That's the message of the film. That's the ballad that counts." "Children Will Listen" isn't in [the original show] as in, you don't see Meryl singing it visually. It's the play-out of the end. That is also hugely brave to have it be part of the movie here. 
Do you hope to bring any of your song-and-dance showmanship to The Late Late Show when you start in March?
I hope so. I mean, that's all I ever want to do. I would give anything to try and bring that feeling of old-time variety to late night.
Do you see room for something different in late-night television? The medium has its traditions. They seem hard to break.
It's a weird thing, late night, now. I'm Jimmy Fallon's biggest fan. I worship [him]. I would bow down to his feet. What's really strange is that the success of that show has almost made late night into daytime. The biggest hits, the stuff he's doing on late night now, they are mainstream, daytime ideas. It's full of warmth, and it's full of love. Everything I've ever tried to do is that. Jimmy Fallon's giving me the confidence to think I can do it, and also the absolute fear that I'll never, ever match up. 
You've hosted in the U.K., like the panel show A League of Their Own. Do you think or hope you'll be able to bring a British late-night sensibility to American television?
It's so hard for me to talk about because I don't even know what the show is yet. 
When does that happen?
I don't know. At some point, I guess, but right now, it's all a bit busy. I just had a baby, I'm here in New York, I start shooting another A League of Their Own tomorrow in London, I have another draft of a movie I have to hand in to Working Title. 
You're squeezing in a movie, too?
Yeah, it's called School for Santas — it's a Christmas movie. So, there's a lot to do before then. The greatest thing is, I wasn't born yesterday, and I know that this TV show is going to take a little while to figure out, and some of that's going to happen on the air. These things happen organically. They're a constantly evolving form, really, and I'm going to try my best. I hope it's good. It's going to be a disaster. 
It can't be that bad if there's dancing.
I really want to try, because that's all I want to do. Dance is my life.