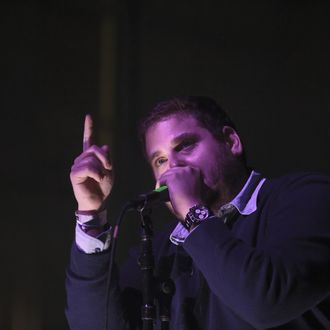 Credit Andrew White, Courtesy of VICE Media:
Photo: Andrew White, Courtesy of VICE Media:
Onstage at Vice magazine's 20th-anniversary party Friday night, Jonah Hill rapped Drake's "Marvins Room" with guitar accompaniment from director Spike Jonze, but he "hated every second of it." "Spike asked me to do it," Hill told Vulture afterward. "It was like a bucket-list thing … I'll never do that ever again." They picked "Marvins Room" — Drizzy's lead single off Take Care — because when they collaborated earlier this year on their one-act play 100% Lost Cotton, Jonze would play it whenever they didn't feel like writing. Onstage, Hill didn't look like he hated it so much when he opened by saying, "Drake, I sent you a panda emoji, dawg." He continued making faux-desperate pleas to the Canadian hip-hop star: "I thought Drake and I were friends, dawg. I love you Drake. Accept my friendship." We hope the panda emoji worked. Dawg.