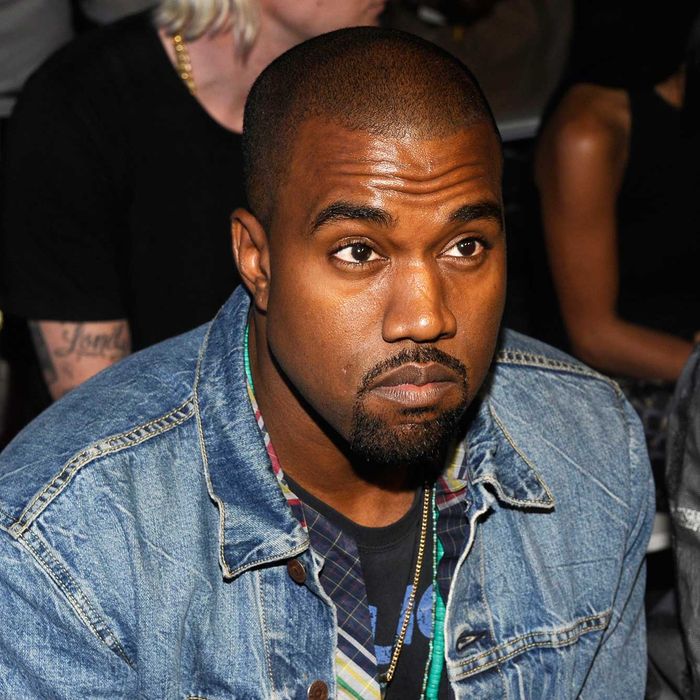 Kanye West.
Photo: Clint Spaulding/? Patrick McMullan
If Kim Kardashian's butt can break the internet — a feat she's celebrating with Paper magazine tonight at Art Basel Miami Beach — what can Kanye West's brain break? We may be just a few weeks, days, or even hours away from a new Yeezy album (at least according to an interview he gave GQ in August, and rumors of a 20-person listening party in Paris this past September), and there's talk of a Kimye performance piece involving the transposition of region-specific ritualized effervescent liquid into sculptural vessels happening sometime this week. (In translation: They will be pouring Champagne. As art.) Before the chattery responses come in — "Kanye's just another celebrity event accessory searching for legitimacy through proximity to art" — let's paddle out ahead of the wave (it's Miami, so I can make a beach reference) and explore the nature of the art world's active eye-roll at Kanye West.
Any time Kanye creates — an album, a sentence, an outfit, or even silence — he's criticized. Then he comments on the criticism, critics respond to the commentary, and commenters offer their two cents about the critiques. Here I'd like to defer to art critic and poet John Ashbery, who, in a 1964 interview with Kenneth Koch, said, "The worse your art is, the easier it is to talk about it." There is a global struggle to talk about Kanye West's art, and no one struggles as much as Kanye himself. In an interview with Seth Meyers in February this year, he compared his desire not to be boxed into one creative realm to another artist's struggles with medium: "Like Michaelangelo: The church wanted him to paint, and he wanted to do sculptures."
Commitment is a big part of what we admire in fine art. When Jerry Saltz recently shared his memory of seeing a performance artist in 1990 scooting up a rope with grease in his orifices, we felt punch line giddy when he revealed this Vaseline young man was Matthew Barney. An artist's commitment over the decades illuminates a narrative that makes us feel secure watching individuals push their boundaries.
Kanye West has this quality; he is an artist who commits, even when it isn't prudent, comfortable, realistic, or flattering. It's hard to explain his behavior at times, but that just might be what makes it relevant.
And since the release of Yeezus in 2013, Kanye made a significant new commitment: He became Kimye. Many have asked: Is being "Bound 2" Kim part of a performance? In his analytical litany Monogamy, literary psychoanalyist Adam Phillips writes, "Monogamy is a way of getting the versions of ourselves down to a minimum. And, of course, a way of convincing ourselves that some versions are truer than others — that some are special." Kanye's obsessed with setting the record straight. Perhaps this marriage — and all marriages — are a performance of singular identity. In the same GQ article, the rapper talks about learning from Kim's communication skills and admits that the particular filter of "we" has refined his Twitter expressions and curbed his "Internet explosions." There are more versions of Kanye West in our contemporary consciousness — every person who has seen or heard of him has an idea of him in his or her mind — and so, in a way, self-defining for Kanye is a powerful artistic act. While speaking on a panel with Jacques Herzog at Basel Miami last year, he said, "You're seeing a reality show of my thoughts right now." He sees the potential for performance in each action, even his wedding seating chart, about which he said, "It really was a representation of the way we receive information today, post-Internet."
Though Kanye West fans know this well, many who criticize him for his fame-fueled crossovers into art and fashion forget that he went to art school at Chicago's American Academy of Art and for years delightedly shared "Artists of the Week" on his blog, KanyeUniverseCity: "(10/31/2007: This is the esteemed pop artist Burton Morris … I purchased the Bob's Big Boy and Sugar Smacks pieces that are in my kitchen from him and loved the work so much that I later commissioned him 2 do his take on the Jetsons Family …). " Earlier this year, in an Interview magazine story, Kanye told director Steve McQueen, "So the joke that I've actually played on everyone is that the entire time, I've actually just been a fine artist." Whether we like what Kanye makes is separate from acknowledging he is as committed as most artists about what he does.
To continue the joke, here's a quiz. Who said what?
1. "Because when I perform, I am 100 percent alive. My life is hell because I don't have time to breathe. The less time I have in life, the more time I put into performance. The longer the performances, the more they turn into life itself."

a) Jeff Koons
b) Marina Abramovic
c) Yves Klein
d) Kanye West
2. "She's a media woman. I'm a media man … We are the new Adam and Eve."

a) Jeff Koons
b) Marina Abramovic
c) Yves Klein
d) Kanye West
3. "I've made what the Beatles would have made if they'd made sculpture."
a) Jeff Koons
b) Marina Abramovic
c) Yves Klein
d) Kanye West
4. "Due to the fact that I have created pictorial immaterial states,
Due to the fact that I have manipulated the forces of the void,
Due to the fact that I have proposed a new conception of music …
Due to the fact that I have presented a theater of the void, among countless other adventures …
I would never have believed, fifteen years ago at the time of my earliest efforts, that I would suddenly feel the need to explain myself …"
a) Jeff Koons
b) Marina Abramovic
c) Yves Klein
d) Kanye West
Or here's the true Kanye, on his first album, The College Dropout, from 2004:
"I give a fuck if you feel me, I'm gonna follow my heart."
Answers:
1.  Marina Abramovic
2. Jeff Koons
3. Jeff Koons
4. Yves Klein