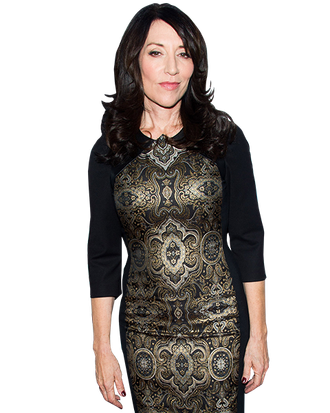 Photo: Bravo/NBC Universal
Warning: Major spoilers ahead for this week's Sons of Anarchy episode, "Red Rose."
"I was glad I made it to 12," Katey Sagal tells Vulture of seeing her character, biker-gang matriarch Gemma Teller Morrow, killed off in the penultimate installment of Sons of Anarchy's 13-episode final season. "You never know with this show. I was fine with going when I did." Even though her back was turned on son Jax (Charlie Hunnam) when he shot her, Gemma saw it coming, since she'd murdered his beloved wife, Tara, setting off a chain reaction of violence that claimed many more lives. Sagal talks about saying good-bye to Gemma and her plans to reteam with her husband, SoA creator Kurt Sutter, on his next FX series, the medieval revenge drama The Bastard Executioner.
When did you know that you were going to die in the next-to-last episode?
I knew I was going to come to my demise about three or four episodes into this season. I didn't know exactly when it was going to happen or what the circumstances would be. But Kurt told Charlie and me at the same time that Gemma was going to die at the hands of her son.
What was it like shooting that final scene with Charlie?
Extremely emotional. The scene where we're in the living room, before we go out to the garden, was written to be very conversational. Gemma's not surprised by her son being there. She's in a very reminiscent and relieved place that the secret is out. It was written not to have a lot of histrionics, which made it even more intimate. It almost makes me cry talking about it. It was very sweet — those last moments before Charlie and I walked out to the garden, we were just crying and hugging each other, and then we'd roll. And I'd walk and he'd follow me. Then we'd do it again. It wasn't only Jax and Gemma's farewell, it was Katey and Charlie's farewell after working together for seven years.
Was Gemma's fate sealed as soon as she killed Tara?
No. She did not premeditatedly kill Tara. She thought she would take Juice's suggestion of pinning it on the Chinese, and Jax would be satisfied. In her mind, she was okay with that. She thought, I need to stick around for my grandkids, and I can hold this secret. This is a woman who was involved in the death of her son's father, and she never told him that, so she could hold a secret. But she didn't expect at all the carnage that followed. By the time Bobby [Mark Boone Junior] died, I was saying to Kurt, "Why doesn't she just put a bullet in her head?"
In a way, she does. Was she making it easier on Jax by not facing him when he shot her?
It's part of her mothering and loving him that she feels he needs to kill whoever killed Tara. She feels like she's doing him that favor. It's that, combined with the fact that she's too afraid to do it herself. She needs him to help her do that, and to do it for himself.
Before Gemma goes to her childhood home, she meets a trucker played by Michael Chiklis, who'd worked with you and Kurt on The Shield. What was the story behind his casting?
He was the last Shield cast member who had not been on the show. That was Kurt's call, and I thought it was a brilliant choice. Michael was terrific.
Were you surprised you got a chance to do another scene with Hal Holbrook, as Gemma's Alzheimer's-afflicted father?
I was thrilled to work with Hal Holbrook again. There's nobody like him. It all fit into her arc — she says good-bye to [her grandson] Abel, she says good-bye to her dad. Hal is so beautiful to be around.
How has it been working with Kurt for all these years? Do you bring your work home?
We have separate jobs in the same world. When we get home, he'll share different parts of the job — what's going on with the production and writing. And I'll talk about acting. It's kind of great, really. I find it really awesome to watch him do what he does, and I think he feels the same way.
Are you excited to work together again on The Bastard Executioner?
Yes! It's kind of a departure. They are definitely different vehicles. And there's a lot of mud. I know the story, and I'm sure it's going to be really great.
Did you hang around the set for the final episode after Gemma was gone?
I did. Kurt was directing, and a bunch of us came back for the last shot. It's been a remarkable run and a close-knit group of people, the crew included. So it was nice to have our final good-bye together.
What has it meant to you to create another TV icon after Married With Children's Peg Bundy?
I never thought that would happen again. I was pretty blessed to have it happen once, and then to have it happen again in such a different way was amazing. My husband and the FX network both took a shot on me. They went for it. I had faith that I could do such a departure from what I was known for, but I needed other people to be onboard, too. I feel very grateful they believed in me. It opened up a whole new world for me. It gave me so much more opportunity.
What will you miss most about playing Gemma?
It was so fun to play a badass. Gemma put people in her place. She called it like it is. It's hard to find women who are written that way. So I will definitely miss that. She was one of a kind.