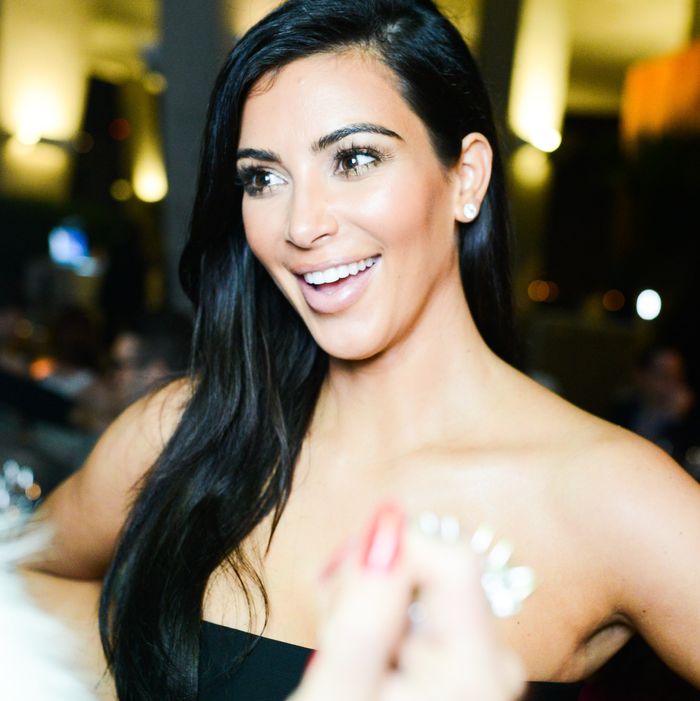 Kim Kardashian.
Photo: Madison McGaw/BFAnyc.com/BFA NYC
At this point, Art Basel Miami Beach has become bootcamp — and Barry is nowhere in sight to motivate. "I'm tired!" seemed to be the first thing nearly everyone said last night at Paper's dinner for their cover star Kim Kardashian West. The only person who wasn't complaining was Kim, who brought her bestie Larsa Pippen in place of her husband, Kanye West. "She's such a good sport," said the other Kim of the evening, Hastreiter, who co-founded the pop-culture magazine 30 years ago. Hastreiter also went on to add that even with the media spectacle surrounding the magazine's #BreaktheInternet cover, she wanted the evening to be anything but a media circus. Press wasn't allowed to chat on the record with Kardashian — or even to take selfies. Not that we tried.
Weeks leading up to the dinner, which was held in the Herzog & de Meuron Blade Runner-esque parking garage, rumors swirled that Paper was taking the theme of Art Basel quite literally and turning Kardashian's Miami appearance into a piece of performance art. Would she and Kanye pour Champagne? Would guests simply sit and watch her eat? In the end, Kardashian attended the dinner just like the rest of us. She walked through the step and repeat in her favorite Tom Ford heels. She posed for pictures next to the DKNY-decorated taxi cab. She sat next to Hastreiter, and across from Joe Jonas. She made pleasant conversation and laughed at appropriate times. One guest overheard Kardashian refer to her own derriere as a "work of art." But it was a tame crowd — performance artists Eva and Adele were there, as well fashion-designer sisters Coco and Breezy. So were the DJ collective that includes the Dolls, Mia Moretti, Margot, and Cleo Wade; plus musician Brooke Candy and Kanye's creative director Virgil Abloh. "I'm really happy with the way this turned out," said Kim Hastreiter. "It could have been a nightmare."
Nightmares might be the only way to describe the door at Dom Pérignon's annual bash at the W Hotel's the Wall that follows Aby Rosen's annual dinner party at the Dutch — often considered the hardest invitation in town. No, we were not there. We may have stood three feet from a Kardashian but we still aren't invited to dine with Vera Wang, Wendy Murdoch, Emilia Fanjul, the Mugrabis, and the Taubmans. That's Miami! Miraculously, we were the first people let into the nightclub, which apparently meant to the waitstaff that we were super-VIP and we were immediately ushered to a banquet table and attended to all night with bottle service. In our many years of party reporting, this quite literally was a first — thanks, Dom Pérignon — especially in light of the fact that Rosen and Larry Gagosian were to our left, and Tommy Hilfiger and Wiz Khalifa were to our right. The party contained the one percent of the art world, and though it raged until 4 a.m., much like Kardashian, the tone very polite, leaving us wondering: Does exhaustion breed good manners? It just might.