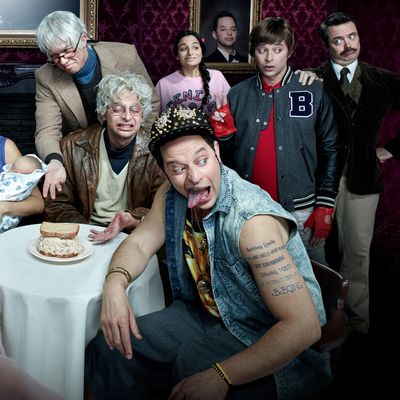 Photo: Courtesy of Kroll Show
Last spring we learned that Kroll Show would be getting another season. What we didn't know was this third season would also be its last. Comedy Central and Nick Kroll tell Vulture that they've decided to end Kroll Show. Kroll explained it wasn't the plan going into the season, but while they were filming, they realized that they were "[wrapping] up a lot of the stories and characters." The third season will premiere on January 13. There will be a sneak peek from season three tonight on Comedy Central. Below, Vulture spoke to Kroll about why he made this decision, what to expect from the final season, and how he wants the show remembered.
When did you decide to end Kroll Show?
Well, it was not the plan to do so, but as we started to get towards the end of the season, it just became clear that we wrapped up a lot of the stories and characters that we had created, and felt like we had brought a number of them to their natural conclusion. So, as opposed to stringing out more seasons, we wanted to feel like we were going out with the best work that we've done. As I'm sure you've watched a lot of shows you've loved continue to make shows because they could and the quality began to dwindle.
Was there a consideration of rebooting and just starting fresh with a fourth season?
It crossed my mind, but my feeling was the people who watched the show have come to identify with and relate to certain characters, and if we just started anew, it could be disappointing to the fans. To be like, And all those characters that you had invested in, they're gone now. And I'll be doing my new singing-telegram character. So that was kind of the feeling. It's just maintaining the purity of what we're doing.
We laid a foundation in season one, and in season two, we really began to go more in-depth with a lot of the characters and start to tell these more long-form stories. In season three, we continued to dive deeper into those characters and begin to cross worlds even more, as we had done at the end of season two. It really is very intertwined and enmeshed, so it felt like that was a good time to be like, "We're done."
And there are trilogies for a reason.
Yeah, there's definitely the rule of threes in comedy. A trilogy is a good way to look at it. I can guarantee you that in about 15 years we'll be doing the prequel, and then two years later we'll have J.J. Abrams come in and try to clean up that mess.
Once you noticed that, did you then start shooting it as a conclusion?
Not entirely, because I think that that puts so much pressure on the show. Having watched friends make final episodes or final seasons, it's so hard to do that well and satisfyingly that we didn't want to overly focus on that.
But there are a few stories that just were the ones that were fun to tell. "Dr. Armond," "PubLIZity," C-Czar, and "The Rich Dicks" all have some pretty real conclusions to them. And then some of them I felt like we pushed the stories that we were telling. We switch genres, like Bobby Bottleservice started season one with like a web video, and this year we basically made The Expendables. So it feels like, we pushed Bobby about as far as we can go, because there's no bigger, grander height than an homage to Sylvester Stallone's later works.
Were there certain things you thought you definitely needed to do this year?
The fun thing about the show in general is that it's a hybrid. We got to choose the best of both worlds of sketch and sitcom. We have characters that you could keep growing and evolving with, but also that you could walk away from immediately or do something that wildly alters their reality. Because of that, there were some things that I'd been pushing for a long time. Like the Euro Guy from season one is like a Joran van der Sloot. He's an international killer [laughs] and he is behind the murder of Shannon Armond, Dr. Armond's wife. Once you have some detail like that, then it all spirals out from there.
Or, like, John Levenstein, the showrunner, called me over the summer and was like, "I have an idea for Liz, and it's a big move." And the big move for my Liz this season is that she gets bangs. And it's treated like it's the most incredibly serious thing in the world. For Liz, it's incredibly serious that she gets bangs, but Pretty Liz doesn't love them. And then that just becomes the engine for all the stories that we begin to tell that have nothing to do with that. It makes her leave "PubLIZity" and go off into the Wild West, and so on and so forth.
Or Mikey from "Wheels Ontario" gets shot at the end of last season by Tunes, and so he's back from being shot but he's got a pills addiction — which is actually based on a real Degrassi story line. Now he's on pills and he looks trans, and so then there's a possibility of, Oh, is he trans now? No, but he might end up being bi.
Did you need to make an extra effort to get any of the guest-stars?
Yeah, one of the most fun ones for me is that we got Nathan Fillion to be a Mountie in "Wheels Ontario." It was so gratifying to get a real Canadian. I feel like if Nathan Fillion didn't become a world-famous actor, he very easily could have been a Mountie.
We finally got Aziz on the show. Seth Rogen comes back this year. We took "The Legend of Young Larry Bird" and created a fake sitcom, like, would [it] be fun to see Larry in his Boston years? And the only thing we could think of with Boston was Cheers. We'd never done a fake sitcom before, so we did one called "Chairs," where Larry is a bartender and Seth Rogen plays Bill Walton as the Norm character, but he just smokes weed. Amy Poehler comes back as Wendy's sister because Wendy dies – well, let's just say Wendy shows up for a funeral. We've got Casey Wilson to do a Millionaire Matchmaker kind of character. And then all the main people — Chelsea Peretti, Jason Mantzoukas, John Mulaney, Jenny Slate, and Jon Daly — are all back.
So, looking forward, can you see yourself doing these characters in a different form after the show?
I don't know. I really don't know. I haven't tired of doing the characters per se, so I kind of leave it open to just see what happens. It's a weird thing to end a show when it's still working. And to be honest, it's a little scary, but it just felt like the right thing to do at this moment. I think when my crippling drug addiction and debt take over five years from now, maybe there's a reboot of some of these characters. But right now I just got a new credit card that doesn't know about the serious debt I've accrued and a room full of bath salts, so I think I'm good for a while.
Do you think Kroll Show will be remembered as the purist version of the Nick Kroll comedic voice?
I think the show is a very good summation of what I was interested in on TV and the kind of people that were interesting to me. One of the things I'm proud of is we never had an agenda of, We're going to make fun of these kinds of people. It just organically occurred without too much of a preconceived idea. So it's a good example of whatever has been in my head for the last three or four years. It seems weird to call it "pure" because most of it feels so disgusting.
But I feel very lucky that I'll be able to look at this show and be like, These are the people who I was friends with. I think people will look back at the show and see what an incredible cast and what a group of writers we had over the three seasons. My hope is that it's like The Ben Stiller Show or Mr. Show, where people go on to become the most recognizable people in comedy.
You look at that show and see Jenny Slate or Chelsea Peretti or John Mulaney or all the writers who wrote on the show are now either continuing to write on the show or at Brooklyn Nine-Nine or Parks and Rec or New Girl. It feels like a good time capsule of the people and things I thought were funny over this period of time.