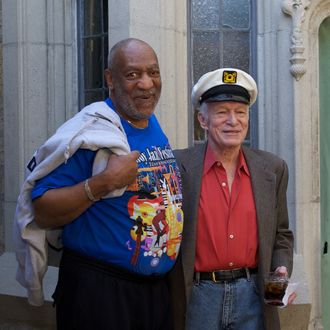 Photo: Earl Gibson III/2011 Earl Gibson III
As part of its investigation into a woman's claim that Bill Cosby raped her in 1974 at the Playboy Mansion, the LAPD will search Hugh Hefner's estate for evidence, TMZ reports. Judy Huth alleged in a lawsuit last week that the comedian molested her at a party there when she was 15 years old. After hearing Huth's story, former Playboy Bunny P.J. Masten told CNN that Cosby drugged and raped her in a Chicago hotel and assaulted up to 12 other Bunnies.
"Bill Cosby has been a good friend for many years and the mere thought of these allegations is truly saddening," Hefner said in a statement. "I would never tolerate this kind of behavior, regardless of who was involved."
Authorities will interview Hefner's employees and search the compound. The LAPD is investigating regardless of California's statute of limitations because police chief Charlie Beck has said his team takes sexual allegations seriously.