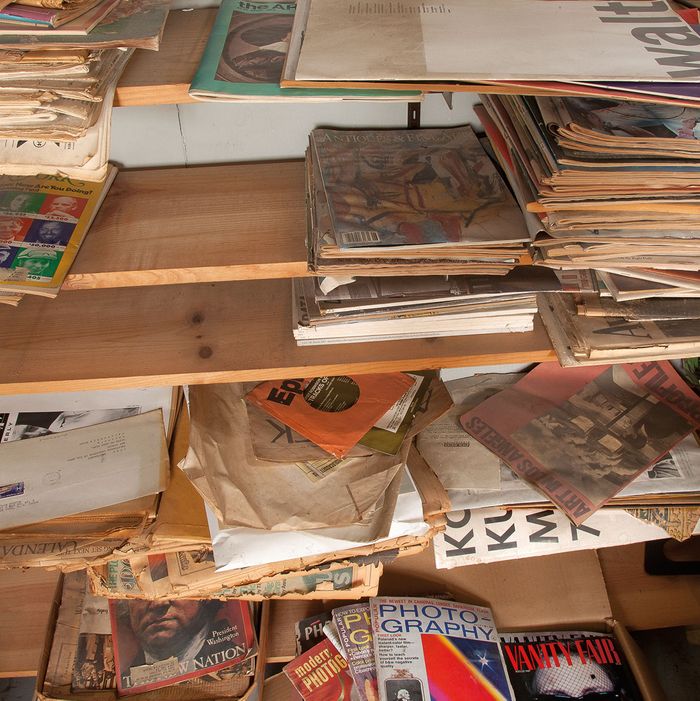 Magazines from John Baldessari's archive.
Photo: ? Sarah Trigg/Courtesy of John Baldessari
Analia Saban lives and works in a studio with a legendary past. Before she took over the space on Main Street in Santa Monica, it belonged to John Baldessari and, prior to him, William Wegman.
Saban is a conceptual artist who reconfigures traditional media, particularly painting. For example, The Painting Ball (48 Abstract, 42 Landscapes, 23 Still Lives, 11 Portraits, 2 Religious and 1 Nude) (2005) is a 26-inch-wide ball of the enumerated paintings ripped in thin shreds and wound like yarn. For Cotton Canvas Thread from a 7.5 ft-wide Landscape Painting, (2005), a one-eighth-inch-wide strip cut horizontally from a landscape painting was framed and mounted on the wall.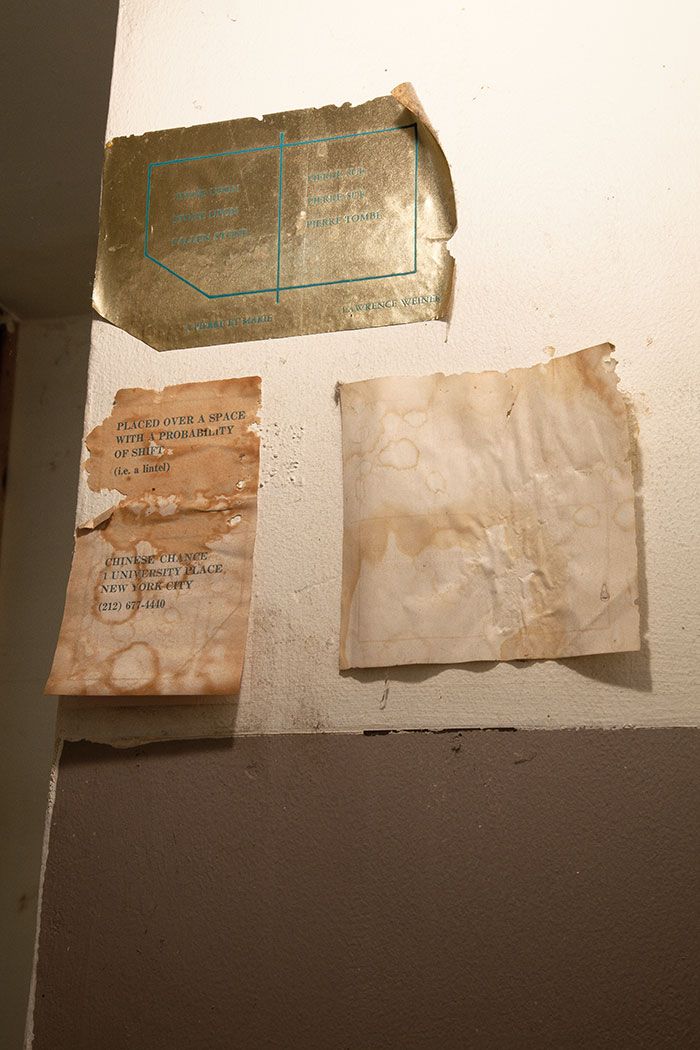 Saban still uses the darkroom built by Wegman in the early 1970s. "Everything is the same, even though I've been here for three years." Candid photos of Baldessari's life, including images of his children, remained on the walls of the kitchen area. Baldessari, after vacating this studio and several others scattered throughout Los Angeles, had consolidated his practice into one large complex in Venice Beach. But a room at Saban's remained dedicated to part of his vast collection of magazines and newspapers — research for his appropriation work using imagery from popular culture. Of the ephemera he left behind, Saban said, "He has a lot of different archives. It's good for an extension to be kept for him here. It's still his place, in a way — everything's the same. I'm just trying to clean it a little over time," she laughed. She explained how she works around her predecessors' work spaces, respectfully keeping them intact.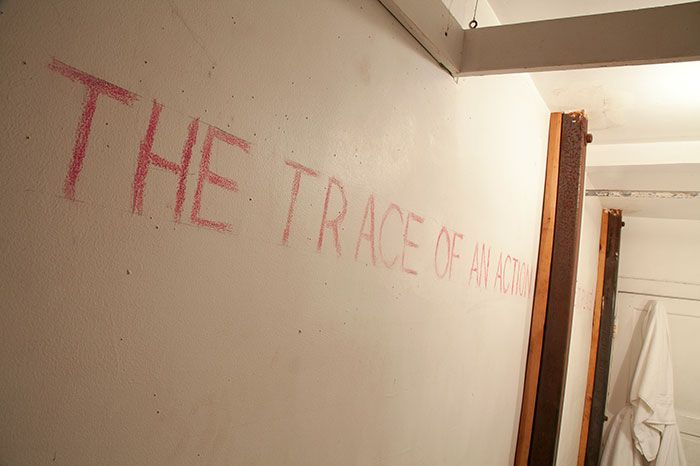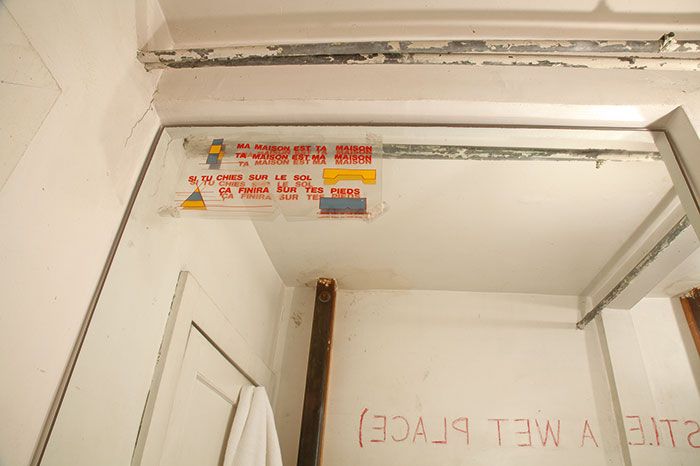 The washroom showed further traces of the studio's history. Inside, handwritten on the wall, was a 1986 text piece Lawrence Weiner had given to Baldessari that read: THE TRACE OF AN ACTION PAST (i.e. A WET PLACE). Several Weiner stickers were adhered to the wall (STONE UPON STONE UPON FALLEN STONE / PIERRE SUR PIERRE SUR PIERRE TOMBÉ [1983] and PLACED OVER A SPACE WITH A PROBABILITY OF A SHIFT (i.e. A LINTEL) [1977]); and to the mirror (MA MAISON EST TA MAISON / TA MAISON EST MA MAISON [1986]). Upon viewing the photos, Weiner remarked, "Over the years I have taken many a shower in that room, as John was a very gracious host."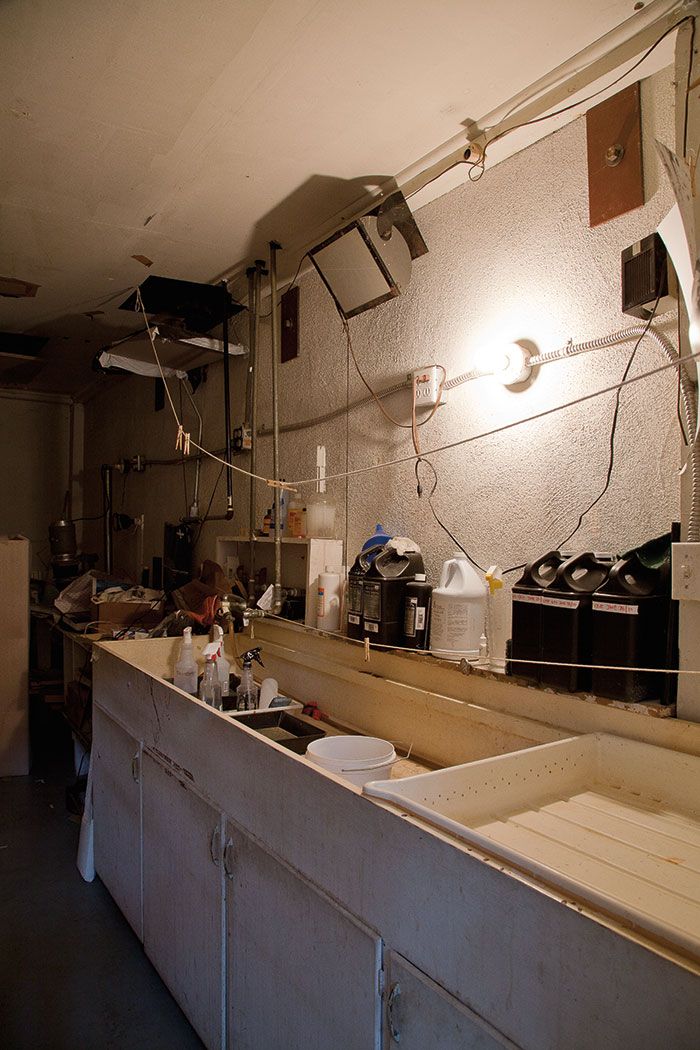 William Wegman had recently visited Saban at the studio and discovered she still had a chair he had used in many of his well-known video pieces. "He was really emotional about it," said Saban. Shortly after his visit, she packed the chair, along with some images she had photographed of the studio, and shipped it to Wegman. The parcel happened to arrive on his birthday. When I returned to New York, I contacted Wegman to document the prodigal chair's return.
Excerpted with permission from STUDIO LIFE: Rituals, Collections, Tools, and Observations on the Artistic Process by Sarah Trigg (Princeton Architectural Press, 2013). © Sarah Trigg. All rights reserved. In 2009, Trigg, a visual artist, embarked on an investigation within the United States, interviewing more than 200 artists in their studios. She met with a wide range of practitioners — from painters to performance artists — of various locations, backgrounds, and career stages to create a behind-the-scenes survey of artmaking today. Instead of focusing on artwork for the book, Trigg asked her subjects to share examples from their practice that they considered to fall in the categories: mascots, collected objects, rituals, makeshift tools, residue, and habitats.