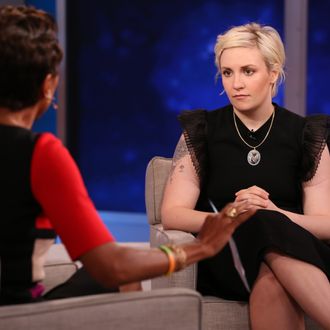 Random House has told the Wrap that it will alter future versions of Lena Dunham's Not That Kind of Girl because the author's description of being raped in college has caused problems for another former Oberlin student. In her memoir, Dunham says she was assaulted by "Barry," a fellow student with a flamboyant mustache, deep voice, and purple cowboy boots who was the token Republican on campus. The problem is there's an Oberlin alumnus named Barry who fits that description, but he insists he's never even met Dunham. "We have put the change in process," the publisher said. "The digital edition of Not That Kind of Girl will reflect that 'Barry' is a pseudonym. Future printings of the physical book will also have that change."
"We're not on a warpath," the man's attorney, Aaron Minc, said. "We've been trying to get their attention for months. It took the threat of litigation to make them take action. We have certainly intimated that we think our client is being libeled, but we've been trying to be as reasonable as possible. The remedy to solve this issue is not necessarily legal in nature, and we recognize that. A lot of the suffering Barry was going through and was about to go through could be cured by simple, remedial action from Miss Dunham and Random House."
Random House cleared Barry's name and, in a statement, has said it's willing to reimburse Minc's client:
As indicated on the copyright page of Not That Kind of Girl by Lena Dunham, some names and identifying details in the book have been changed. The name "Barry" referenced in the book is a pseudonym. Random House, on our own behalf and on behalf of our author, regrets the confusion that has led attorney Aaron Minc to post on GoFundMe on behalf of his client, whose first name is Barry.

We are offering to pay the fees Mr. Minc has billed his client to date. Our offer will allow Mr. Minc and his client to donate all of the crowd-funding raised to not-for-profit organizations assisting survivors of rape and sexual assault.
The publisher's response comes on the heels of the conservative blog Breitbart's investigation into the rape allegations, which the site deemed unverifiable. Dunham and her representatives have yet to respond.