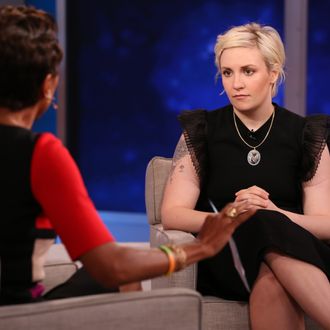 After news broke about another Lena Dunham book kerfuffle, the author penned a lengthy response to all of the journalists, readers, and conservatives who picked apart her sexual-assault story. Her claim that she was raped by a Republican Oberlin student almost a decade ago prompted one blog to investigate her story and many other outlets and online commenters to question its validity. The essay is featured in her book Not That Kind of Girl but hadn't made anyone bristle until recently, when another former Oberlin student said he'd been mistaken for her attacker. In her BuzzFeed piece, Dunham underlines that the book's name for her rapist, "Barry," is a pseudonym, apologizes to the Oberlin alum of the same name, and encourages readers to be more empathetic toward rape survivors.
"Speaking out was never about exposing the man who assaulted me. Rather, it was about exposing my shame, letting it dry out in the sun. I did not wish to be contacted by him or to open a criminal investigation," she writes. "I am in a loving and peaceful place in my life and I am not willing to sacrifice any more of it for this person I do not know, aside from one night I will never forget." An emboldened Dunham says she was initially scared of sharing her story, citing that "survivors are so often re-victimized," that "they are asked to provide an unassailable narrative when the event itself is hazy, fragmented, and unspeakable," and that "their most intimate experiences are made public property."
Knowing her essay would be met with ire and skepticism, she says she still underestimated the amount of misogyny and insensitivity her story would ultimately accrue:
I have a certain empathy for the journalists who asked me questions like whether I regret how much I drank that night or what my attacker would say if he was asked about me. These ignorant lines of inquiry serve to further flawed narratives about rape, but these people are reacting to the same set of social signals that we all are — signals telling us that preventing assault is a woman's job, that rape is only rape when a stranger drags you into a dark alley with a knife at your throat, that our stories are never true, and that lying about rape is a way for women to enact revenge on innocent men. These misconceptions about rape are rampant, destructive and precisely the thing that prevents survivors from seeking the support that they need and deserve.
Dunham adds that speaking out about the complexities of rape is how affected and unaffected members of society can protect each other. "You can help by never defining a survivor by what has been taken from her," she writes. "You can help by saying I believe you."
Dunham's publishers agreed yesterday to tweak the pseudonym notice in future copies of the memoir and to remunerate real-life Barry for the legal fees he's racked up since having his identity mixed up with that of the alleged rapist mentioned in the book.