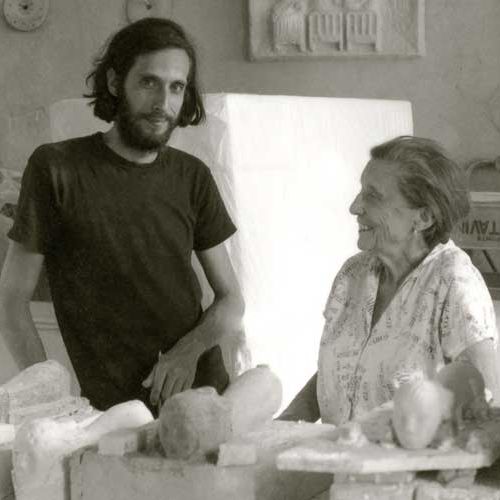 Louise Bourgeois and her assistant Jerry Gorovoy in Carrara, Italy, in 1981. © The Easton Foundation.
Photo: ? The Easton Foundation
Louise Bourgeois (1911–2010) was inarguably one of the most important artists of the 20th century, but the trajectory of her career was an extremely unusual one, with most of her successes coming only when she was already into her 70s. One of the most comprehensive exhibitions of her work was at the Guggenheim Museum in New York in 2008, when she was 97. Much of her artwork, specifically the work that won her so much attention later in life, was about male and female sexuality and her contentious relationship with her father.
In 1980, she met Jerry Gorovoy, who would later become her assistant for 30 years. They met when he included one of her works in a group exhibition, and the two ended up working together until the artist's death in 2010 at the age of 98. On the occasion of the exhibition "Louise Bourgeois: Suspension" at Cheim & Read Gallery, we sat down with him to talk about his relationship with the artist, her working process, and what it's like to work as an assistant to a true titan for almost three decades.
Let's start with how you met Louise.
I was installing the first show I curated, called "Ten Abstract Sculptures" (1980), in Soho, and included a sculpture by Louise. She came during the installation and was unhappy with her piece's relationship to other works in the show. She started yelling, threatening to pull it out. I had seen some of her works before — she had an underground reputation — but this was my first encounter with her. I thought she should be grateful to be in the show, since at that time she wasn't that sought-after. In my opinion, the piece she submitted — C. O. Y. O. T. E., an early wood piece from the 1940s, which she had later repainted pink — is one of the great works of the 20th century.
What she said regarding the installation was not totally wrong but had more to do with the gallery space. Her work was in good company, next to The Spider by Calder, from 1942; an early Mark di Suvero; and a Ronald Bladen. I was totally startled by her ferocity and suggested we have some tea at the Kitchen down the street, as a way of calming her down and persuading her to let the piece remain in the show. On the way back, she fell on the cobblestones and I helped her up. She was a tiny woman and at that point already 70 years old, and I realized how vulnerable she was. The experience gave me my first insight into her high anxiety, and the fact that exhibiting her work made her frightened. I would later learn that Louise was one of those people who, when upset, attacks. It's her projecting of her anxiety outward and is the same anxiety that she transfers into the materials of her sculpture. Eventually she let the piece stay in the show. We sold it to the National Gallery of Australia. After the exhibition, she invited me to her home in Chelsea and showed me some more of her work. She was somewhat secretive, and I felt is if she didn't want me to see too much in one go. She was literally pulling drawings out from under her bed, some of which hadn't been seen since the 1940s, when they were made. The basement was full of 40 years' worth of work. After the group show, I organized a solo show of her drawings and early paintings. It was just at that time in the art world where artistic concerns were changing, moving away from formalism and abstraction, towards figuration and narrative stories about identity and sexuality. Louise had been mining these themes for a long time.
When did you make the transition from getting to know her to becoming her full-time assistant?
After the shows I would go and visit her in the afternoons, mostly just to talk. Sometimes we would go to openings together, have dinner, see a movie, or hang out with friends. Slowly, I started to piece together and come to understand the different bodies of work she had created over the decades. The afternoon sessions turned into one-day-a-week visits, and then more. By the late 1980s, we were working together full-time. We essentially made a pact that she would do the work and I would handle everything else. In terms of her career at that point, two things started happening at the same time. There was an unearthing of her incredible older work from the '40s, '50s, and '60s, which the general public and, for that matter, the art world did not know. Simultaneously, she was still producing new work. The retrospective at MoMA in 1982 was important in helping to see the range, the depth, and the originality of her output. It's possible to see Louise's work unfold in chronological order, but its evolution is more like a spiral that circles back around to the same theme, yet expressed in totally different materials and forms. She had no signature style, and she worked in many different mediums at the same time. A lot of artists are now working that way today. Early on I'd set up four pieces of hers at the gallery, and visitors would think they were viewing a group show and I would have to tell them it was made by one person. Even museum curators were wondering where she fit in historically. Her new work was as contemporary as anything being made at the time, even in comparison to a younger generation of artists.
She was definitely ahead of her time in that way.
I was totally fascinated by everything about her. There was no separation between her art and her life. Emotionally she was like a child, a troubled child. But there was an amazing intelligence and complexity behind her formal inventions. I knew that the more her art was out in the world, the more people would come to understand how incredible of an artist she really was.  Psychologically, Louise needed to work and needed to work constantly. It really did keep her less anxious.
Because she felt so vulnerable?
Vulnerable, yes, because she was a frightened creature in real life.  She wanted to show her work but would often cancel her exhibitions at the last minute. Exhibitions were too anxiety-producing. She stopped going even to her own openings. This, amongst many other reasons, explains why there were many gaps in her career. She started to garner more attention in the '70s, in part due to the feminist movement and also to the changing of the art scene.
Did you abandon your own curatorial practice to work with Louise?
I never actually saw myself as a curator. I was working in a gallery to support myself while I was in graduate school. I fell into it while studying for my MFA in painting. The things that brought Louise and I together were our mutual interests in psychology and psychoanalysis, as well as art. If I hadn't gotten a degree as an artist, I probably would have become a shrink.
So it sounds like the perfect marriage in that sense.
Yes. I was interested in trying to understand what made her tick, why she had these incredible bouts of anxiety and destructive impulses, and how this related to her art. Being a visual person, I could extrapolate a lot from what she produced. She always said her art was her psychoanalysis, and her conflicts were right there in the work.
You mentioned that Louise didn't care much about her own individual artworks once they were complete and looked forward to moving on to the next. Can you say something about that?
Louise was exclusively interested in the piece that she was working on. She felt that once a piece was completed, it had served its purpose, and she wanted to move on. I think this is because she was more interested in expressing the intensity of the moment, the anxiety of that particular moment. In terms of her art, her anxiety determined its form. She said, "Pain is the ransom of formalism." Before I met her, she had a tendency to destroy a work by cannibalizing it and reusing it in another. Her level of aggressivity would determine what kind of action she needed to perform physically with the material at hand, whether an object needed to be hard or soft or if she wanted to cut something up, or sew and bring things together. One day the work seemed to emanate from an inner violence, and the next day her work would be a reparation or an expression of her guilt. Her goal, certain days, was simply to survive. That's the kind of anxiety level she functioned at.
How was she on a day-to-day basis? Can you talk a bit about your daily routine and role within the studio?
Louise was very habitual. She'd get up in the morning and she'd drink her tea with some jelly straight out of the jar. She'd have a bit of a sugar high and be ready to roll. When she had the studio in Brooklyn, I'd pick her up at 10 a.m. and we'd drive there. Louise liked to work alone in silence, as if in a trance. The least noise would upset her. I would disappear into another part of the studio until she called me. I was working on exhibitions and publications, fielding the curators and the dealers. She did a lot of preparation for the various technical assistants I would bring in and supervise when needed — for example, welders, et cetera. She'd start to slow down by lunch, and then we'd take a break. She would always ask me what I thought of the work or what she had just done to the piece. After lunch, she'd do some drawings, something less physical. Usually she'd get a second wind around 3:30 or 4:00 p.m. and would return to her sculpture. Once a work was done, I quickly arranged for it to be picked up so there was no chance of her destroying it. She worked every day except for Sundays, when I wasn't around. On Sundays she would have her salons, when she opened up her home to young artists, writers, musicians, and critics to share what they had done or were working on.
When Louise was in the process of making sculpture, such as the work in the show at Cheim and Read, did she actually physically make this work or hire someone to make it for her?
Initially, Louise did all the sewing of the fabric sculpture herself, but at a certain point, as she continued to work with fabric, she brought in a seamstress. If you look closely at the stitching in Untitled (1995), a soft-bodied, headless figure, you can recognize Louise's sewing. Her stitch is very rough and irregular. This added to the emotional quality of the form. However, for other kinds of fabric works, she needed a sewing machine and someone who could hand-stitch perfectly. She put an ad in Women's Wear Daily and found a woman whose sewing was so perfect and regular that, in a sense, it would disappear.
To me, her work has a strong sense of "otherness" — beyond that of the theoretical "other."
Louise was not into theory, though she was an intellectual. She was into flesh and blood, and about the way she felt about others, and how others felt about her. She always thought of her works as a portrait of a relationship. Louise wrote that she had access to her unconscious through her relationships with other people as much as she did through her art. Her creative process was an attempt at understanding herself in terms of the difficulty she had with other people.
Was it difficult for you to deal with her energy and mood swings? From your perspective and your own psychological interests, did you ever have to talk her through certain hysterical emotional situations?
She often projected her anxiety onto me. My goal was to keep her focused on the work because that had the power to calm her down. I would try to figure out what had set her off to feel so afraid or so destructive. She called me the pacifier, the person who would lift her from the well of depression. In terms of her work, I functioned as an editor and as a mediator between her and her relationship to other people. One of the odd roles that I had to play was when a guest or an interviewer came to the house. Louise wanted me to offer them liquor in the hopes that they would get drunk and talk about themselves. She would give me a nod whenever their glass was empty. She would say, "I already know about myself, I want to know about this other person and what makes them tick."
Can you talk about the Arch of Hysteria (1993) and the role you played in the form of the figure?
Though usually hysteria is associated with women, Louise wanted to use a male figure, and I became her model. She wanted to prove that men could be equally hysterical. The foundry had prepared a trough full of hot plaster, which they lifted me into to make a mold of the back part of my body. My body assumed the position of the curved trough. In a second session, they cast the front part of my body. Louise then took the full plaster cast and cut it to accentuate the curve of my body. The final piece was cast in bronze and was suspended from the belly.
When you met her, she was already older — did she ever talk about sexuality or her relationships?
Louise was a very seductive and flirtatious woman, and she liked men. She believed in sublimation and sexual energy. Louise had undergone psychoanalysis for many years and was very well-read in psychoanalytic theory. The sex is definitely in the work.
How has it been for you since she's passed away, since you shared such an intense closeness?
My life is very different now. She was a big part of it and I was lucky to have shared my life with such an amazing woman and artist. Louise established a foundation long before she died, and I'm now dealing with continuing her legacy through the foundation. There are more exhibitions of her work now than ever. The foundation also acquired an adjacent brownstone next to her home, which will be used as a research center and library for invited scholars. The inauguration, which will be open to the public by appointment only, is scheduled for spring 2015.