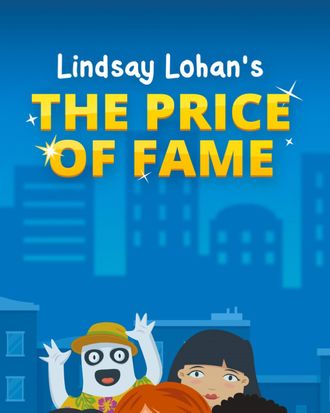 Do you want to get famous in Lindsay Lohan's brand-new "Price of Fame" smartphone game? Get your swiping fingers ready. The Tinder of celebrity-endorsed RPGs has arrived, and it's endearingly fronted by none other than Lindsay Lohan. She must've heard that iPhone games are hot right now and can earn you big bucks! And if there's anyone who knows about the price of fame, it's Lohan, right? It is her cross to bear. Why shouldn't it make her some cash?
Ideally, The Price of Fame would be the perfect self-aware project for Lohan. You start at the top, your A-list status fully intact, only to slowly slide down the celebrity pyramid. The best thing about Kim Kardashian Hollywood is its inward look not only at how Kim sees herself in the celebrity sphere, but how others see her. You see, it's layered! (How they managed to pull this off, I have no idea. I'm still amazed.) Unfortunately, Lohan has little humor about herself or her situation. From the very beginning, this app isn't sure whether it's having fun, opening with this quote from Julia Roberts: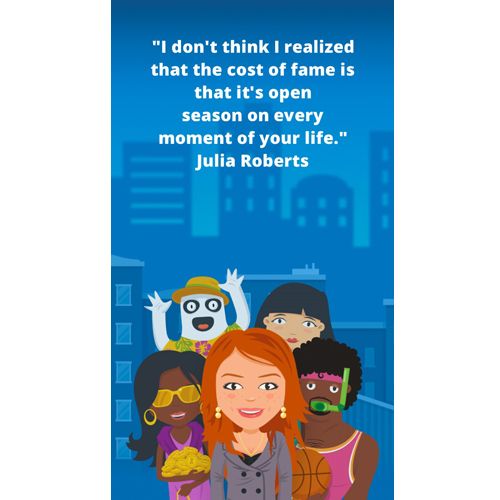 That's a pretty depressing opener, Lindsay! Contrast that nihilist sentiment with the friendly cartoon characters below it, and you'll already be confused. (And no, I'm not entirely sure where a ghost in a fedora enters into Lohan's Price of Fame game.) Just how do you get famous in Lohan's Price of Fame? Well, you vaguely refer to other celebrities and their issues: Once you have enough fans (which you earn by swiping them into your limo?), you can earn enough money to do things like buy "Right Butt Implant" (a Nicki Minaj dig) or get in an "Elevator Fight" (a Solange dig) or "Release a Sex Tape" (okay, this could apply to a few different people) or befriend "At Least One Illuminati" (Beyoncé? Kanye? Kesha?). Does the app suggest you might "go to rehab," "get arrested for stealing," "date a famous DJ," or "debut in a play on London's West End" like Lohan herself has done? Nope. The closest we come to any reference to Lohan's follies is in the "Design Yourself" section, where you are able to purchase a "Electronic Anklet," kind of like the one Lohan was once ordered to wear: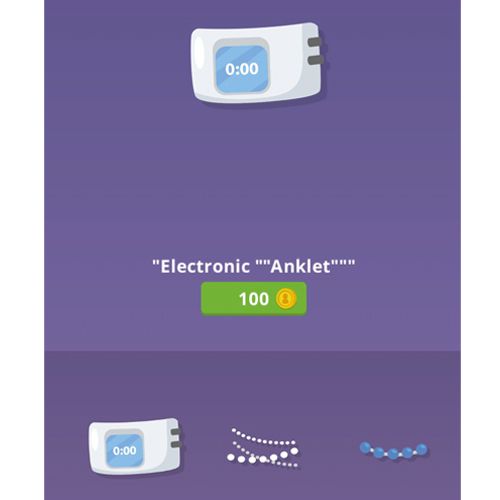 Not bad. Although why would you spend $100 (or 100 Lohan bucks or whatever) on a monitoring anklet? Psst: Those things are assigned to you. Now, that's something you "get" on your journey down to the D-list. It's not that The Price of Fame isn't devoid of humor: You can clearly tell that a bunch of people wrote a silly game before Lohan got involved and put the kibosh on most of their self-referential jokes. Without meta humor, here is a joke that made the cut: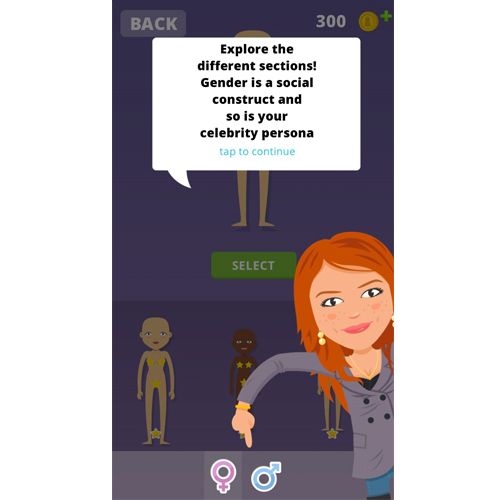 Good thing gender is a construct, because I can't yet afford pants … or a dress … or really any clothes at all. Here's what I look like. I can't wait to make it big!