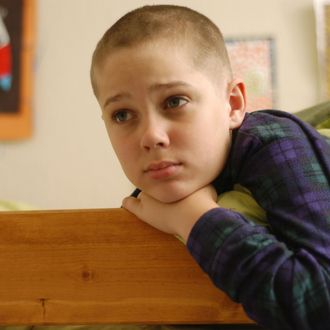 Photo: Courtesy of Matt Lankes/IFC
Critics are lining up behind Richard Linklater's monumental and humanist film Boyhood. The film took four awards from the Los Angeles Film Critics Awards Sunday including Best Picture, Best Director for Linklater, Best Actress for Patricia Arquette, and Best Editing. Wes Anderson's The Grand Budapest Hotel was clearly the second favorite, taking Best Screenplay and Best Production with runner-up mentions in Picture, Director, and Editing. Ava DuVernay received a mention winning the "New Generation" award for her directorial effort with Selma. See below for the full list of winners and also-rans.
BEST PICTURE
Boyhood
Runner-up: The Grand Budapest Hotel
BEST ACTOR
Tom Hardy, Locke
Runner-up: Michael Keaton, Birdman

BEST DIRECTOR
Richard Linklater, Boyhood
Runner-up: Wes Anderson, The Grand Budapest Hotel

BEST ACTRESS
Patricia Arquette, Boyhood
Runner-up: Julianne Moore, Still Alice.
BEST SUPPORTING ACTRESS
Agata Kulesza, Ida
Runner-up: Rene Russo, Nightcrawler
BEST SUPPORTING ACTOR
J.K. Simmons, Whiplash
Runner-up: Edward Norton, Birdman
BEST SCREENPLAY
Wes Anderson, The Grand Budapest Hotel
Runner-up: Alejandro Gonzalez Inarritu, Nicolas Giacobone, Alexander Dinelaris, Jr. and Armando Bo, Birdman
BEST DOCUMENTARY/NONFICTION FILM
CITIZENFOUR
Runner-up: Life Itself
BEST FOREIGN LANGUAGE FILM
Ida
Runner-up: Winter Sleep
BEST ANIMATION
The Tale of the Princess Kaguya
Runner-up: The Lego Movie
BEST CINEMATOGRAPHY
Emmanuel Lubezki, Birdman
Runner-up: Dick Pope, Mr. Turner
BEST MUSIC SCORE
Jonny Greenwood, Inherent Vice and Mica Levi, Under the Skin (tie)

BEST PRODUCTION DESIGN
Adam Stockhausen, The Grand Budapest Hotel
Runner-up: Ondrej Nekvasil, Snowpiercer
BEST EDITING
Sandra Adair, Boyhood
Runner-up: Barney Pilling, The Grand Budapest Hotel
NEW GENERATION AWARD
Ava DuVernay, Selma
EXPERIMENTAL/INDEPENDENT FILM/VIDEO AWARD
Walter Reuben, The David Whiting Story