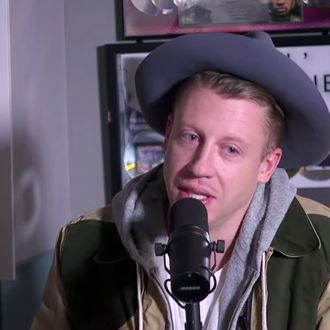 Earlier this month, Azealia Banks was on Hot 97's "Ebro in the Morning." There, she discussed her issues with Iggy Azalea and the appropriation of hip-hop. It has since resulted in a heated exchange between Banks and Azalea, and a dialogue about race in rap music. To continue the conversation, "Ebro in the Morning" had Macklemore on the program earlier this week. The conversation is both candid and enlightening. Macklemore speaks as one of a select group: white rappers who have achieved mainstream success.
When asked if he felt his race contributed to his being embraced by white radio and fans, he says, "Yes, absolutely." He elaborates with a stirring string of questions (around the 12-minute mark):
Why am I safe? Why can I cuss on a record, have a parental advisory sticker on the cover of my album, yet parents are still like, 'You are the only rap I let my kids listen to? … Why can I wear a hoodie and not be labeled a thug? Why can I sag my pants and not be a gang banger? Why am I on Ellen's couch? Why am I on Good Morning America? If I was black, what would my drug addiction look like?
He summarizes his point by saying, "The privilege that exists in the music industry is just a symptom of the privilege exists in America."
The entire conversation is a must-listen: passionate, thoughtful, frank. Macklemore goes as far as to literally break down how his music was promoted to radio, admitting that he went to alternative radio first as opposed to hip-hop stations. Though he refrains from discussing the beef between Azalea and Banks specifically, Macklemore does weigh in on what is at the root of Banks's problem with Azalea (around the 35-minute mark), saying, "To me what it comes down is you need to know your place in your culture. Are you contributing or are you taking? Are you using it for your own advantage or are you contributing to the culture?"
Watch below and try to ignore Macklemore's hat.