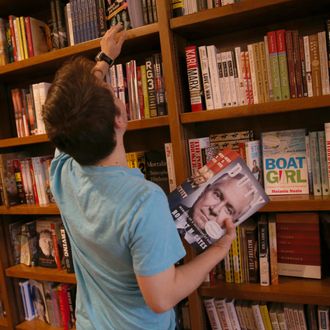 Photo: Joe Raedle/2014 Getty Images
Macmillan CEO John Sargent's hard stand against book discounting in 2010 was the first salvo in the war of Amazon versus Big Publishing (and led eventually to the Department of Justice's lawsuit against the latter). Today he announced a multi-year truce of sorts, becoming the latest to make a deal with the etailer to regain at least some control over the price of the company's books. (Simon & Schuster made a deal in October, and Hachette, whose books Amazon had been deliberately underselling, came to terms last month.)
There's a major catch, though, at least in Macmillan's case, which made Sargent's letter today to agents, authors, and illustrators a bit more complicated than the usual CEO report. Sargent gamely explained that, while its agreement with Amazon does away with the value-destroying deep discounts of the past, it still has to endure "unlimited discounting" until October 5, 2017 in its dealings with … Apple. That's due to the DOJ's judgment against Apple for trying to collude in raising prices with the publishers. It's a deeply confusing situation, resulting in a "muddled and inefficient market." Apple has been forced to drive down prices even as Amazon agrees to raise them. Sargent could only say: "Irony prospers in the digital age."
So this happy announcement turned very quickly into a wry apologia. Due to the DOJ's ruling, authors and agents will have to endure book-price fluctuations that might seem arbitrary, at times cutting into their revenues. "I ask for your forbearance," he writes.
Ever the bearer of mixed news, he also acknowledged that an agreement with Amazon doesn't make Amazon's problematic market-domination go away. Amazon now sells 64 percent of the ebooks published by Macmillan (whose imprints include Farrar, Straus & Giroux, Henry Holt, and St. Martin's Press). "We need better channels to reach our readers," he writes, in order to head off the longer-term trend toward an Amazon monopoly on distribution.
And so, now that Macmillan has come to terms on how to deal with Amazon, it's going to spearhead a new effort to deal less with Amazon. Embarking on a course to which "we have long been opposed," Macmillan will partner with a couple of (yet-unnamed) "pay per read" companies that operate a bit like mini-Spotifys for books. The worry about that was, and remains, not all that different from what drove the fight against Amazon: "that it will erode the perceived value of your books." (Just as Spotify does, notoriously, for music.) The experiment with subscriptions will come together "in the coming weeks" but only as a test run, confined to backlist books and harder-to-find titles (i.e., books that aren't leaping off the shelves, or even on the shelves).
It's a fine line to walk, celebrating the Amazon deal while taking steps to work around its painful squeeze on the business — talking nice but trying to walk tough. Perhaps the most newsworthy line, coming from publishing's first and fiercest anti-Amazon crusader, is the acknowledgment that Bezos's company has come by its incredible market share "through great innovation and prodigious amounts of risk and hard work." Hooray, Seattle?