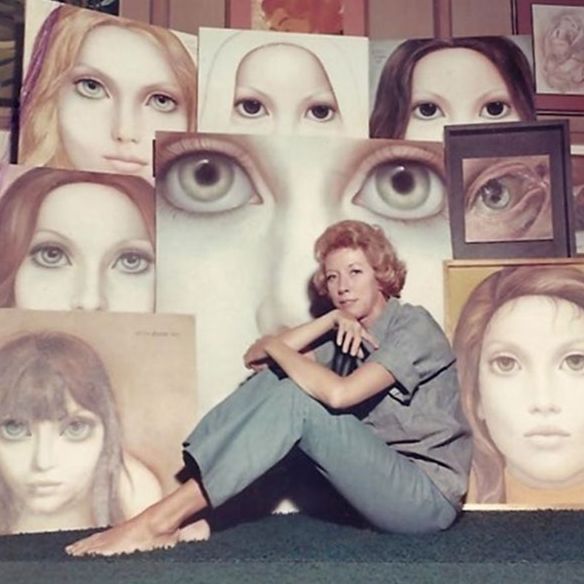 Margaret Keane in front of her work. Courtesy of Margaret Keane.
Photo: Courtesy of Margaret Keane
Margaret Keane is 87 years old, an impish woman in a blue suit, a turtleneck, and jeans who'd been up until 3 o'clock in the morning December 15 for the MoMA premiere of Big Eyes, the new Tim Burton film about her, her husband, and the lies he told, very publicly, in passing her own haunted-moppet paintings off as his own, getting them quite rich and famous — by 1960s standards, anyway.
We meet up in mid-afternoon the next day at the cocktail lounge Knave, at the Parker-Meridien Hotel. Bright-eyed, she hardly seems the worse for wear, still wearing the big-framed, blue-tinted eyeglasses — "I like to hide behind them," she tells me — she'd worn the for the red carpet, where she quipped for the assembled press: "I always wanted to be in MoMA. I just never thought it would take a film to get here!" She lives about an hour outside San Francisco, where the film is set.
Now, thanks to Burton, who collects Keanes, the very weird story of how this quiet Methodist woman (who to this day talks in the soft notes of Nashville, where she was born in 1927) created some of the most popular art of the 1960s, will finally become as well-known as her iconically sentimental works themselves. (She makes a cameo in the film, about which she had one complaint: "They tried to make me look like an old woman," she says. "They had me in a '60s I. Magnin suit, which didn't fit.") She herself was never particularly famous before this current blitz of movie publicity for the very reason the movie dramatizes: Her husband, a real-estate salesman and untalented artist named Walter Keane, took credit for all those canvases that so tugged on the heartstrings of mid-century America. He told newspapers and magazine writers and TV hosts the same story, of how he started painting his big-eyed children after seeing the war's devastation in Germany. As he would later write: "As if goaded by a kind of frantic despair, I sketched these dirty, ragged little victims of the war with their bruised, lacerated minds and bodies, their matted hair and runny noses. Here my life as a painter began in earnest."
He became a celebrity who hung out with celebrities while Margaret mostly stayed at home painting. She was prolific, churning them out obsessively in her studio, and he was a marketing impresario, even selling them as posters. Critics found the works treacly, but to the less-conscientiously aloof, a Keane print was aesthetically pleasing décor backed with a humanist message, and he had a blockbuster on his hands.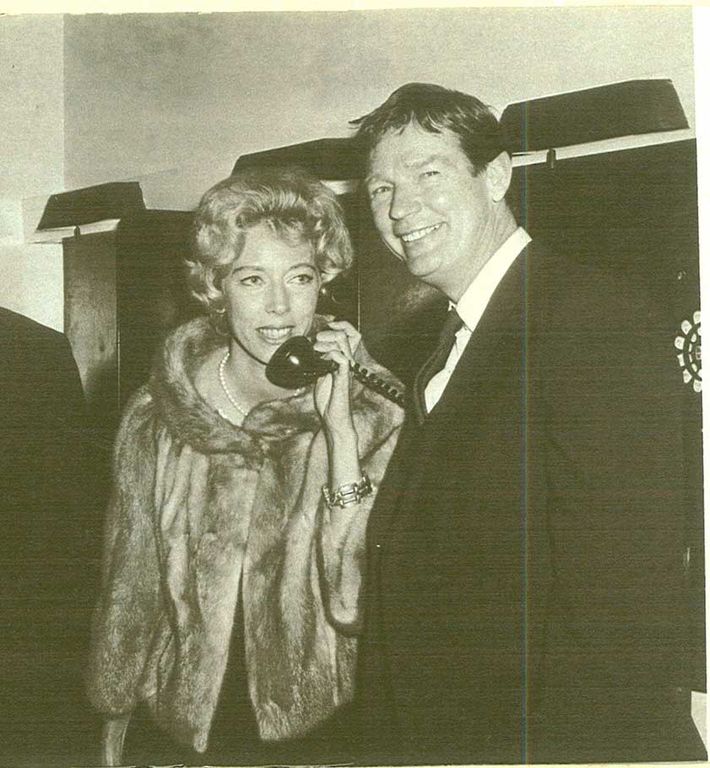 "I think the paintings themselves really appeal to people," she tells me, sipping decaf. "I painted what was in my heart, and I think it touches other people's hearts; we all are born with this desire to know why we're here and is there a god. And those eyes were searching for answers."
One of the early crises in the film is when Walter has to come up with that reason why he supposedly painted all these kids, and before he came up with the post-war hungry-kids origin story, Margaret's character jokes that maybe he just had an unnatural interest in little girls. I ask her if she really said that. "I think I did," she says. "I don't really remember, but I could have."
She'd gone along with the scheme for a number of reasons. Partly, it was pragmatic: "I couldn't sell anybody anything," she says, still sounding a tiny bit smitten after all these years. "He was just so charming, he could sell anything or convince anybody of anything." Partly it was because he threatened her with bodily harm. But fundamentally, she was a shy, dutiful southern woman of her era. "Women stayed home and took care of the kids, and the men did everything," she remembers. And at least Walter encouraged her to paint, even if it was in his self-interest. For many years before she met him, "I didn't want people to know that I was an artist," she says. "I was ashamed. I thought artists were weird, crazy people you know. So I always kind of hid the fact that I was an artist."
Walter also told her that a woman would never be taken seriously as an artist, which may sound obnoxious until you look at the numbers of successful-artists by gender in most major collections even today (or even in ArtForum ads, for that matter). But Walter also loved the spotlight, and he was good at both attracting it and staying in it. At one point in the film, Margaret's character (played by Amy Adams) admits that her art would not have become as well-known without his very able publicity schtick. I ask her if she still believes that. "Oh, yes, definitely," she says quietly. "I mean, one man in one year practically did this whole thing. It was unbelievable. He could charm anybody: movie stars, whoever. He'd wrap people around his little finger. So he put them out there. Now, I don't know that they would have ever gotten out of my closet otherwise."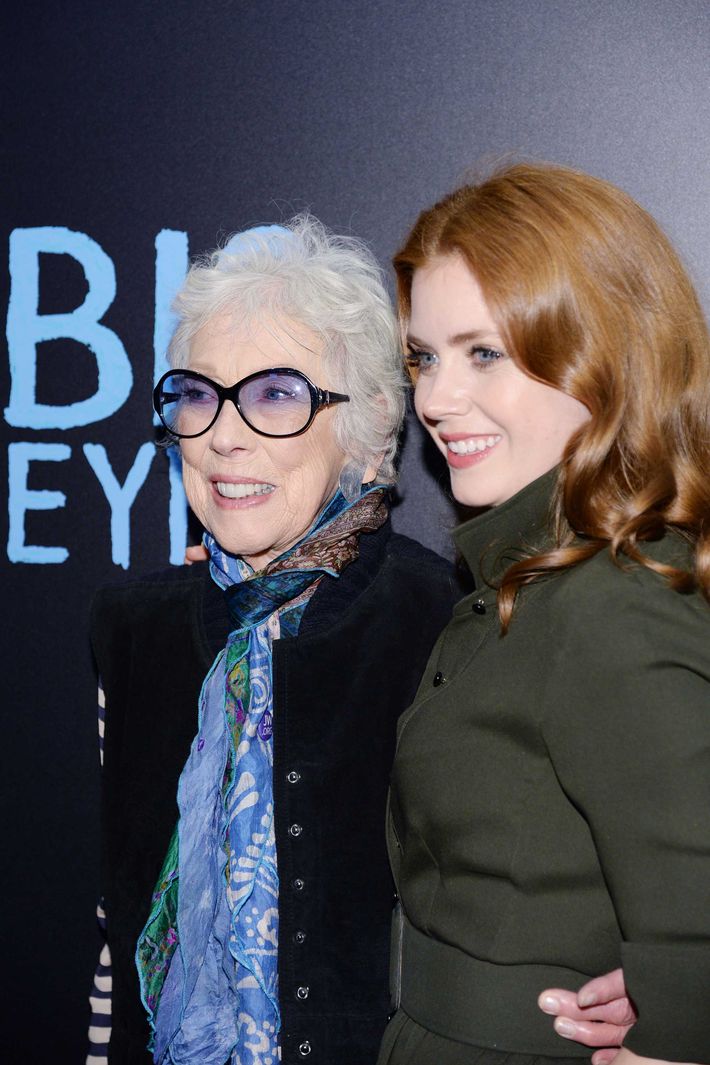 There is one thing she'd like to clear up, however: Walter's 1983 memoir The World of Keane had a great deal of swinging-lifestyle stuff in it, with three-ways and celebrities skinny-dipping in their pool. "That was all in his imagination," she says firmly. "That did not happen in my house. I stood up for a few things. After I left, I don't know what he did. But I don't think there is a single true line in that whole book. He did sometimes bring celebrities in the house, but nobody was swimming in the nude."
Like who? "I remember Phyllis Diller swimming in the pool, but she had on a bathing suit. Natalie Wood was wonderful. And Joan Crawford was an extremely good friend. In the beginning, when she thought Walter did the paintings, we were unknown artists, she promoted us. Our first show in New York, she sponsored it. She invited the people, she got the press there she did it all. I can't believe that she was such a bad mother! I don't know if it was true or not, but she was certainly good to me."
I ask her how her work has changed over the years. "It's changed, I've changed," she says. She credits her decision to join the Jehovah's Witnesses, which also gave her the courage to tell the truth about who was the painter in the Keane household. Since then, "The old sad art colors are gone," she says. "Now I paint bright colors. I paint paintings which are happy, where children are laughing and playing with animals. I paint paradise on earth," as her reading of her Bible teaches her about. "I still paint sadness sometimes, but there is sadness in the world, too."
She gets inspired by other artists, too, "even some who copy me," she says. She's always sketching, even on this trip. "I just went through a Picasso period," she says, describing her latest, which features a girl holding an eye outside her head and her arms twisted overhead, Cubist-style. She calls it Discombobulated. "I didn't really start appreciating Picasso until a few years back," she says. "I didn't like him at all. But now I can see this world is crazy."
Discombobulated or not, she's almost 90, and she's here. "It's amazing that the old body is cooperating so far," she says. Then she lets me in on a little secret: "We weren't meant to grow old and die. The Bible told us that we were meant to live forever. Like in the Garden of Eden. The only reason we die is because they sinned. We were born after their sin, so that's why we are born with that imperfection, and so we die."
Keane then reaches into her cute little handbag and offers me Jehovah's Witnesses pamphlets, and she lets me in on another secret. "We're living through the last days, in case you didnt know it. You ever really read the newspaper and think about what is happening? This whole thing could collapse overnight. The banks will go away. It could happen, it will happen. We are in the very last part of the last days, and soon God is going to step in, as he stepped in before, in the days of Noah."
But, in the meantime, there's Good Morning America to do first thing. "I was supposed to go home this afternoon, but I think I'll stay for that." She giggles with squeaky delight. "I don't know how I'm going to get up at that hour. I'm a night person, I dont usually get up till noon. I may just stay up all night."