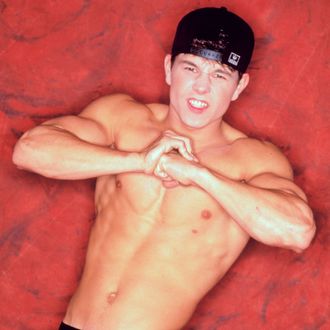 Photo: Chris Carroll/Corbis
Back before Mark Wahlberg was Mark Wahlberg, and even before he was Marky Mark, he was a teenage hooligan. In 1988, a 16-year-old Wahlberg attacked Thanh Lam, breaking a stick over his head and calling him a "Vietnam fucking shit." Running away from the scene of that crime, he then punched another Vietnamese man Hoa Trinh in the face so severely he blinded him in one eye. According to the police report, he then made a number of "unsolicited racial statements about 'gooks' and 'slant-eyed gooks.'" Wahlberg was tried as an adult and sentenced to two years in prison. He was released after 45 days.

Wahlberg is petitioning the state of Massachusetts to have this expunged from his record. "I am deeply sorry for the actions that I took on the night of April 8, 1988, as well as for any lasting damage that I may have caused the victims," Wahlberg wrote in his pardon application. "Since that time, I have dedicated myself to becoming a better person and citizen so that I can be a role model to my children and others." However, it should be noted that nowhere in Wahlberg's petition does he mention the racially charged nature of the violence. He does, however, note that the police found pot on him and that he was stoned and drunk while carrying out the crimes.
In another incident in 1986, Wahlberg was with two friends and yelled racial slurs and threw rocks at two black elementary-school girls. One of the rocks hit Kristyn Atwood, then 9, in the head. "When people talk about racism in Boston, I always remember that," Atwood told the Boston Globe. The state's attorney general filed a civil complaint against him and his friends, but the complaint was dismissed in 1987. You can probably file this under #CrimingWhileWhite.