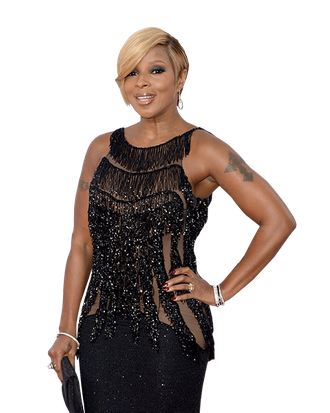 Photo: Jason Merritt/Getty Images
In the two-plus decades since Mary J. Blige released her debut album, 1992's What's the 411?, the gargantuan-voiced R&B songstress has established herself as a veritable institution, with four No. 1 albums and 24.5 million records sold. Now, at 43, Blige is ready for her next hurdle: getting her rabid fan base to embrace a full-fledged dance record. Today she releases The London Sessions, her 13th album, for which the singer traveled overseas to record an entire LP of soulful, beat-heavy club cuts over ten days with some of the U.K.'s hottest young talent. Vulture spoke with Blige to discuss, among other things, her childhood love of club music, why the U.K. feels more artistically "free" than the States, and how she felt an intimate connection with the late Amy Winehouse.
You've made frequent reference to how working with the likes of Sam Smith and Disclosure felt like convening with family. What was it about the experience that felt so personal?
We all grew together. I created a relationship with them. That's what I mean. When I create a relationship with you and we sit and we become a family, we get close. All that time we spent together, we were bonding and just loving each other and accepting each other. It just made me feel like I found some new friends. There were no problems. There wasn't anything to hold us up. There wasn't any bad energy. 
And there being this real sense of artistic freedom in London made it even easier?
Artistically and musically, people are freer and just feel like they can be themselves as an artist and be accepted as long as they deliver great work. It doesn't matter whether you're 13 or 30, black, white. You can have a hit record at 30 years old over there. You can hear it in the London music scene. The freedom of expression is just a different game than it is right now over here. 
Was there worry that your fans might see you as making a cash grab with a dance record?
I never thought about that. The only thing I thought when I was done with it is, would they accept it? Period. Because I didn't care if they thought I was doing it because it was trendy or because it was a dance record. I didn't care about that. I just knew what I wanted to do. The only thing I got nervous about is: Are they gonna accept it? 
These songs have a real classic feel to them. They remind me greatly of Robin S or Crystal Waters – those early-'90s dance divas.
I discovered that [type of music] when I was a little girl. I was too young to go clubbing, but that was when it was Ce Ce Peniston and Martha Wash with the C & C Music Factory [laughs]. It was that kind of stuff playing. I always imagined being that big voice playing on those kinds of records. 
In the album's accompanying documentary, you speak with Amy Winehouse's father, Mitch. You were overcome with emotion. Why was that so meaningful to you?
It was very special to me because for a long time when Amy was living, and I saw her going through her hell and I heard her music and I heard her stories, I just wanted to reach out to her. Because in that time I was in my transformation of getting off of drugs and choosing life. I wanted to talk to her about my life and tell her it's okay to choose life. But I never got a chance. She's been an inspiration in my life musically, so when I set out to do this album, I felt like that was one of the most important things to do. Other than embracing the culture and living in London, I wanted to celebrate her life: see her dad, see somebody in her family, and let them know how I was feeling about her all that time while she was living. 
It seems as if it was extremely important for you to document this experience of the album creation.
It was extremely important because it was something so different and out-of-the-box for me that I needed to take people on the journey to see it. My fan base, they know exactly what I'm gonna do, but they never see me do it. So, if I'm gonna step outta the box from what I'm normally used to doing, they need to see how I got there. They need to see this whole transformation. 
One of our favorite songs on the album is "Whole Damn Year," where you sing "Took a whole damn year to repair my body / It's been a bad five years." Does it come naturally to be so open and vulnerable in your music?
I'm just a person that feels very, very deeply. So no matter what I live through or what kind of trial I come through, I'll never forget how I got through it. And I'll never forget every moment. If it was joy, I'll never forget it. If it was pain, I'll never forget how painful it was. That's just who I am. That's just how God made me. 
I vividly remember listening to your debut album What's the 411? for the first time.
That seems like a long time ago to me! It doesn't seem like just yesterday [laughs]. 
You've lived a lot of life since then.
Oh, yeah! 
You struggled with drug abuse in the past. During that time, was it hard to see the light at the end of the tunnel?
The reason I'm in this good place that I'm in now is because I've accepted the fact that life is going to be life and it's not just gonna be all happy or sad. It's just life. It's more than one thing. And I didn't understand that back in the day. That's why I was so miserable. I couldn't accept that life was life. When it was a trial, it was like, "Oh my God! It's the end of the world!" But life comes with that. Now I accept that there will be hard times, there will be trials, and there will be great times and things to celebrate. So that's why I'm in this space now. I've accepted the good, the bad, the ugly, whatever comes. And I'll deal with the unhappy when it comes. But right now, while I'm happy, I'm happy.