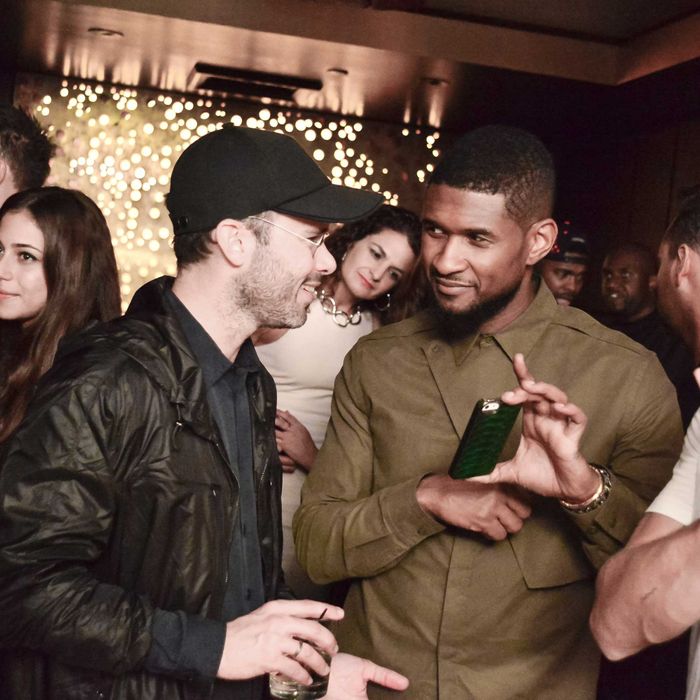 Usher talking with Daniel Arsham at SNARKITECTURE private dinner and after party at Delano South Beach.
Photo: Madison McGaw/BFAnyc.com/BFA NYC
The fact that Usher is now collecting art turned out to be the least improbable thing about the Mercedes-Benz event last night in celebration of two new projects in Miami by artist Daniel Arsham. Topping the list was as an installation in the yard in front of the venue — part of the adjacent Select fair, of which Mercedes-Benz is a sponsor — by photographic artist Ventiko; titled On Beauty, the piece features the artist and several friends posing completely naked in a kind of Gauguin-infused Christmas manger, replete with a live peacock and a full-size sex doll. (The Real Doll Company was "kind enough to let me borrow it for a week," explained Ventiko, who chatted volubly with passersby.) No less uncanny was the wind, which blew around the patios of the glassy new pavilion in North Beach with such force that flaming cigarette ash was seen to carry as much as seven yards and nearly set alight a silk dress.
And then there was the caviar. From Sacramento.
"Everything tastes better with absinthe," said Usher, considering the prospect of Sactown fish eggs. He then promptly ordered a Moscow Mule. The singer-songwriter obviously knows what he likes, and he's had the opportunity to develop his tastes as he's moved from R&B boy-crush to something like elder pop-culture statesman, and it's that coming of age that has led him to becoming an art collector. "It's significant to where you are in your life," he said, explaining his turn to art collecting. "As you get older and have children, your reflections on what matters being to change." After years of jumping from airport to hotel room to stage to studio, Usher is now stopping to smell the cultural roses. "I started slowing it down," he went on, "enjoying the places I went, going to museums, understanding the nature of what artists were trying to say." Finding his way into contemporary art via graffiti- and street-style-inspired artists like L.A.'s Retna, Usher has sought out others whose work reflects his own background in music and entertainment, and Arsham's work — in particular, his plaster casts of outdated recording technology — had an obvious appeal. "The cassettes, the VHS, the Walkmans — these were things that made us who we are as artists," explained Usher. "And his way of preserving that, and immortalizing what it is, is why I love it."
Usher was not the only hip-hop-and-R&B figure seen rattling around Basel this week, what with regular P. Diddy sightings on the convention center floor, Swizz Beatz's involvement with SCOPE, and André 3000's project launch at Mana Contemporary the day before. The fact that so many musicians are suddenly investing heavily in contemporary art right now is, Usher says, a natural development. "It's expression," he said. "As we get older we look for other expressions, other interpretations of what we know. If you saw graffiti art growing up, it was part of your culture." Visual art was always in the cultural bloodstream of these performers, and Basel just gives them a bigger and more diverse sampling of it. "Any event that brings people together from different worlds is always an opportunity for growth," said Usher in parting, before dashing off to sample Sacramento's best. Surprisingly, the region turns out to be a major new center of the sturgeon industry, and the roe was very mild, very buttery.