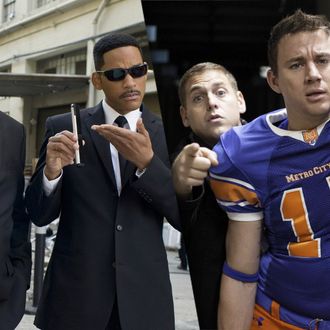 Don't they look nice together?
Photo: Saeed Adyani/Columbia Pictures, Glen Wilson/Columbia Pictures
Thanks to those super-juicy Sony leaks, we now have evidence that the studio is planning a crossover between its Men in Black and 22 Jump Street franchises. According to The Wall Street Journal, within the hacker dump, there are emails to and from Sony's motion-picture chief, Amy Pascal, which detail the studio's plans. Hannah Minghella, a president of production for Sony's Columbia Pictures label, writes, "We don't have a script yet so we'll be greenlighting the movie off the concept and the talent involved." And in another email to Pascal, Jump Street's Jonah Hill writes, "jump street merging with mib [sic] i think that's clean and rad and powerful." But while Jonah's in, neither Will Smith nor fellow MIB star Tommy Lee Jones are — at least in leading roles. Phil Lord and Chris Miller, who directed the last two Jump Street films, are producing and may direct. 22,000 Jump Street: A Space Odyssey, as we're calling it, could likely hit theaters in 2016 or 2017.