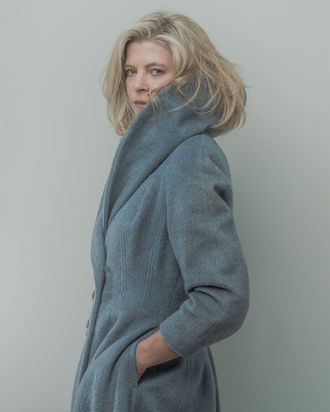 Photo by Amanda Demme
Photo: Amanda Demme
Michelle Maxwell MacLaren has a vivid imagination. During a lunch last month at the Soho House in West Hollywood, I ask the director for details about the DC Comics epic Wonder Woman, which she was picked to direct after a lengthy, widely publicized search. She stirs her tea. Then she warns that at the moment there is no script, no release date. There's not even an official green light from the film's releasing studio, Warner Bros. — and even if there were, nondisclosure agreements and her paranoia about jinxing things would keep her mum. "I really, ­really, really can't talk about this," she says, then gestures toward the restaurant's picture windows, with their action-film-worthy Hollywood panoramas. "I just picture a drone coming in over the hills and crashing through the glass and flying over here and putting duct tape over my mouth, you know?"
The scenario is all Michelle MacLaren — a Michael Bay showstopper (glassed-in restaurant, drone attack!) with a Looney Tunes twist at the end (duct tape, what?). You see that same inventive mind at play in the work that got the Vancouver native her first superhero blockbuster: namely, her direction of sex-and-death-and-mayhem-packed episodes of cable dramas, including Game of Thrones, The Walking Dead, Breaking Bad, and the upcoming Breaking Bad spinoff Better Call Saul. (The last premieres in February.) In these TV-MA showcases, MacLaren's fertile imagination fuses with the practical skills that she acquired during her two decades working behind the scenes, first as a crew-person and then a producer on feature films, TV movies, and series.
Although she did a lot of second-unit direction — like landscape shots — MacLaren didn't get her first directing credit until 2002, while working as an executive producer on The X-Files, on an episode written by future Breaking Bad creator Vince Gilligan. She did good work, but it wasn't noticed; it's hard to get noticed directing TV, a medium in which writers and producers drive the story and the show's style is typically set by whoever helmed the pilot.
Her directorial fortunes changed after Gilligan brought her on for the second season of Breaking Bad, a series that entrusted audaciously visual storytelling to a veritable murderer's row, including Adam Bernstein (FX's Fargo), Phil Abraham (The Sopranos, Mad Men), David Slade (NBC's Hannibal), and Rian Johnson (Looper, the forthcoming Star Wars Episode VIII ). Even among this elite crew of screen bloodletters, MacLaren's deft staging of gunplay, fistfights, car wrecks, and prison shankings stood out; ­filmmaking-crazed formalist viewers (a small and admittedly odd group that includes yours truly) began to notice her flair for suspense and violence and caught a buzz from seeing her name after the words "Directed by." MacLaren "got a lot of action-centric episodes where there were shootouts and giant explosions, or where they were in the desert for days," says Anna Gunn, who played Walter White's beleaguered wife, Skyler, on Breaking Bad. "She did those kinds of things incredibly well; the episodes started looking like big feature films."
"When I think of Michelle, I think of very striking, cinematic, visual storytelling," says Gilligan. "I think of bold action sequences that are balletic." MacLaren was behind the camera for The Walking Dead's season-one episode "Guts," in which walkers besieged a downtown-Atlanta department store and scrappy humans Rick and Glenn escaped death by dousing themselves with zombie blood. She directed the Game of Thrones episodes "First of His Name," in which a team led by warrior Jon Snow disembowels the cackling rapist goons, and "The Bear and the Maiden Fair," which ended with the female soldier Brienne of Tarth and a maimed Jaime Lannister facing off against a grizzly. Her 11 episodes of Breaking Bad — for which she became an executive producer in 2010 — contain some of the most memorable action set pieces in TV history, including the shoot-out between DEA agent Hank Schrader and the mute assassins known as the Cousins in "One Minute"; the "Crystal Blue Persuasion" montage and Walter White's simultaneous contract killings of ten possible jailhouse snitches in "Gliding Over All"; and "To'hajiilee," which ends with a sadistic cliffhanger image of Walt cowering in the back seat of a car while broken glass rains on his head.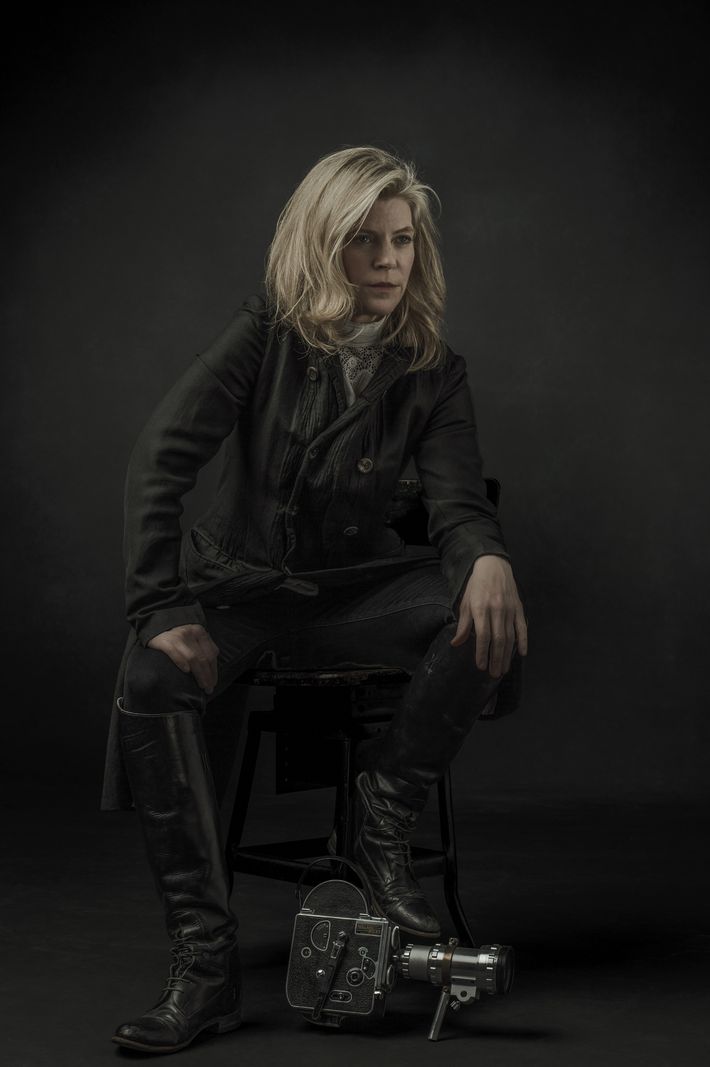 MacLaren's masterpiece, though, might be a final sequence in "Salud," wherein kingpin Gus Fring exacts long-deferred revenge against the drug boss who killed his partner by tricking him and his goons into drinking poisoned tequila. "That whole sequence by the pool is MacLaren with a capital M," says Damon Lindelof, co-creator and co-executive producer of HBO's spiritual drama The Leftovers, for which MacLaren directed the kidnap-drama episode "Cairo." "There's this kind of Rube Goldberg design, but most importantly, I'm always feeling something: tense, angry, scared. Or I'm laughing."
Her visual chops are undeniable, but the managerial skills she honed while toiling on the logistical side of showbiz are an equally important part of her success. TV is art made under pressure. Big Hollywood films might shoot for months; TV dramas typically shoot entire episodes in two weeks. A producer is both a diplomat and an enforcer, overseeing the logistical and financial aspects of a shoot while negotiating truces between prickly artists and telling them "No" without crushing their spirits.MacLaren approaches the job with a stoic unflappability leavened by nonchalant Canadian cheer. While managing a second unit on the 1991 mountain-climbing drama K2 in British Columbia, MacLaren asked her mom to FedEx a box containing Halloween decorations, candy, espresso beans, and a grinder, then staged a Halloween party on Mount Waddington. Even with Wonder Woman looming, she's directed the second episode of Better Call Saul and has signed a two-year deal with HBO to develop and oversee new projects. This producer-director hybrid thing is not without its cognitive dissonance, but for the most part, it works: Who better to blow up trains than a woman who spent decades making sure they ran on time?
"Her middle name also starts with an M," says Bryan Cranston, Breaking Bad's star, Walter White, "and so she is MMM, and when you put those together, it's 'Mmmmmmmm,' and sounds like a bee buzzing in my head, and that's what she's like: a bee. She never stops moving."
MacLaren loves math, sports, games, and puzzles, and sees elements of all of them in filmmaking. "I approach an action sequence almost like a mathematical problem," MacLaren says over drinks in a West Hollywood hotel bar, a few weeks before her Wonder Woman assignment hit the internet. "Sometimes you get these action sequences that you read and go, 'Oh my God, this is huge, how do I do it?' and I go, 'Just a step at a time. Sit down and plot each piece of it out.' " To demonstrate what she means, she reenacts a car stunt from the end of the Breaking Bad episode "Shotgun" on a tabletop, repositioning a water glass, a cocktail glass, a salt shaker, and a pepper shaker, sketching frames in the air with her fingertips, indicating cuts with little karate-chop motions. "And now Jesse's here, and they're here … and then bam!"
It's a matter of practical magic: figuring out how little you need to give the impression of something greater. While shooting the Game of Thrones episode "Second Sons," which revolved around the wedding of Tyrion Lannister and Sansa Stark, MacLaren wanted to convey the enormity of the ceremony hall but only a half of the octagonal set had been constructed. To create the illusion of a complete room, she used a low-budget filmmaking ruse, shooting everything she needed from one angle, then redressing the set, repositioning the actors, furniture, and props, she shot a mirror image of the same scene. For the climax of Breaking Bad's "To'hajiilee," an intimate sequence by Hollywood-­action-movie standards, MacLaren built to the climactic gun battle with a series of close-ups that slowly pushed toward the participants' faces, ratcheting up tension in the operatic spirit of her hero, spaghetti-Western director Sergio Leone, then she released it with a fury that transformed a pissing match between cops and crooks into a mythic clash of armies. "She's looking through that viewfinder lens, lying in the dust and the dirt, and calling for more glass," Cranston recalls. " 'Throw more glass on him! Throw more glass on him!' "
The parking-lot showdown between Hank and the Cousins in "One Minute" likewise benefited from the MacLaren touch. "That shootout, even on a medium-­budget movie, would have been given two weeks to shoot," says Gilligan. "Michelle had two days." She and series cinematographer Michael Slovis shot part of it with telephoto lenses that flattened screen space to cloud-viewer's perceptions ("Did I see something?" she says, imitating Hank, "Didn't I see something?") and amped-up tension with false alarms. "I said, 'Let's put a customer in gray, like the cousins, and give him a cane, but he's blurry, so it looks like a gun.' " She also made use of happy accidents: When a squib full of stage blood flew off a stuntman's head intact instead of exploding, the crew asked if they needed to do the stunt again. MacLaren told them, "Nope, it looks like brain matter, we're moving on."
"She probably did that because she had something else that day that she wanted or needed," says Slovis. Cranston's favorite MacLaren improvisation occurred during the filming of an episode where Walter and his partner, Jesse, get stranded in the desert. Between takes, Cranston walked 50 yards away from the set to relieve himself. "I hear some commotion behind me," he says, "and all of sudden she's got a camera out, and she's like, 'Keep peeing! Keep peeing!' She's shooting it."
"She is pleasantly relentless," says Slovis. "She is such a decent person and caring and emotional, but she does not give up. By the time you've started walking, she's already running."
I'm hiking with Michelle MacLaren on winding paths in Runyon Canyon Park. Over drinks the previous evening, I'd asked if we could spend the next day doing something she really enjoyed; we discussed seeing one of favorite 2014 movies, Guardians of the Galaxy, again, then talking about it. (She saw it the first time with her nephews, ages 7 and 10. "There I was, rooting and caring for a talking raccoon!") But somehow we ended up in a canyon instead. She's wearing sneakers, sweatpants, a T-shirt, and a Breaking Bad cap; I'm in khaki pants, a dress shirt, dress shoes, and a matching Breaking Bad cap that MacLaren bestowed on me with not-really-kidding momentousness. Then she said, "We can go the long way or the short way." "Let's go whichever way you usually go," I replied.
Long way. "Let me know when you need to stop, because this is a big gruel," she warns me. We stop a lot. "I can see the title of your article now," she says. "'She almost gave me a heart attack!'"
We're not too far from her home, a Spanish-­style house with a small courtyard, just over the hill from Warner Bros., Universal, and Disney. On a wall by the front door is a shrine to her extended family: parents, siblings, nieces, nephews. Other than that, her house is sparsely furnished; it looks like a place where somebody stays rather than lives. She keeps meaning to complete the long wooden table in her dining room with a set of matching chairs; for now, it's ringed with canvas directors' chairs. "I'm a few minutes from work, on the rare occasion I'm shooting in Los Angeles," she says. That's not often. She was in New Mexico earlier this year, filming Better Call Saul. Game of Thrones, for which she's directed four episodes, is shot piecemeal in different countries, wherever there's scenery to match George R.R. Martin's vistas.
We're climbing a 30-degree slope along a zigzag path. She's telling me about all the TV projects she's involved in, her development deal with HBO. "I really want to be part of things from the ground up wherever possible. Not to say that I'm not open to being a gun for hire, I am, absolutely, but I really enjoy developing." She navigates the crest of a ridge, pauses at the top, takes a swig from her water bottle. "Make sure you drink water," she warns me.
MacLaren's storytelling instincts were nurtured by her tight-knit family. She's the second child of Woody, a corporate investor, and Sherrill, a retired journalist who covered health and medicine for Reader's Digest and CBC Radio. During the summers, MacLaren, her parents, and her three siblings would vacation on an island 100 miles north of Vancouver. "We had no electricity," Sherrill says. "At night, you'd have candles and firelight, and it just kind of set the stage for storytelling." One of the summer traditions was "Theater Restaurant," a meal accompanied by stories acted out by the children on the island. Michelle was always in charge, but "none of us ever heard her mention the word direct," Sherrill says.
MacLaren didn't express a wish to direct until she was in her 30s. Before that, she wandered. In her late teens and early 20s, she backpacked in Europe, Asia, and Africa, shooting still photos and taking odd jobs. At one point, Woody recalls, she talked her way into a bartending job at a German pub even though she didn't have a work visa. "About a month later, she was running the pub." In her mid-20s, she drifted into show business, working any job she could get, gradually moving up the film-set chain of command, from production assistant to unit-production manager. In 1999, she co-wrote a script for the TV movie A Song From the Heart, starring singer Amy Grant as a blind concert cellist who falls for a self-centered pianist.
"That got me over into the creative side, and I became a creative producer," says MacLaren, leading me down a steep path that connects with the road back to her house. But she still hadn't directed. Then her maternal grandmother, Granny Max, died while she was executive-producing The X-Files. "My mom called me and said, 'I found a letter in your grandmother's stuff that I'm sending you. You need to read it right away.' " It was a letter from 13-year-old Michelle, telling her grandmother that she hoped to direct films someday. Reading it, MacLaren says she realized "I'd better get off my ass and get going." And she did. After that first Gilligan-scripted X-Files episode, she directed installments of Law and Order: Special Victims Unit, Without a Trace, John Doe, and NCIS, while settling in as a producer and director on Breaking Bad and at HBO.
"I always say I love producing, but directing is my passion, and for a while, I had to produce to support my directing habit," she says and laughs. The work, she says, "is really challenging, but it's amazing. I mean, I was standing on a mountaintop in Morocco with 300 extras in period costume thinking to myself, Somebody pinch me."
*This article appears in the December 29, 2014 issue of New York Magazine.