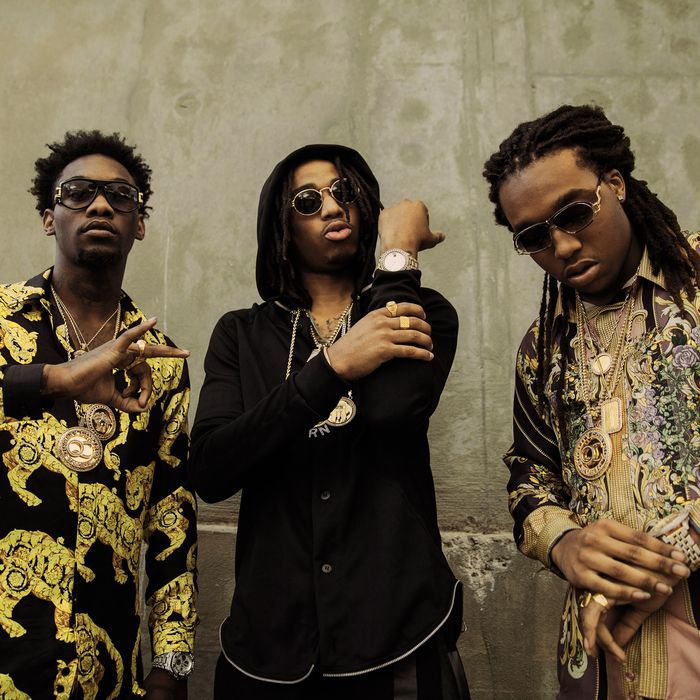 Migos
Photo: Diwang Valdez
At this time last year, the beguilingly wild Atlanta rap trio Migos were still subject to whispers that they might be a one-hit wonder, thanks (if that's the word) to their 2013 jam "Versace." The group's Quavo, Offset, and Takeoff then spent the better part of 2014 ensuring their staying power, releasing two mixtapes – No Label 2, which featured the hit, "Fight Night,' and Rich Nigga Timeline – and touring widely. The effort paid off: Migos' mixtapes have been downloaded 1.7 million times and their music has earned 49 million YouTube views as well as 47 million monthly spins on Pandora. 2015 is already shaping up to be just as productive for the burgeoning stars—who are planning to release their official debut album, Y.R.N. 2, early this year.
We spoke with Quavo and Offset – as they prepared to leave their Atlanta home for a concert in Paris – about their uniquely chaotic style, a couple controversies surrounding Migos, and the upcoming album.
In about 18 months, you guys have released three mixtapes and worked on your debut album. What accounts for that output?
Quavo: We make songs like a factory and put them out. No Label 2 has been out for a year, and it was time for another mixtape. The plan is to make money, and we know the fans are going to ask for mixtapes, and those mixtapes are going to hit. So when we put a tape out, we have more money coming in, that's why we work hard at it.
What's the recording process like? Are you pulling all-nighters in the studio?
Offset: It takes 20 minutes to do a verse each. If you can't do a verse in 20 minutes, you have to get out of the booth.
How about the writing process? You guys must fill up a lot of notebooks.
Offset: We don't write down any of our songs. Come to the studio with us, we don't write at all. We just talk about what we want to say when we are in the studio.
Did it take a lot of practice to master that approach?
Quavo: When [Lil] Wayne first came out, he was freestyling everything, so we were like how the hell? And then we thought if he can do it, we'll do it. We were rapping into the mic, and taught ourselves to [record] punch-ins. And then Gucci Mane called us, he wanted to link with us in the bando, and we saw Gucci records the same way. This is how real rappers in the industry record. Being spontaneous is a blessing.
Outside of maybe Chicago, Atlanta is the creative hotbed for rap right now. How would you describe the Atlanta sound?
Quavo: We are creating the new Atlanta, along with Rich Homie Quan and Young Thug. We bring the spaghetti, put it in the bowl, mix it together, and we make the new Atlanta. [Quan and Thug] came from a whole 'nother side of the city. They got cities and buildings, they got blocks, but on Northside, where we're from, you got to get in a car and ride together. We turn out the suburbia areas. We all still got street niggas, but they got cities and we got grid housing.
There was a meme going around online last year that compared Migos to the Beatles. Were you aware of that? And what are your thoughts on the comparison?
Quavo: It's a blessing, and when you feel the power from the blessing, you know the blessing came fast and on time. To compare us to the Beatles—we doing the same thing. When we both came out, we broke the ground and changed the game, and we changed the way people flow. It's like comparing Kobe to Jordan. They all got rings; the Beatles got something we need. Actually, it's like comparing LeBron to Jordan. LeBron got his rings a little later, so wait until we get rings. To be compared to the Beatles right now is like letting us know we are going to win championships like them.
There's been some controversy around you guys, notably from 2 Chainz who rapped about you copying the style of Three 6 Mafia. Do you feel that was a fair comparison?
Offset: That's how we came on rapping, since I was 5 years old. I just feel like they hating, and not giving credit when it's done because we came in the game so fast. That's how we rap normally, and of course we've listen to Three 6 Mafia, but it's not like they're the only group we grew up listening to. The greats repeat themselves, so you can't say where we got it from. Real recognizes real. This is a controversy the media likes to stir up.
Similarly, it seemed like there was some real bad blood between you guys and Chicago's Chief Keef. Was that overblown? Or was the animosity real?
Offset: That was fake Internet beef.
Quavo: It was a social media beef. We were in L.A., and bosses made boss calls, and we made honcho calls, and we met like bosses. Now we are good. We're just keeping it moving, and making our money.
Offset, when Migos started gaining momentum in 2013, you were in prison for a probation violation. Was it difficult to rejoin the group?
Offset: When I was locked up, I didn't have to worry about not being in the group. See, these folks are my whole life because they are my family. When I came home, I didn't go back to the streets. I had to adjust to what was going on, and I couldn't come out slow and behind. I couldn't be the weak link.
Quavo: My boy has sauce. He so fresh that he came out dripping. He was in there for nine months, and then he came out ready to go and on fire. It's like when you sit someone on the bench that is very good, that wants to play real bad, and then he goes into the game, he tears the other team's ass up.
The producer Zaytoven has worked on a lot of your biggest hits. What is it about his beats that work for you guys?
Offset: We grew up with Gucci Mane rapping on Zaytoven beats, so it was a dream to have one of his beats.
Quavo: I always do the pauses and breaks on the beat — and when Zaytoven heard that, he loved it. He knew I could put a whole bunch of drops on the songs to make it crazy when we put our vocals on it. We rap so fast but you can hear exactly what we are saying because it basically sounds like a live band. We give [listeners] the tease and give them a show all on one track.
Are there currently plans for more new Migos music?
Offset: We are not making new music, but we got our itinerary. Our album should be out in the spring of 2015.
What can you tell us about the album?
Quavo: You know, you just got to wait on it!