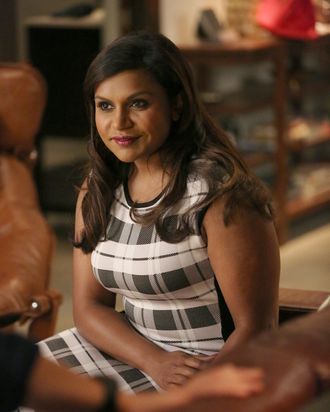 The Mindy Project wrapped its run for 2014 last night with what's become a now-signature holiday-party episode in which Big Things Happen. Last night's twist (spoiler alert) was that instead of Mindy getting engaged — as the show's writers had hinted might be in the offering — she landed a plum medical fellowship at Stanford. (Read our recap of the episode here.) The good news: Rather than threaten Mindy and Danny's relationship, the episode only underscored just how solid the two are (at least for now). The even better news: Fox last month announced it was expanding Mindy's third season from 15 episodes to a nearly standard 21-episode order, a sign the network is still committed to the show despite its modest ratings. Vulture caught up with creator/star Mindy Kaling this week via email to discuss last night's episode, what's next for Mindy and Danny, and whether or not she's onboard with our plan to create a Mindy spinoff starring Danny's mom (Rhea Perlman).
Another emotional Christmas episode on The Mindy Project! It looked like Mindy was going to have her heart broken again this year, as in season one, but things worked out. She and Danny are still in a great place, and Mindy has taken a big step forward in her professional life. Was there any debate about how things would turn out?
We had a lot of discussions about gestures in this episode. Danny is usually the one to do them, to come in and save the day. We wanted Mindy to make a thoughtful gesture to him because we don't see that as much. That's how we came up with the Ken Burns–style documentary. Then Charlie [Grandy] wrote an incredibly funny script.
So how should we read what happened last night. Is Danny ready to marry Mindy, or was his almost-proposal simply a reaction to his not wanting to lose her? He could've done both last night — propose and help her get the fellowship.
I think Danny isn't ready to marry Mindy but impulsively decided he must propose because he felt so guilty about hurting her application.
When the show returns after the holidays, will it be post-Stanford? Or will we see Mindy in California, Laverne & Shirley style?
After Christmas, we pick up with Mindy heading out to Palo Alto and get to see firsthand how it affects the office and her relationship with Danny. She also meets some really colorful people, including a tech billionaire ex-flame, played by Lee Pace. I just shot some of my scenes with him today. He's been playing so many supernatural creatures these days, I forgot that he is also just this good, old-fashioned leading man. It's exciting!
TV comedy history is littered with the corpses of misguided romantic entanglements. I mean, you even acknowledged that in the title of the premiere ("We're a Couple Now, Haters!") But so far, Danny and Mindy has been the opposite of a disaster. Were there specific rules you set down for the relationship to increase the odds of success?
Thanks! There have been no rules. We just had faith in our characters. It's not hard to believe that two really strong, confident, and flawed people would have a funny and conflict-y relationship. I've loved Danny and Mindy together … [Their] dynamic is loving but completely volatile. That didn't change when they started dating; it actually got better.
For a minute a year or so last year, I thought maybe, maybe you were thinking about exploring the idea of Mindy and Peter (Adam Pally) connecting. Did I imagine that? Or were you just laying the groundwork for Mindy playing Professor Higgins and turning Peter into a respectable fellow?
I love acting with Adam, and I think there is a chemistry there. We consciously toyed with it because it's juicy. We never went too far down that path, though, because we had other plans for Peter. Also, Peter and Mindy's friendship was even more valuable than their potential hooking-up.
Pally won't be staying with the show after episode 13. What was the thinking behind his departure, either on your end as producer or his as an actor? And what can you say about how he'll depart?
From his first episode last season, we knew the date of his departure. With someone like Adam, you know you will only have him for a limited amount of time. We adore him, though, and his "leaving" will not mean the end of Peter on the show by any means.
With Peter gone, will that open up more time to explore Morgan (Ike Barinholtz)? Hooking him up with Julia Stiles seems to be a big step forward for the character (even if she is as equally flawed as he is).
Ike is one of the funniest people on the planet, so sometimes you forget that he is just a great actor capable of emotional stories as well. I've been excited to show this side of him. Now that Mindy and Danny are a couple, I want to see someone single and dating. Morgan's perfect for that.
Fox last month decided to up the episode order on season three. Did that force you to adjust your plotting for the rest of this season?
Last year we aired 16 episodes, then had two months off and aired a final six. I actually loved the feeling of a miniseries at the end of the season, and we are treating these additional episodes the same way. The stuff we have coming up is huge. Really big moves that will surprise people.
You told The New Yorker's Emily Nussbaum earlier this year that you'd worked out backstories for Mindy's parents, but casting has been an issue. Are you any closer to cracking that nut? Will we see them sometime this season?
We are a little closer. That's all I can say!
On the topic of parents: I've been trying to get a movement started to have Fox, or any network, order a spinoff show featuring Annette (Rhea Perlman) and Dot (Jenny O'Hara), with cameos from Danny's dad (Dan Hedaya). Can you make this happen?
Nothing would make me happier.
The Mindy Project does very well with women under 35, often winning its time slot and holding onto all of the New Girl lead-in. Among guys the same age (and older), the ratings aren't so good. Is this something you think about when writing the show? Or can you not afford to be distracted by chasing demos?
I love men and have some of the funniest men on the planet on my show. So I'm always hoping other men will watch and see how many story lines reflect their lives.
Totally random last question: I feel like you, or at least Kelly Kapoor and Subtle Sexuality, knew Taylor Swift was going to go from country star to pop diva before even she knew it. Are you amazed at just how huge she became this year?
Taylor Swift is a Marvel Comics superhero. Even her name sounds like one.