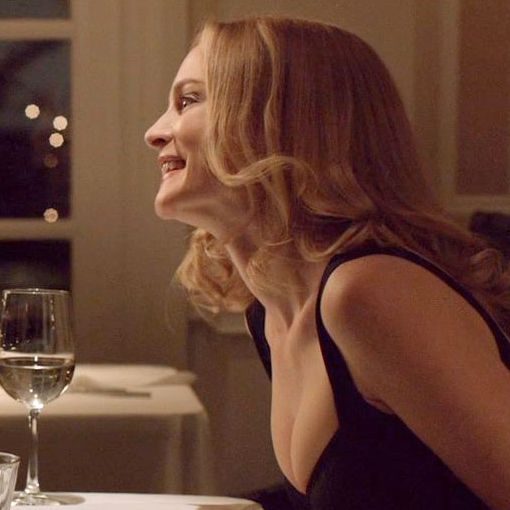 Romantic comedies involving people moving on after divorce are a dime a dozen, but rarely are they as generous, sharply observed, and humane as Angus MacLachlan's Goodbye to All That, a teeny, tiny indie opening amid this week's big-studio behemoths. It's the modest tale of Otto (a fantastic Paul Schneider), a likable, klutzy, self-absorbed North Carolina husband and father whose wife (an equally fantastic Melanie Lynskey) announces one day that she wants a divorce. Or rather her psychiatrist announces it for her. Otto, it seems, is so clueless to the needs of those around him that he didn't even know his wife was seeing a shrink. The divorce is presented as a fait accompli; nobody around Otto, including his distracted lawyer, suggests he fight it or that he do much of anything, except move on.
And so he does. He gets on Facebook and connects with high-school sweethearts. He goes on OKCupid and finds random strangers. There's a surprising amount of sex in this movie — some of it funny, some of it weird, much of it strangely sad. Having been married for quite some time, Otto is unprepared for the sheer variety of sexual experiences open to him; he's also unprepared for the strange meaninglessness of it all. The film's tone remains playful — there are even some broad, laugh-out-loud moments involving a sex toy — but poignant little moments sneak in, hinting at darker, more troubling themes.
Otto's episodic dalliances might seem on the surface like a male fantasy of promiscuity, but look closer and something surprising emerges: real people. MacLachlan (who wrote the acclaimed 2005 indie feature Junebug, which introduced Amy Adams to the world) has a patience with dialogue and an eye and ear for telling details; he quickly opens up little windows into these characters' worlds. One of Otto's former flames, played by Heather Graham (in her best performance in many years), talks to him about her own divorce and about her nearly grown sons. "My sons are going to be studs," she says, with a weird combination of pride and disgust, and your heart goes out to this woman who senses that her beautiful boys will one day trample someone's heart the way her ex did hers.
Names are important in this movie. One woman Otto sleeps with is prone to yelling her name out at important moments, including sexual climax. Another makes a point of telling him the name of a son who died; she has, in a sense, absorbed his identity and is trying to keep him alive, in her own way. When he attends the reunion of a camp he went to as a youth, Otto repeatedly runs into an old friend whose name he doesn't remember. Consciously or unconsciously, everybody in this film is trying to make their selves known to the world — not in an attempt at immortality but simply through a desire to be.
As Otto, whose own wife left him largely because of his amiable obliviousness, learns to listen to others, he also starts to understand the people in his life better. His own daughter has been wrestling with her identity, and she hasn't been getting much help from her father. Early in the film, we see her at practice for a school play, rejecting a girly dress and telling the others that she doesn't want to play a princess, but rather a queen or a king; meanwhile, we see Otto at his new home, unsuspectingly decorating the girl's new room in decidedly princess-y fashion. He may love his daughter, but we don't sense that he's ever really paid attention to what kind of person she is. And so Goodbye to All That, for all its sexual shenanigans, its episodic tales of romantic dysfunction, turns out to be a story about a man learning to be present in the lives of the people closest to him. Charming, beautiful, and sad, it goes down easy, but you might find it stays with you for a while.