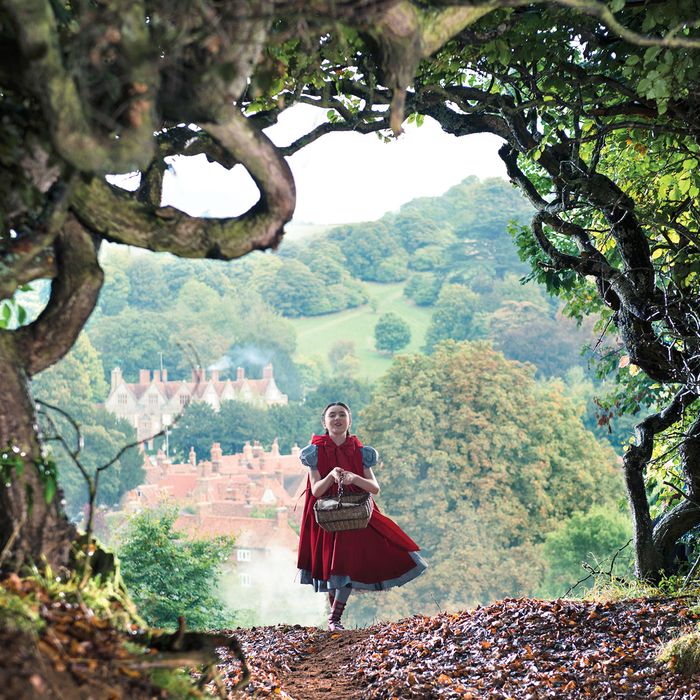 Photo: Peter Mountain/Courtesy of Disney Enterprises
Early in the film of the fairy-tale operetta Into the Woods, I was nearly jumping out of my seat with glee. The creators of the original show, Stephen Sondheim and James Lapine, had intended to transcend — even explode — the sugary, homogenized Walt Disney treatment. Now here it is, getting a full, lavish Disney studio production with big-deal movie stars (Meryl Streep, Emily Blunt, Anna Kendrick, Chris Pine, Johnny Depp) and somehow working as well if not better than it did almost 30 years ago on Broadway. My euphoria lasted a long, long time … but all good things must end. Which is also the point of the musical, though not quite in the way it happens here.
Until its hairpin turn into the apocalyptic, the material is ingenious. Sondheim and Lapine take three Brothers Grimm stories — "Cinderella," "Jack and the Beanstalk," and "Rapunzel" — and set them crisscrossing farcically in the woods, yoking them together via a new tale in which a baker and his wife embark on a scavenger hunt to dispel a witch's curse that has rendered them infertile. Even fractured, the fairy tales emerge with unusual clarity. (They aren't, for a change, padded out.) And though space onscreen is more literal than onstage, director Rob Marshall and editor Wyatt Smith maintain a happy, bouncing-ball fluidity, aided by the composer's most dazzling fugues. Melodically, this isn't top-tier Sondheim (it's like A Little Night Music without the tunes), but the harmonies are splendid and Jonathan Tunick's orchestrations a busy, beautiful world unto themselves. The tempos make the special effects even more irresistible. The movie moves like a dream.
And most of the actors can hit the notes — hooray! Not Depp, whose Sweeney Todd wasn't much to sing about either, but as the Big Bad Wolf he does some good, fruity Hedwig-like vamping ("Hello, little girl"), and his rasp contrasts nicely with the brassy, Ethel Merman–like sounds coming out of Little Red (Lilla Crawford). The Cockney Jack (Daniel Huttlestone) recalls Jack Wild's Artful Dodger in the nicest way, and Tracey Ullman is inventive enough to keep his mom from being too much of a screeching pain. As Cinderella, Kendrick has a crystalline soprano (she kills it in the upcoming film of The Last 5 Years), and though she's a little morose, her relatability quotient is off the charts — you can picture her at a mixer tentatively sipping punch and wondering why she's there. I do wish she matched up better with Pine's amusingly fancy-pants, frat-boy Prince. (Would he really be turned on by such a modern bundle of neuroses?) Their union is meant to be dashed, but it would be good to buy into the illusion for a spell. And Streep? Her singing is good if a little thin, but it's the one weapon in her superhuman arsenal she can't fully control — you see the occasional flicker of uncertainty. At her best, though, she's like Andrea Martin's Edith Prickley from SCTV with superpowers, a gloriously terrifying vision.
The good-hearted plodder of a baker and his goosey wife are the real protagonists of Into the Woods, and they're all you could hope for here. James Corden is a wonderfully funny, self-effacing bloke — I'm thrilled at the prospect of seeing him nightly, hosting his own show after Colbert. Maybe he'll have Emily Blunt as a guest. It's her movie. Dizzy, pop-eyed, blurty, she gives this unwieldy saga its daft, farcical heart. Without her it would be …
Well, there's the rub. I didn't think the show fully earned its slap-in-the-face second act onstage, either, but in a Sondheim musical you don't expect happily-ever-afters; and it was, after all, 1987, near the peak of the AIDS crisis, when the brief fairy-tale era of gay liberation had been cruelly snuffed out. (Sondheim has downplayed the AIDS connection, preferring crises in which humans bear direct responsibility, like global warming.) For a 1987 Broadway crowd, Sondheim and Lapine could get away with their sour sentimentality and what really amounts to a colossal failure of imagination. They can't here. In a Disney movie opening Christmas Day and pitched to the whole family, the wave of awful things just seems bewilderingly mean — a sucker punch to kids who did nothing except hope for a story in which wishes do, after the requisite pain and sacrifice, come true. I'm only half-kidding when I suggest that you see the movie but leave (especially if you have kids) at what's obviously the end of the first act. You'll still get the dissonances, ambiguities, and portents of doom, along with much that is pure enchantment. And you won't leave thinking the movie had been made by the Big Bad Wolf.
*This article appears in the December 15, 2014 issue of New York Magazine.