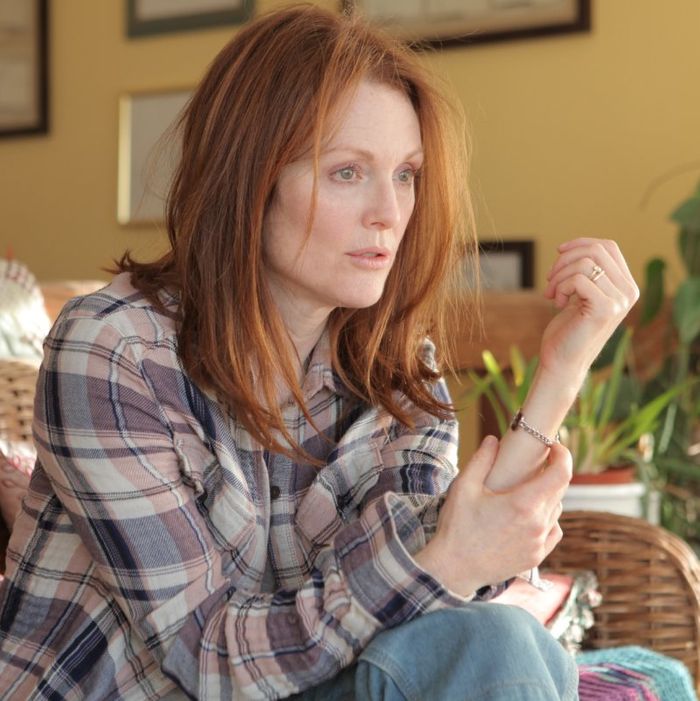 In the aching drama Still Alice, Julianne Moore plays Alice Howland, a 51-year-old Columbia linguistics professor with early onset Alzheimer's disease, and the performance is indelible: Moore turns the act of thinking into a momentous test of identity, first triumphant and then tragically scrambled. Early on, Alice explains that she has always defined herself by her intellect, and co-directors Richard Glatzer and Wash Westmoreland devise an extraordinary scene to drive that self-assessment home. It's Alice's first visit to a neurologist after a series of memory lapses, and it's all one shot — no cutaways — of Moore's face. As Alice recounts her symptoms and answers questions to test her recall, you can feel her satisfaction in getting things exactly, precisely, splendidly right. Her father was a drunk and her mother and sister died in a car accident when she was a teenager, so Alice's self-­sufficiency — in work and life — is like a ­Cartesian declaration: I think, therefore I am. When, with each passing day, the distance lengthens between her mind and body, the terrible central question looms: Does Alice still exist? What can we say a person is?
Nothing in Still Alice is as powerful as simply watching Moore think, but that would be enough to carry a much worse film. This one is good, if a little thin. It's too bad that Glatzer and Westmoreland didn't do more to fill out neuroscientist Lisa Genova's novel, which reads less like a work of fiction than like an ultraempathetic clinician's report. Told from Alice's point of view, it charts her day-by-day disintegration, every chapter bringing fresh assaults on her autonomy and dignity. It's a riveting read — there's a ­voyeuristic fascination, not necessarily unhealthy, about watching what might be a person's essence float off into the ether. But Genova doesn't have the poetic chops to evoke the fragmentation of Alice's psyche, and the people around her — among them her husband, a cancer researcher, and younger daughter, an aspiring actress — are half-formed.
The movie's biggest casualty is Alec Baldwin, who clearly couldn't find anything in himself to connect with Alice's husband, John: Baldwin's readings are so hollow that you might think John is having an affair or hiding something instead of what he's meant to be — a dullish fellow who can't fully rise to the occasion. (At least in the book John throws himself into Alzheimer's research.) Most of the other characters are drearily ordinary, too, though Stephen Kunken has the neurologist's manner down so pat that I wanted to make an appointment with him. The only other performance of note is by Kristen ­Stewart as the actress daughter, Lydia. I've never quite understood the hatred for Stewart, who drifted off-course as her star rose but has always struck me as a truthful actress — authentically sullen and dodgy. Her Lydia is a completely credible unformed young woman, an emotional misfit in a house of high-accomplishing brainiacs. Acting opposite Moore would be enough to make anyone lay off the weed, and Stewart brings her A-game.
Still Alice has an exceptionally lovely, yearning score by Ilan Eshkeri for violin, viola, cello, and piano, but Glatzer and Westmoreland are promiscuous with it: Every time Moore gazes into the middle distance, those same four piano chords arrive with a case of the sads, sometimes accompanied by Alice's home-movie-ish memories of lyrically clinging to her dead mother and sister on a beach.
But Moore's face, with its pale, ginger-ish propensity to flush on cue, transcends that banality. You can almost see through her skin and feel her sudden vertigo as the words become more difficult to access. And Moore's voice is just as expressive — or, in some cases, expressively inexpressive. A deadness creeps into her tones when Alice begins to detach from the world and to repeat things by rote — she's like an actress who has forgotten her lines. That makes those increasingly rare moments when Alice finds her voice again — when she's all "there" — even more precious.
Before he started working on Still Alice, Glatzer was diagnosed with the neuro­degenerative disease ALS, and he and Westmoreland deliver a final, devastating coup that widens the movie's focus beyond Alzheimer's. Lydia is rehearsing a scene from Angels in America and reads aloud to her seemingly uncomprehending mother — a speech in which Tony Kushner, writing at the peak of a violent, hopeless plague, finds the words to convey what remains when all our earthly possessions seem lost. It takes you somewhere that neuroscientists can't: to the soul.
*This article has been edited and updated since its original publication. It appears in the January 12, 2015 issue of New York Magazine.