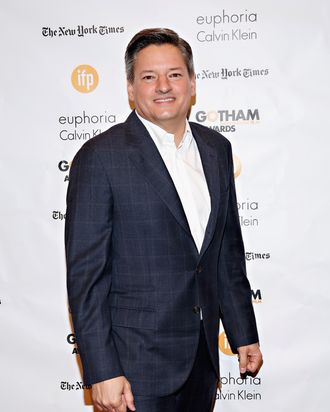 Photo: Cindy Ord/Getty Images
At last night's Gotham Independent Film Awards, Netflix chief content officer Ted Sarandos received a career tribute award, and we caught up with him to ask about The Unbreakable Kimmy Schmidt, the Ellie Kemper–starring show produced by 30 Rock's Tina Fey and Robert Carlock that Netflix recently picked up for two seasons after grabbing it from NBC.
How did Unbreakable Kimmy Schmidt come to you guys?
It was probably one of the most remarkable developments of the last couple of years in television. We've had this history of rescuing a show. Either a really loved show that's long-gone, like Arrested Development, or more recently, The Killing and Longmire. And this was a strange opportunity where, usually when shows don't make it, sometimes it has very little to do with the quality and it has everything to do with the time slot, the lead-in show, the time of year it came out. All those things. And Kimmy was one of those things that both the network and the producers were a little nervous about the time of the year it was coming. They didn't have a complementary program to launch it with.
Just that whole new-season thing makes people nervous?
Yeah, yeah. I think that they were super bold and said, "Look, let's make this show a success. It could be a success on Netflix." We got a call from Tina Fey and from Dave Miner to come to New York. We came up literally on the last day of production, watched some of the shooting. Met with Tina and the team, heard what they were planning, and said, "Look, if you can work it out with NBC, we'd love to do it. And within 12 hours, we'd seen nine of the 13 episodes. And within four days, the deal was done. So for us it was this huge thing, but the whole thing happened in four days.
Does it have the same vibe as 30 Rock? What's the vibe?
Yeah, it's the same comic sensibility of it. It's a slightly darker premise, I mean.
Yeah, the cult.
Kimmy was kidnapped 16 years prior and held in an underground bunker with a religious cult. And when she comes out, she becomes this big celebrity, like what would really happen, and money starts pouring in from people around the world. And she takes the money and moves to New York and tries to start a life. And she's unbreakable because it's an unbreakable spirit. She's super enthusiastic and positive and a real-life ingénue in New York who literally does nothing and tries everything. It's hysterical. It has the same comic tone as 30 Rock.
Did they make up a cult?
Yes, it's a made-up thing. Yeah, it's very, very funny, though.
Anything about the cult that you could tell us?
No, no, no. I don't want to spoil it. But I do think that what's cool about it is when you get too far off-center even from the get-go, it becomes a little less network-y. But it's so perfect for us. You know what I mean? Just slightly off-center, super serialized, and comedic and complex story lines.
Does it feel sitcom-y?
No, the story actually plays out really beautifully episode to episode. It's probably more sitcom-y and network-y than our other shows had been because it was all the way ready for NBC.
Right, right. So that's coming soon?
Yeah, in March. It's a really funny show. Tina's returning to TV, and it's really good to be a part of that.
Does she call it a TV show if it's not on TV now?
Yeah, it's still a TV show. We're TV.