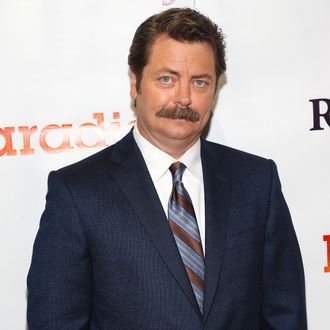 Photo: Imeh Akpanudosen/2013 Getty Images
To promote his one-man show American Ham — coming to Netflix today — manly mustache maestro and woodworking wizard Nick Offerman commandeered Reddit for an AMA session on Wednesday. Onscreen and off, the Parks and Rec actor has proven to be a flowery-but-concise, absurd-but-wise man. For the Redditors who tuned in, he did not disappoint. While answering some of life's toughest questions, he also shared such gems as his disdain for mosquitoes, his favorite Disneyland ride, and how to get into woodworking. Read his responses below while playing this in the background.
Does he like his Pratt chubby or six-packed?
Christopher Pratt is one [of] the most beautiful creations of Mother Nature's that I have countenanced in my lifetime. Whether the bear is lean from the winter or fattened by sweet summer berries and springtime salmon, it makes me no never mind in the love I bear for him. He's still a magnificent beast.
What's the most beautiful song he's ever heard?

When my wife and I met doing a play at The Evidence Room in LA, we were backstage and she whisper/sang In The Gloaming into my ear. I busted out my MetroCard and hopped the express train to BONER TOWN.
What's the most challenging part of being Nick Offerman?
Penis is wider than it is long.
Some ambiguous book news:
My second book is coming out in the summer of 2015. It is not about love making, as I am no Bruce Campbell. He is a STALLION.
If he could be any other character on Parks and Rec, who would he be?

L'il Sebastian because then I would be the universe's MOST GLORIOUS CREATURE.
His marriage to Megan Mullaly keeps him on his toes:
I never dreamed my life could be so full of bounty. It keeps me vigilant to mind my manners so that I will not anger the greater powers. (Gandalf, Galactus, Patton Oswalt)
Facial-hair-secret alert:
It is I who am controlled by my whiskers.
If you ever have to decide between black walnut or red cedar, Offerman has you covered:
Two beautiful species, but I'd go 100% with walnut, as it is a cabinet wood, meaning it is dense and strong enough to withstand the stresses that are enacted upon furniture. Cedar is beautiful, with a high tensile strength, making it great for boats and guitars and siding/shake shingles, but it's also very soft, so your table and chairs would be fragile and easily scratched and gouged.
Want to get into woodworking yourself?
Get Fine Woodworking Magazine or visit Finewoodworking.com and start reading. Find some beginner project that you like, like a box is always a good starting point. Get a decent chisel and a block plane and learn to sharpen them. Sharpening is the most important skill to master, because it makes the rest of the steps flow like butter.
The best non-woodworking advice he has?
Practice promptness, tell the truth, don't start a job you don't intend to finish, and treat all creatures with kindness excepting the mosquito and the Frenchman.
Someone asked him for a book blurb, and this is what's theoretically going on that book's dedication page:
If a warm mate is not at hand, a melon will serve just fine.
What's his favorite Disneyland ride?

Mr. Toad's Wild Ride. It's fucking wild, guys.
How was it working with John Oliver on Last Week Tonight?
I honestly think that is the most effective news program happening today, or this week rather, and it's also britches-shitting funny. It was an honor.
Nick Offerman: The Video Game:
It would be a map to the local forest, with the instruction: MEMORIZE THIS. It would remain onscreen for 15 seconds, then the unit would shut itself off.
Who is his favorite Disney princess?
My favorite Disney princess is Ryan Gosling.
And the question we've all needed answered: Nick Offerman versus Aziz Ansari?
Duh. Aziz. He would disarm me by saying something super hilarious, then whilst I giggled he would nimbly kick me in the bean bag and scurry away. This has happened. He's a funny man.