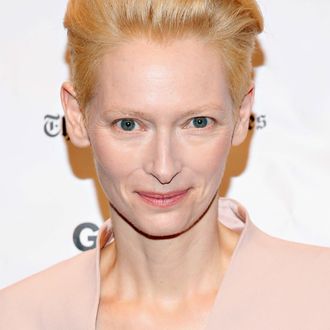 Not from this planet, probably.
Photo: Cindy Ord/Getty Images
Tilda Swinton is clearly an alien sent from another (better!) planet to become a superstar and help push the human race to greater heights. If this isn't already obvious to you, read this GQ profile – where Tilda takes the writer on a tour of the Scottish landscape while effortlessly spouting some of the most beautiful Swintonisms you'll ever read:
Her smell:
She smells like wildflowers and wood smoke. Her sweater is chunky and soft. Her profile is the kind of thing you need to work up to looking at directly.
Her look:
"I don't really look like people in films; I look like people in paintings."
Her transportation:
"We're going to go to Loch Ness." She leads me to her car, a green Skoda (what is a Skoda? It is the car Tilda Swinton drives) with four identical dogs in the hatchback.
Her lineage:
Another ancestor, Alan Archibald Campbell-Swinton, was a famous scientist: "There are some very zealous admirers of my great-great-uncle who want him to be instated as the true inventor of the cathode-ray tube for television."
Her past lives:
"Well, I was a professional gambler. When I lived in London, there were a couple of years when I didn't really earn money doing anything else. I mean, I did other things, like I made work, and I was working with Derek Jarman at the time, but the way I made money was putting money on horses."
Her tropes:
"My tropes are dogs and eggs."
Her auto-reply:
When you send Tilda Swinton an e-mail, you receive an auto-reply: "Hello, I am away until 01/01/2070 and am unable to read your message."
Her email postscript:
ps creeping hydrangea (brain like wet cake)
Her "I have no idea":

"I spent a lot of time thinking that I was some kind of foundling," Tilda Swinton says, answering a better question than the one I asked. "That I had been a changeling, that I had been found under a bush somewhere, and that I couldn't possibly be kin—but the more I live, the more I feel absolutely like I come out of my family. I'm a sort of strange natural progression."