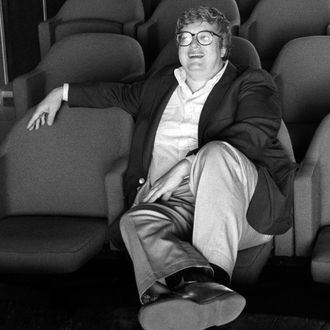 Roger Ebert in Life Itself.
In preparation for the Oscars, the Academy has chosen its short list of documentaries. Originally based on a list of 134 films, 15 have been selected, and from that, it'll choose the final five nominees. Notable films that made the list include: Steve James's remembrance of film critic Roger Ebert, Life Itself; docs about internet revolutionaries Aaron Swartz (Brian Knappenberger's The Internet's Own Boy) and Edward Snowden (Laura Poitras's Citizenfour); Charles's Siskel's doc about mysterious photographer Vivian Maier, Finding Vivian Maier; Rory Kennedy's enlightening Last Days in Vietnam; and Frank Pavich's obsessive deep-dive into Jodorowsky's Dune. The full list is below.
Art and Craft
The Case Against 8
Citizen Koch
Citizenfour
Finding Vivian Maier
The Internet's Own Boy
Jodorowsky's Dune
Keep On Keepin' On
The Kill Team
Last Days in Vietnam
Life Itself
The Overnighters
The Salt of the Earth
Tales of the Grim Sleeper
Virunga
In the list of films skipped over that you still might want to see: Elaine Stritch bio-doc Elaine Stritch: Shoot Me; the Mike Myers–directed Supermensch; Freida Lee Mock's doc Anita, about Anita Hill; Todd Douglas Miller's Dinosaur 13; and Joe Manganiello's male-stripper exposé (ha-ha) La Bare. That full list is here.