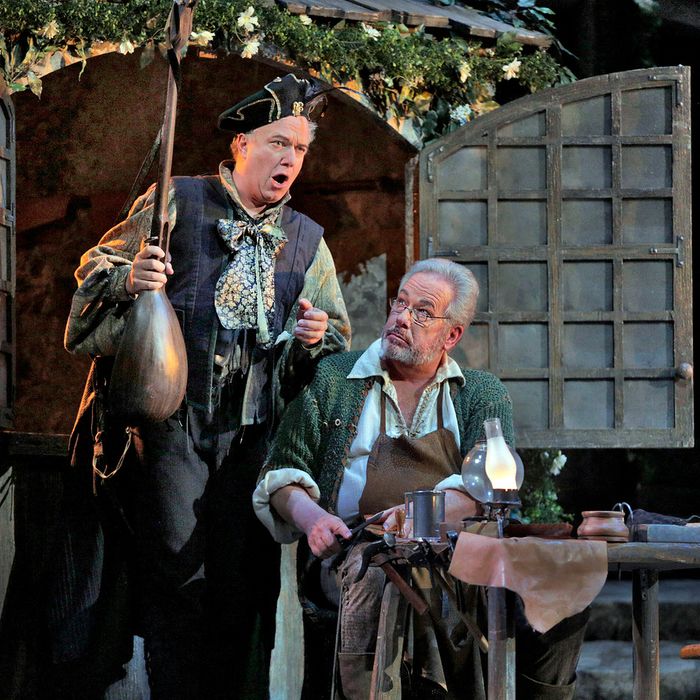 Photo: Ken Howard/Metropolitan Opera
Wagner's Die Meistersinger von Nürnberg lingers on the moment when one era rolls into the next, when nostalgia is vaporized by innovation, decorum trumped by joy. It's an opera about a singing contest, and like virtually every victory-of-talent story — Project Runway, Billy Elliot, Fame, Dreamgirls, Friday Night Lights — it follows the classic arc from arrogance and failure to persistence and triumph, with a coach's pep talk and a humbling epiphany along the way. Among the opera's many wonders is that we witness the prize-winning song taking shape before us and watch its maker spin fussy tradition into shiny melody. Wagner shows us a version of his own process, composing both sides of a great aesthetic struggle. In the end, he launches himself and his music into the splendid future.
The Met's venerable production, now being trotted out for one last lap before being mothballed, gets the story backwards. On opening night, time slowed and liveliness surrendered to age. After five hours of music, broken up by two interminable intermissions, wistfulness spread like mold over the vigorous, sensual score. A pair of veterans returned to Otto Schenk's half-timbered Rhineland, bringing a mixture of pleasures and irritants. The nearly 68-year-old James Morris, who sang the cobbler/poet Hans Sachs, knows how to husband his resources, and as he soldiered gamely into the night, power and authority gradually faded into tender, tired wisdom. James Levine, a real-world Sachs of towering experience and enormous endurance, mixed ravishing passages with perfunctory bombast.
The younger members of the cast had an equally uneven night. Tenor Johan Botha clomped through the role of the whippersnapper troubadour Walther von der Vogelweide, his voice light and his phrasing heavy, as if singing Wagner were a burden instead of a joy. Only Paul Appleby, in the secondary role of the apprentice David, honored the opera's festive spirit. It's a shame for this sumptuously old-fashioned production to go out on such a middling note. If you're going to sit in an opera house for as long as it takes to fly to Europe, you want the cast to make every hour count.