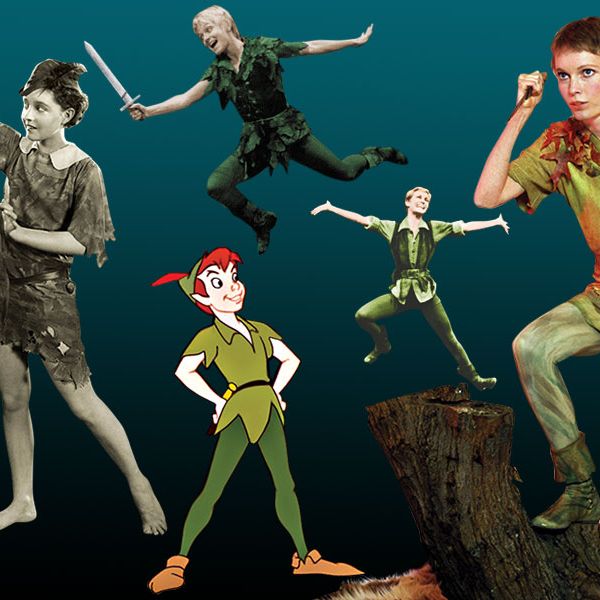 Tonight, Allison Williams will don the green tunic to star in NBC's Peter Pan Live! Since appearing in 1904, J. M. Barrie's poignant tale, with its themes of eternal youth and defiled innocence, has inspired everything from Broadway musicals to arty erotica. Here, a timeline of the nostalgic and provocative cultural exploits of Peter, Wendy, Captain Hook, and the Lost Boys.
1904
Peter Pan, or the Boy Who Wouldn't Grow Up, by Scottish journalist turned playwright James Matthew Barrie, premieres in London. Intended as a Christmas pantomime, the play features a girl as Peter (for practical reasons: Girls are lighter to lift in harnesses).
1905
Barrie's Peter Pan makes its American stage debut; Maude Adams plays Peter.
1924
After years of film studios' pursuing his property, Barrie authorizes a silent-film adaptation by Paramount starring Betty Bronson. Tinker Bell is played alternately by a light on a fishing line and actress Virginia Brown Faire.
1930s and '40s
The Peter Pan collar — named for the collar on Adams's original costume — comes into vogue, popular especially on wedding dresses. It will resurface in the '70s, and more recently with gamine celebs like Michelle Williams, Kirsten Dunst, and Alexa Chung and preppy brands like J.Crew.
1950
Peter Pan's first musical incarnation on Broadway, with one of Leonard Bernstein's lesser-known scores. Boris Karloff and Jean Arthur star as Hook and Pan.
1953
Feather in cap, Disney's Peter Pan arrives.
1954
The Broadway musical directed and choreographed by Jerome Robbins, which is the template for the show we know today; Mary Martin is Peter and Cyril Ritchard is Hook.
1960
The Martin-Ritchard musical is televised, becoming a touchstone for generations of kids to come.
1975
A bronze statue of Peter Pan, created in 1928 for the Paramount Theater in Times Square, is installed within a cloistered garden in the Upper East Side's Carl Schurz Park. In 1999, the statue is stolen; it is later recovered from the bottom of the East River.
1975
Composer Jim Steinman writes his short-lived musical Neverland: Three songs from it ("Bat Out of Hell," "Heaven Can Wait," "The Formation of the Pack") become the beginnings of Meat Loaf's Bat Out of Hell.
1976
NBC offers up a "Hallmark Hall of Fame" Peter Pan with a new (not terribly well-reviewed) TV-musical production, starring Mia Farrow as Peter and Danny Kaye as Hook.
1978
Freddie Mercury croons, "I don't believe in Peter Pan / Frankenstein or Superman" in Queen's "Bicycle Race."
1979
Broadway revival No. 1, starring Sandy Duncan as Peter.
1983
Dr. Dan Kiley writes Peter into the pop-psychology pantheon with his The Peter Pan Syndrome: Men Who Have Never Grown Up. A year later, his The Wendy Dilemma advises ladies in relationships with Peter Pans.
1988
Michael Jackson, a famous Peter Pan fan, buys a property he dubs Neverland Ranch.
1990
Fox Kids debuts Peter Pan and the Pirates, a series that follows the Darling children's further Neverland adventures. Jason Marsden, as Peter, and Tim Curry, as Hook (he'll win an Emmy for the role), lend their voices.
1990
Broadway revival No. 2, with former gymnast Cathy Rigby as Pan. She'll make a second career out of playing Peter.
1991
Steven Spielberg takes on grown-up Peter (Robin Williams) in Hook, with Dustin Hoffman mustache-twirling as the captain.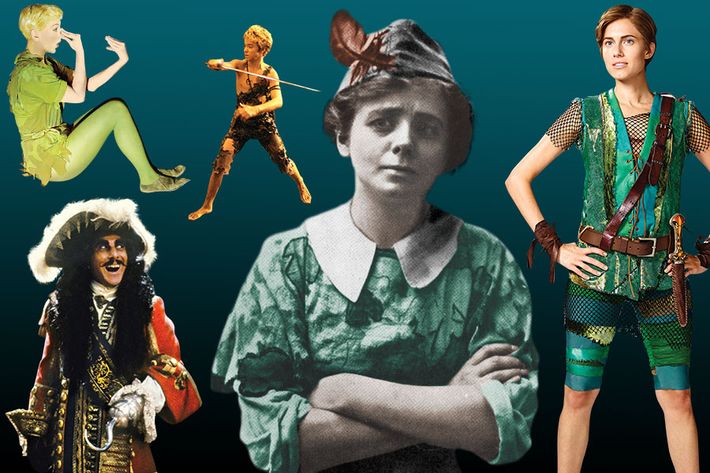 1991
Broadway again, Rigby again, but this time with J. K. Simmons as Mr. Darling and Hook!
1998
Broadway again, Rigby again.
1998
Jungian analyst Ann Yeoman's Now or Neverland examines Peter as a form of Jung's puer aeternus, or eternal boy.
2002
Choreographer Trey McIntyre makes Peter Pan the subject of his first full-length ballet, for Houston Ballet.
2003
Another Pan movie! Called, simply, Peter Pan, with Jason Isaacs of Zero Dark Thirty, Olivia Williams, and Jeremy Sumpter.
2003
In a documentary, Michael Jackson tells Martin Bashir, "I am Peter Pan in my heart," also admitting he has shared his bed with children at his Neverland Ranch. Though Jackson had been accused of child molestation, many experts agree that his childlike behavior is not typical of pedophiles.
2003
At age 16, Kendrick Lamar raps: "I'm from the land where fiends fly like Peter Pan," on his very first mix tape.
2004
Johnny Depp gets sentimental as a young Barrie who meets the family that inspires his book in Marc Forster's Finding Neverland; seven Oscar noms ensue.
2004
Manga! A Peter-like character named Air spirits a young man away to be his father in Kaname Itsuki's Lost Boys.
2006
Porno Peter. Or, er, Wendy. Comic legend Alan Moore's Lost Girls has the Darling girl explicitly exploring her sexual fantasies alongside Alice (of Wonderland) and Dorothy (from Oz).
2008
Captain America, Iron Man, and Thor go to Neverland in Marvel's Avengers Fairy Tales No. 1.
2009
On "Successful," from his So Far Gone mix tape, Drake boasts, "This lost boy got fly without Peter Pan."

2010
Milwaukee Ballet's Peter Pan, choreographed by Michael Pink, complete with a crocodile that crawls along the orchestra pit, plays to sold-out audiences.
2011
Coldplay sprinkles Pan references throughout its Mylo Xyloto album: "Charlie Brown" nods to the Lost Boys, and "Major Minus" references the crocodile with a ticking clock in its stomach that ate Hook's hand.
2012
In the video for "Bangarang," EDM star Skrillex references Hook, with the Lost Boys depicted as grown-up hoodlums. The song's title is the battle cry of the film's Lost Boys.
2012
Rapper Machine Gun Kelly enters Peter into street-drug nomenclature on "Half Naked & Almost Famous": "Uh, I just wanna be young forever, man / Roll the Peter Pan, light it up and let's Neverland."
2012
Peter and the Starcatcher, a theatrical prequel based on Dave Barry and Ridley Pearson's Starcatchers series, starts on Broadway after a first run at New York Theater Workshop. Smash's Christian Borle plays a bumbling proto-Hook called Black Stache.
2013
Peter appears as a character on Once Upon a Time; later, he is revealed to be Rumpelstiltskin's father.
2013
On "Domo 23," from his Wolf album, Tyler, the Creator raps, "Hit me on my beeper while Captain Hook suck my Peter / Pan camera, repeat procedure."
2013
London photographer Kate Elliott begins "The Study of Peter Pan," an ongoing project that aims "to capture someone at the point in adolescence between childhood and adulthood, and to freeze that moment."
2014
The English translation of Regis Loisel's graphic novel Peter Pan envisions Peter's Dickensian London childhood with an alcoholic mother before his trip to Neverland.
2014
Allison Williams goes from Girls to Never-Never Land.
2015
In April, an $11 million musical adaptation of Finding Neverland is scheduled to open on Broadway. Come July, Joe Wright directs Hugh Jackman and Levi Miller (as the title character) in the fantasy adventure Pan.
*This article appears in the December 1, 2014 issue of New York Magazine.