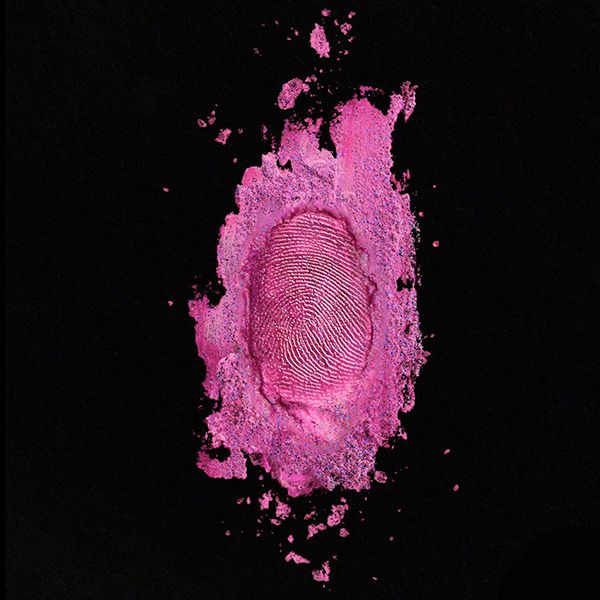 So much depended upon The Pinkprint. Too much, probably. Some of this has to do with the stark confidence of its title, or the increasingly grand statements Nicki Minaj has been making about her fabled, much-delayed third album for the better part of the last two years. "I do think it's going to create new rules," she's said. Also: "[Jay Z] did such a great job of creating this Blueprint for male rappers … I felt like with what I'm doing, I want female rappers to pattern themselves with what I've done one day." Bold claims, sure, but the unfair truth is that Minaj would have been stuck with this heavy crown whether she liked it or not. Since blasting up from the underground and into mainstream consciousness in 2010 (the year of her world-stopping guest verse on Kanye West's "Monster," as well as her debut album Pink Friday), Minaj's reign as her generation's greatest female rapper has been completely, and perhaps depressingly, uncontested.
To many of her fans, though, the way that Minaj has navigated her success has been about something even larger than the rap game. The generation that has grown up with her is also the first in American history experiencing what's been called an "ambition gap," a moment in which young women are on track to be more successful than their male peers — and perhaps navigating certain tensions that arise from this in their personal and professional lives. These are uncharted waters, and Minaj has been an able captain: She has become an icon for a certain type of young woman seeking power and respect in a man's world. In interviews, she speaks with equal reverence about the artistry of Nas and Lauryn Hill as she does the business acumen of Diddy and Russell Simmons. "I want to be the female who earned the same amount of money that the Jay Zs and the Puffys were able to earn," she said earlier this year. "[W]hen I reach my $500 million goal, then no other woman in rap will ever feel like they can't do what these men have done." She is a rap game Sheryl Sandberg — except I'd venture that the much-quoted two-and-a-half-minute viral video in which she calls out music-industry sexism is infinitely more galvanizing than the whole of Lean In. ("When I'm assertive, I'm a bitch. When a man is assertive, he's bossed up.") This cultural shift has definitely helped Minaj become such a hero in certain corners, but it also bestows an added pressure upon her every move. In recent months, when I have talked with some of my female friends about the expectations we had for The Pinkprint — especially in the wake of its early, underwhelming singles like "Pills and Potions" and "Anaconda" — the conversations have felt oddly personal, as though in its potential failure we all had something to lose.
I am semi-convinced that Nicki Minaj was a lion in a past life, and the most persuasive evidence is the taped footage of an interview she gave last summer to Hot 97's morning show, in which she slowly, prowlingly eviscerates co-host Peter Rosenberg, an infamously vocal opponent of Minaj's pop singles. Like many others, he measures her career in terms of potential rather than reality: "I just want you to know," he tells her at one point, before saying he considers her on the same level as Lauryn Hill, "I think you could be the greatest female emcee of all time. I think that could happen." Could. The implication — and it's a widely held one when it comes to Minaj — is that there is still something missing from her career, that she cannot be truly canon until she finally releases a Great Rap Album. Never mind the fact that she has displayed her formidable talent across a brilliant and prolific run of mixtapes, features, and singles that has matched if not quite surpassed the wild originality of her mentor, Lil Wayne — or that it would be sacrilege to say that Wayne's greatness rests on the reputation of The Carter III rather than his 2007–2008 mixtape-and-feature run. Regardless, for the past two years, the promise has hung expectantly in the air that The Pinkprint could (could) silence the skeptics once and for all, that it could become her legibly Great offering to the rap gods.
It's true that Minaj has not yet made a great album — in fact, until The Pinkprint, it was arguable that she did not even believe in the (supposed) sanctity of the form. I don't necessarily count this a strike against her. Her second album, 2010's Pink Friday: Roman Reloaded, was so boldly, blatantly disjointed that it almost felt like a deliberate argument that we were living in a post-album era and that these sorts of measurements no longer mattered. The first half of Roman indulged in the type of sharp, artistically risky rap-qua-rap that people like Rosenberg have come to want from Minaj, complete with cred-boosting features from the likes of Cam'ron and Nas; then, with a borderline-comedic abruptness, she flicked on the black light and switched over to EDM-influenced pop fare like "Starships" and "Pound the Alarm." The schism felt almost intentional, like Minaj was saying she could not resolve certain contradictions inside of her — and that refusing to do so was its own kind of statement. "I wanted to experiment," she told Rosenberg. "My whole career has been just like … a playing field for me to try new things. I never put a limit on myself. And I don't like when — especially black — women put a limit on what they can do."
Nicki Minaj contains multitudes, defiantly. On record, she is a contradiction — a manically hyphenated, questionably grammatical sentence. In her rhymes, she makes up accents of countries that don't exist and embodies a whole cabal of eccentric characters: the tortured Roman Zolanski, the soft-spoken Harajuku Barbie, the unapologetically sexual Nicki Lewinsky. Like her early mixtapes and features, parts of Roman Reloaded felt like an audition to voice every single character in a very fucked-up Pixar movie. But for all of the batshit, freewheeling energy of her music, Minaj has conducted herself publicly with a kind of cool-headedness that borders on restraint. Her lyrics have never felt explicitly personal. She makes club bangers but we never see paparazzi pictures of her losing control; she raps gleefully (and witheringly) about various boy toys but has been rumored (perhaps until recently) to be in a low-key, long-term relationship with her sometimes-collaborator Safaree Samuels. It is very possible that she is just an exceptionally private person, but something about Minaj's particular kind of poise also suggests a knowledge, even a weariness, that the rules are stricter for the most talented woman in what is still a man's game. Behind it all I hear an echo of Olivia Pope: "You have to be twice as good as them to get half of what they have."
***
The Pinkprint begins not with, say, the epic, Serious-Statement-Ahead fanfare of Kanye West's My Beautiful Dark Twisted Fantasy, but on the muted downbeat of "All Things Go," the most confessional song Minaj has ever released. It's a risk, and she knows it. When she performed it on SNL two weeks ago, she seemed more nervous than I've ever seen her on TV, even compared to her expertly handled zipper malfunction at the VMAs. The tone of "All Things Go" is uncharacteristically poignant; its diction is direct. Amidst lush synths that throb like open wounds, the song derives the greatest emotional power from the most simply stated lines: "Ten years ago, that's when you proposed / I looked down, 'Yes, I suppose.'" Whom is she referring to? An engagement that never made it to the aisle, or has Nicki Minaj been hiding some secret husband that TMZ hasn't managed to dig up? She's been so guarded up to this moment that anything seems possible. "All Things Go" names names the way a Drake song might (it feels like a kindred spirit to Nothing Was the Same's opener, "Tuscan Leather"), but we haven't heard this kind of thing before from her. She raps plainspokenly about her cousin's death and alludes to what seems to be an abortion she had in her teens, admitting she often thinks about how old the child would be now. We're far from whatever fictitious country Roman Zolanski's from. Then, once she has sufficiently situated you in the track's slow, sludgy gravity, she suddenly musters a defiant energy to proclaim, "THIS is The Pinkprint."
And so The Pinkprint turns out to be something that the wacky, antic "Anaconda" did not at all forecast: It is a breakup album. Or maybe, more accurately, it is the bad bitch's breakup album — a candid document of the ambivalent feelings and unexpected complications that can arise from female ambition, power, and success. "I can't fall for you, can't give my all to you, can't let you think that I'mma let the game stall for you," she raps on the affecting "I Lied," a song about letting defenses fall a little too late and accepting full responsibility for it. The fact that The Pinkprint tackles themes of guilt, disappointment, and even dependency actually makes it feel more feminist than the more one-dimensionally "empowering" songs on Pink Friday; sometime between then and now, Barbie has become a real girl. In this sense, it feels like a spiritual sister to Beyoncé's self-titled album, another record mature enough to chronicle moments of confidence and questioning with equal insight.
For all her over-the-top personality, I almost always like Minaj best on a minimalist beat, à la Pink Friday's "Did It on Em" or Roman's great single "Beez in the Trap." Minaj has the kind of charisma that infects the silence around her; there is more character in a Nicki Minaj pause than in any word that Iggy Azalea has ever uttered. The Pinkprint, wisely, is her quietest album, and the barely there beats of "Feeling Myself" (her "Flawless Remix" sequel with Beyoncé) and the gleefully goofy "Want Some More" allow her delivery to take front and center. The Pinkprint's mutedly menacing vibe is used to greatest effect on "Get on Your Knees," a wickedly enjoyable ode to female sexual power on the chorus of which Ariana Grande plays a dominatrix to shockingly convincing effect.
Like Roman Reloaded, The Pinkprint adheres to a pretty blatant division between "rap songs" and "pop songs," and the back half is loaded with a few half-assed attempts at a radio smash: The snoozy "Starships" rewrite "The Night Is Still Young," the maudlin Skylar Grey collaboration "Bed of Lies," and the tepid single "Pills and Potions." Still, this is the first Minaj album on which these songs feel logical in the overall structure of the album — there is at least some kind of arc here. After the opening confessional numbers, the later pop songs feel like attempts to pick up and move on, to shake off some of the hurt with a crazy night out. "Anaconda" remains one of her worst singles, but in the context of the album, it feels slightly recontextualized as a DGAF post-breakup anthem.
The Pinkprint isn't perfect, nor is it unquestionably great, but it does feel like the most cohesive artistic statement we've heard yet from Minaj, an artist who up until now seemed uninterested in cohesion. Of course, it won't please everyone; no Nicki Minaj album possibly could. I was talking about The Pinkprint with a friend this weekend who on the first few listens found it underwhelming. "I just wish she would have also put out a short, rap-only EP this year and shut everybody up," she said. But I said that, even if Minaj didn't package it as such, she basically did this: A playlist containing Minaj's great, recent non-album singles "Yasss Bish!!," "Lookin' Ass," and "Chiraq," along with her PTAF's "Boss Ass Bitch," Rae Sremmurd's "No Flex Zone," and Young Thug's "Danny Glover" would serve the same purpose. Nicki Minaj is probably not destined to be remembered as an album artist, but that's fine. Hip-hop culture is moving pretty rapidly away from the supremacy of the Great Album anyway, as up-and-coming artists favor short, easily digestible EPs and established names like Drake use Soundcloud to release a continuous stream of material outside the album cycle. Minaj has been ahead of her time in regards to this transition, but I've come to see her many contradictions as strengths rather than weaknesses. As multifaceted as The Pinkprint is, it's still just one side of her.
*This article appears in the December 29, 2014 issue of New York Magazine.