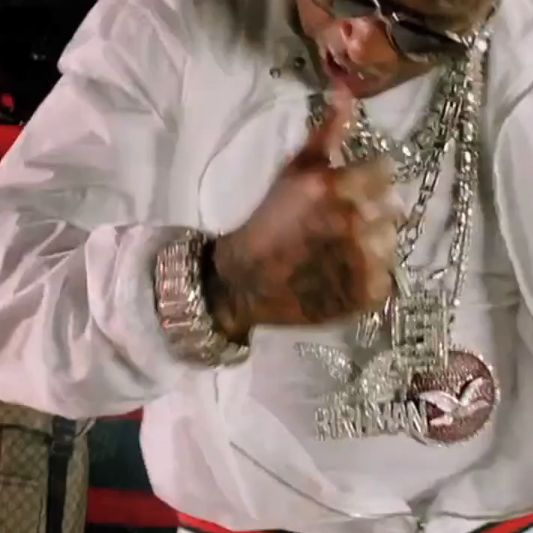 Still from Raashad Newsome's "Conductor," 2013. Courtesy of Rashaad Newsome Studio.
Photo: Courtesy of Rashaad Newsome Studio.
What makes music "epic"? Artist Rashaad Newsome has been pondering that question with his latest art video, which makes its debut at Miami's SELECT art fair tonight and features a soundtrack comprised of a remix of Carl Orff's "Carmina Burana." Described by New York Times critic Anthony Tommasini as "a human cry against cruel fortune," the choral and orchestral work features one section, O Fortuna, that's become so synonymous in media with full-blown impending doom that it's now almost a pop-culture joke — cued up whenever the judges make their entrance on The X Factor, whenever Shrek heads to a bookstore, and whenever actors, in a slow-motion montage, bite into things covered with chocolate spread in a Hershey's commercial.
Newsome was fascinated by the way "Carmina Burana"'s larger-than-life narratives overlapped with narratives found in hip-hop. Orff's piece, he said "is based on these pagan poems that are about the sinfulness of wealth, drugs, gambling — and about the rise and fall from greatness." He added: "Knowing that this incredible piece of music that has been celebrated for over a century in some way mirrors music from my area and my community was really satisfying for me."
Making art out of those connections, Newsome surveyed staff at Hot 97 and 105.1 to see who the most epic emcees of all time were. He then analyzed video clips of the emcees' performative gestures onstage and in music videos and timed them to Orff's piece. The results: a six-part video displayed in the round tonight at SELECT, along with a live performance by Mykki Blanco.
"A lot of my work plays with so-called high and low culture," said Newsome, who's become well-known in New York City for his art about vogueing culture (including his annual King of Arms vogue ball, which this summer was staged Riverside Park). And his next show immediately after Miami — at New York's Marlborough Gallery — continues his own unique mission to merge high and low. For that exhibition, which opens next week, Newsome's created video that juxtaposes baroque architectural references with street dance: "There are voguers in the piece, but I also I worked with breakers and pole dancers. I wanted to work with all these rogue dance forms that are not as celebrated the way that modern contemporary dance forms are celebrated — and inject them into the conversation about architecture, which is a very high-art idea."
A video preview of Newsome's work, Icon, is here: