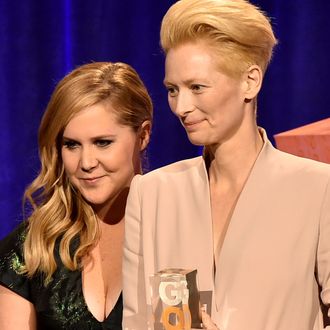 Two peas in a (space) pod.
Photo: Theo Wargo/2014 Getty Images
Amy Schumer presented the otherworldly Tilda Swinton an award last night at the Gotham Independent Film Awards, and who knew they were such BFFs? Swinton co-stars in Schumer's upcoming movie, Trainwreck, but clearly a buddy comedy has to be written around these two. Schumer's ode to Swinton is wonderful:
Tilda motherfuckin' Swinton. Why am I even allowed to say her name? This is ridiculous. I wrote a movie last year, and one of the roles was for my fiercely powerful and elegant boss, and in the character description, I just wrote, "Diana, a goddess, like Tilda Swinton waiting at a baggage claim." Because once I saw Tilda at JFK at the baggage claim, and her just standing there was one of the most beautiful, powerful sights I have ever seen. I just plainly stared at her. It looked like she was on an ice slab, just, like, leading soldiers into a battle. She was waiting for her Tumi bag to come around. And I didn't think in a million years that Tilda would do it, but she did, and she's an actual angel.

The first time I remember noticing her was in the movie Vanilla Sky. I was, like, Oh shit, who is that? What a badass. Just watching her actually makes you feel stronger. She can scare the shit out of you and break your heart and give you a boner all at the same time. Even off-camera, her presence reminds me of a preacher that travels around the country, but instead of touching your forehead, she just looks you in the eye, and you feel somehow saved. And she doesn't do it for money, and it's not religion. This was not a good example, I'm realizing. And I just watched the movie Leap of Faith, sorry.

But The Deep End, The Beach, Narnia, Orlando … I'm just listing places that I want to go this year. I love Orlando. She has 53 awards, including an Oscar for Best Supporting Actress in Michael Clayton, and has 64 nominations. I think the numbers are going up as I'm speaking. Also, have you seen I Am Love? Have you seen that? She speaks Italian with a Russian accent. I'm just trying to get rid of my Long Island one. This year she appeared in the Grand Budapest Hotel, Only Lovers Left Alive, and Snowpiercer. Did you see Snowpiercer? Her character was written as a dude, and she was, like, "You know what? Just leave it. Have them call me 'sir.'"

She's without question one of the greatest actors of our time, but honestly, who gives a shit? Have you hung out with her? She's the greatest friend you will ever have. She is the coolest. Hanging out with her makes me furious at everyone else I've ever met that they are not her. There's no way to describe what it's like to spend time with Tilda Swinton, other than, like, saying it's life changing and heart stopping. And right now, you're like, OK, relax Schumer, she's not going to fuck you. But, like, Fuck you. She is that awesome. That someone can be that present and selfless, and still someone that you'd want to drink Scotch with till you black out. That is a real lady.

You shake her hand, and you meet her, and ten minutes later she's inviting you to stay with her and the twins and their pet, like, horses or whatever, in their mysterious beach water castle in Scotland. With Tilda you are instant family — the family you wish you had. And you know she's not blowing smoke up your ass, because there's literally nothing you can do for her, unless she wants to get booked for a weekend at the Funny Bone in Bloomington, Illinois. And I can hook you up. When my sister and I bring her up, we take a moment, and cover our hearts, and look up. She'll say, "I got an email from Tilda," and we both just kind of take a moment. What I'm saying is she's so kind, and caring, and egoless, and strong and humble and lovely, and so giving, on and off-camera. Getting to be in scenes with her is the greatest thing in the world, but getting to be her friend is a privilege beyond my wildest dreams, and I love her. She's everything.
And now you can watch the video: