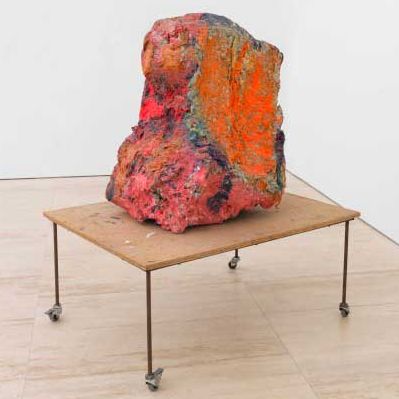 Franz West, "Element of the Environment – Alpenglühn," 2001. Papier-mâché, plaster, gauze, paint, metal, and wood on wheels, 37-3/16 x 32-11/16 x 35-1/16 inches. Photo: Adam Reich/courtesy of David Zwirner.
Photo: Adam Reich
Franz West
David Zwirner, 537 West 20th Street
Through December 13
One night in Chicago, a few years ago, late at night, at a table of well-known international museum directors and curators, the art dealer David Zwirner recounted his own genesis story, the massive, dark, negative gravitational event that made him transform his already-big gallery into a megagallery, explaining in passionate terms that after the late, great Austrian artist Franz West left him for Larry Gagosian, Zwirner swore that "this would never happen again" and that he "would grow as big as he had to to keep artists." Then he challenged anyone at the table to disagree, which I did, saying that while West was a tremendous artist, he was also a serial gallery-leaver, that he had been with many galleries and had he not died first he might have left Gagosian for yet another gallery, and that at this point in their growth cycles there was no longer any real difference, except that of degree, between Gagosian and Zwirner, which caused my old compadre David to almost lose his shit on me. Zwirner's current massive exhibition of West's work from the 1990s — a crucial consolidating period for this wildly all over the place, incredibly influential, and still-fresh-feeling artist — finds Zwirner spreading his megascent all over West, and West looking fantastic for it (especially in the first two galleries of small pedestal works, almost as good in two more galleries devoted to wall works and other sculptures, and then sort of terrible — the way West was wont to do when not reined in a little — in the last gallery, with large standing sculptures of faces).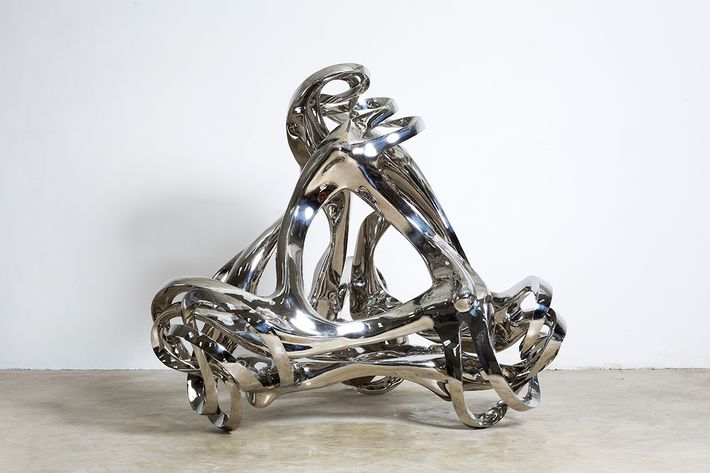 Saint Clair Cemin, "Myth and Math"
Paul Kasmin Gallery, 293 Tenth Avenue
Through December 23
Saint Clair Cemin's highly produced, super-polished, large-scaled biomorphic and geometric sculptures recall either mid-century abstract sculpture, Henry Moore knockoffs, abstract Bertoia chairs, or shiny giant gadgets and toys. His technique is off the charts and refined, and his thinking is cosmic, with quotes like "I believe that the Productions of Time are also in love with Eternity, and the result is Myth." But while the heady title of his show, "Myth and Math," signifies that this established artist has a lot on his mind, none of it adds up to much more than derivative decorative sculpture made for collectors and atriums, older forms without adding anything new.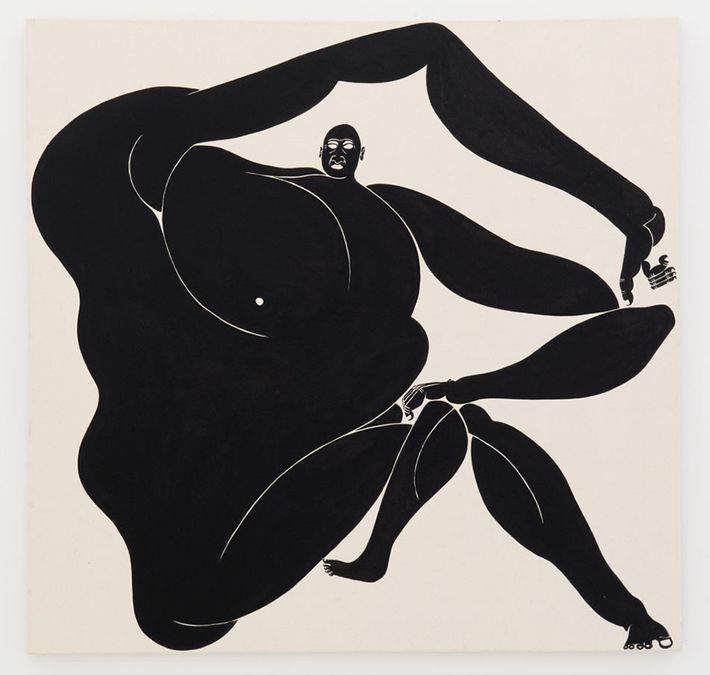 "Early Man"
The Hole, 312 Bowery
Through December 28
Other than the great name and the always-edgy, underground, do-as-we-want attitude of this important gallery on the Bowery — run by former Jeffrey Deitch director Kathy Grayson, who has discovered her fair share of excellent artists and is always good for exhibitions roiling with righteous indignation and great activist politics — the Hole excels when showcasing a kind of gnarly-deviant figurative painting. The press release for this very good show of mostly painting (titled "Early Man") gets to the nub of things right off the bat, talking about "first artworks made by humans exist in a context-less void where artistic intention is indeterminate." Among the very impressive work included is a fabulous Day-Glo painting that turns into a face that turns into a magic spell by newcomer Austin Lee (who debuted to such excellent effect at Postmasters last season), some small-scale gaudy beauties by Bjarne Melgaard, a wonder sculpture in the window by Theo Rosenblum, some recent wild-style knockouts by Katherine Bernhardt (who has been killing it every time out of late), and, most intriguing, a wall of Greek ceramic-painting style meets Japanese anime meets something two-dimensional and monstrous by Giovanni Garcia-Fenech, whose work I hadn't seen but now yen to see more of, soon.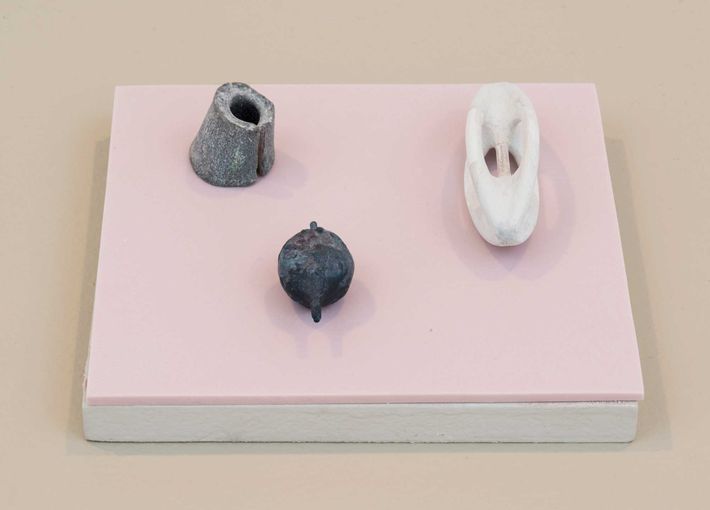 Matt Hoyt
Bureau, 178 Norfolk Street
Through December 21
True story: In around 2000 artist Marilyn Minter told me to see the work of one of her SVA BFA students Matt Hoyt at the school's gallery then on Wooster Street, where he was exhibiting what I remember as teeny objects that looked like mouse tails, maybe rodent jawbones, little animal feet, putty nuts, possibly some seeds made of plaster, and all in half-sized shoe-box things, in taxonomical compartments, as if they were little portable museums or the tools of a traveling shaman, possibly a reliquary, or library of possible morphogenic sculptural forms. Whatever I was looking at I was instantly smitten and tried to contact the artist (just as email was picking up steam), and we had a few exchanges in which I wrote to him that even though I do not buy art and am very poor, that I nevertheless wanted to buy — in fact, had to have — one of his works. Sadly for me we never completed a transaction, and I never met the artist, but since Hoyt has emerged as a sculptor whose work has the power and pull of animal architecture, structures that intrigue made of familiar but indecipherable materials, with shapes and forms that have a logic to them and a private majesty but can never quite be unpacked — instead they just make one stare in amazement at works, as in this lovely show, of groupings of things just beyond logic but firmly within reach of wonder and delectation.