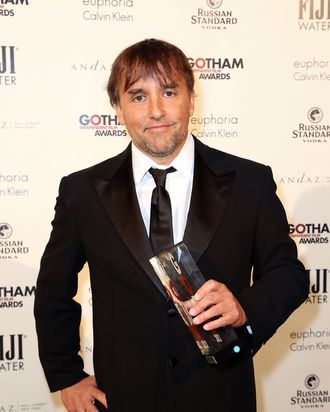 Photo: Monica Schipper/Getty Images
Richard Linklater's forthcoming film That's What I'm Talking About has already been dubbed a "spiritual sequel" to 1993's Dazed and Confused, but the director added in a recent interview that his newest project will also dovetail themes from Boyhood. Talking to Creative Screenwriting, Linklater elaborated:
I just shot it and wrapped it recently, and it has nothing to do with Dazed and Confused other than it would be set four years later, when one of the younger characters went off to college. It's a party film. It's really about the beginning of school, not the end of the school year. I guess personally or autobiographically it's kind of in that realm, but it's also a continuation of Boyhood, believe it or not. I don't know if one film can be a sequel to two different movies, but it begins right where Boyhood ends with a guy showing up at college and meeting his new roommates and a girl. It overlaps with the end of Boyhood.
Deadline reports the movie takes place in the 1980s and follows a college freshman adjusting to party-heavy undergrad life while trying to make and fit in with the school's baseball team. The film, which stars Zoey Deutch, Ryan Guzman, Tyler Hoechlin, Blake Jenner, and Wyatt Russell, should open next year.