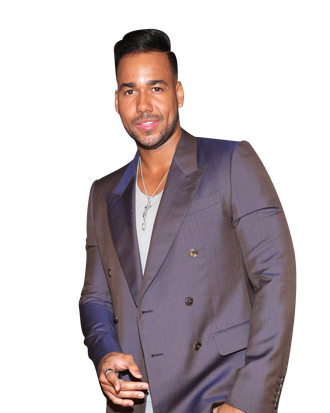 Photo: Alexander Tamargo/Getty Images
It may have come as a surprise to the uninitiated last July when Romeo Santos, the king of bachata, sold out two concerts at his home borough's Yankee Stadium. But any latecomers to the angel-voiced singer's R&B-tinged romantic balladry were only getting clued in to what the Spanish-speaking world already knew: Santos, 33, is one of music's biggest stars — in any language. As if any further proof were needed, this past week, Billboard placed Santos at No. 1 on its Top Latin Artists chart, and gave the same position to his latest LP, Formula Vol 2, on its Top Latin Albums ranking.
Santos, spoke to us about where he's come from and where he's going.
English-language papers are always saying things like, "They don't know who Romeo Santos is below 187th Street." Does that annoy you?
Not at all! Every year, more people that aren't Spanish are learning about me.
Do you feel like you're a New Yorker? A Dominican?
It depends where I'm at. If I'm performing in the United States, I'm able to speak Spanglish, and the crowd comprehends. If I'm in the Dominican Republic or Puerto Rico, then I'm completely Spanish. I feel like a New Yorker that represents all Latinos.
Your song "Propuesta Indecente" has over 500 million YouTube views, but you have an untapped Anglo market. You grew up speaking Spanish and English — why don't you perform in the latter language?
My record label sees so much potential in me to be able to cross over like Shakira, Ricky Martin, Marc Anthony. They think this is what you need to take it to another dimension — perform in English. No! I have nothing against crossing over, but I don't need to change to cross over. I'm not just selling out Yankee Stadium; I'm selling out stadiums in Mexico, in Argentina — with my bachata. I try to stay true to what I do.
Your manager, Johnny Marines, was a New York City cop while he was also working for you. He was actually making arrests while on the phone booking concerts. How did that happen?
We had our group Aventura, and were starting to do well. Guys would do security for us, but most of them were just trying to pick up women. Johnny was very disciplined, very focused. And I felt like, I really trust him, which was the most important thing for me. So I promoted him to manager, and he's been my manager ever since.
You were born Anthony, and your friends call you Tony. Do you think of yourself as Romeo or Tony?
Tony is the family guy. This Romeo character is something I decided to create, like my alter ego. I was extremely shy when I first started in the business. I didn't know how to act onstage, I would sing and keep my head down to avoid eye contact with the audience — that wasn't going to be appealing to women. I noticed these living legends, from Michael Jackson to Prince, they make you feel special; I needed that. So the name Romeo was invented from the original Romeo and Juliet. I wanted to show people I'm like a modern Romeo. I'm romantic but I can also be seductive. I can be cool and charismatic, swagger-type. Onstage, I'm Romeo. That gave me confidence, self-esteem.
So Romeo Santos is intentionally a sex symbol?
My fans love me; they've made me this sex symbol. I don't feel I am, but they feel that way. They find me attractive, like I'm a sexy dude. I try my best to make them believe the illusion. I make them all my girlfriends. I just express to each and every one of them every chance I get that I have millions of girlfriends, my fans.
Bachata used to be thought of as the sappy music favored by your grandmother's generation. As a teenager growing up in the Bronx, is that what kids were listening to?
My dad is Dominican, my mother's Puerto Rican, and I got into bachata at the age of 10 or 11. When I started listening, it had a reputation for being music for hick people. I thought that had to be changed. I was born and raised in the Bronx, and I knew you make something cool if you're cool. My brothers and me, we spoke Spanglish, which was cool. We were very stylish. Before we came along, the youngest bachatero was probably like 25. We were all like 16, 17.
You're collaborating with English-speaking stars like Nicki Minaj, Usher, Drake. Do they help you sell tickets?
I'll tell you like this. I've never, ever, ever promoted a concert with the concept of "Romeo and friends." And every time I've done a press conference, when they ask me, "Who will be there?" I tell them, "No one's going to be there but me." My biggest tunes — "Eres Mía," "Llévame Contigo," "Propuesta Indecente" — they aren't featuring anyone but me.
How was their Spanish, by the way?
You know, honestly, I was amazed. I was worried, you know, when Drake told me, "I want to sing Spanish." I was like, oh boy, let's see, I don't know. Even I have an accent in English, and my world is Spanish, and his world is English. And to hear him, you know, I was guiding him in the studio, and he was a perfectionist. He did a great job. Some people are so naïve to even say, "So does that mean Drake speaks Spanish?" And I had to tell them, "No, absolutely not." He did such a great job that you would think that. Same thing with Nicki.
So where is Romeo Santos in five years?
It's hard to say. I can honestly tell you that it'll definitely be in this business, because it's what I do best and it's what I love to do. It's my life. But, you know, I don't know. I definitely visualize myself — I don't know if [in] five years, it might be a little too soon, but I do see at one point me being more behind the scenes and just producing other talents. To be able to create, to produce. It's fascinating to me.
You once described your ambition as "just trying to take over the world." Do you still feel that way?
Yeah, I always feel that way. That's my goal. To get the world to know who Romeo Santos is. His music. My music. Even if they don't like it, I want them to know who I am.