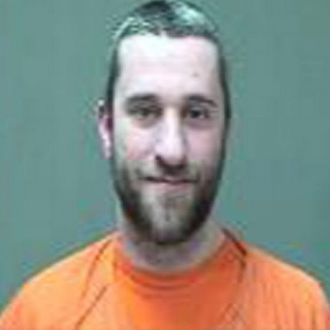 Screech's grainy mugshot.
The actor Dustin Diamond — a.k.a. Saved by the Bell's Screech — went and got himself arrested early Friday morning. According to ABC News, Bayside High's most famous nerd stabbed a man with a switchblade at the Grand Ave. Saloon in Ozaukee, Wisconsin. He and his girlfriend, Amanda Schutz, then left the bar in their SUV, but the police picked them up shortly after.
From ABC:
Diamond told police that at the bar, "there was a group of intoxicated people being rude and insulting." After an altercation that his girlfriend had with another woman, Diamond told police that he saw her bleeding, then he intervened. He did not intentionally stab the man at the bar, but "chaos broke out and people were grabbing at him," the DA's report added.
The 37-year-old (we know!) has been charged with second-degree endangering safety, carrying a concealed weapon, and disorderly conduct. Schutz is also being charged with disorderly conduct. Meanwhile, the victim, who reportedly suffered a half-inch wound under his armpit, is expected to be fine.
TMZ, which claims Diamond fought with his fellow bargoers because they were taking photos of him, has some footage of the moments just before the alleged stabbing. ("Holy fuck, he has a fucking knife," gasps one woman.) It's less weird than his sex tape.