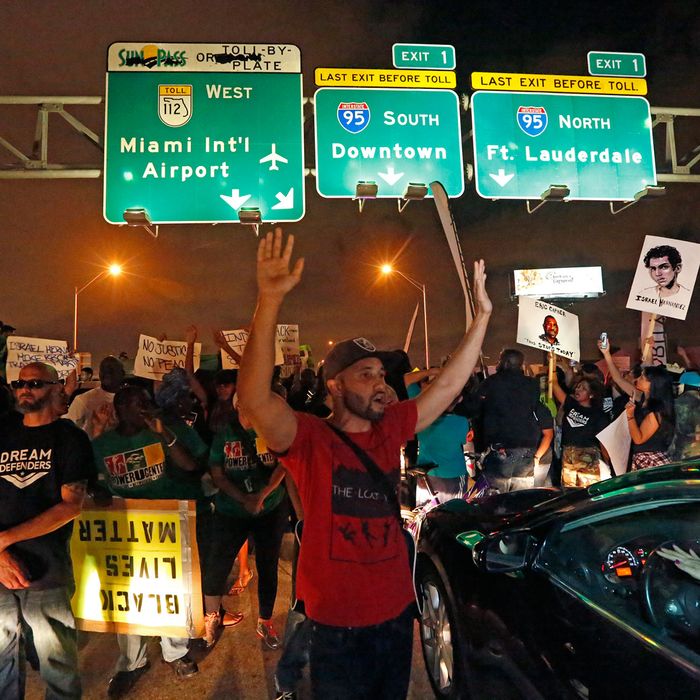 Protestors in Miami on Friday night.
Photo: Miami Herald/2014 MCT
A$AP Rocky was partying with Aaron Young. TV on the Radio was playing at the Miami Iron Side. James Blake crooned for the YoungArts Foundation. And yet Miami's most important event of the night was not one of the many magazine-, luxury-brand-, or gallery-sponsored soirees that raged until dawn but rather the local Shut It Down protest, which is part of a string of protests happening across the nation. For Miamians, it wasn't just about the injustice of a grand jury's recent decision not to indict officer Daniel Pantaleo, who was involved in the chokehold that led to the death of Eric Garner, as well as what has developed in Ferguson in recent weeks. In August of last year, a teenage graffiti artist named Israel "Reefa" Hernandez Llach suffered from sudden cardiac death after being Tased by a Miami Beach police officer. Again, the officer wasn't indicted. That Reefa was a graffiti writer is significant. And with the city in full swing celebrating Art Basel Miami Beach, the protesters channeled their rage toward the weeklong event that is primarily focused on the kind of privilege and consumption only available to the 1 percent. Even we at SEEN can be the first to admit how easy it is to be consumed by the lavish parties and significant spending at the fairs.
Their mission was to stymie Art Basel by cutting off access to I-195, the highway that connects the Miami Beach island to the city of Miami. The protests began at 5 p.m. in Midtown and included some several hundred protestors, who stormed the ramps to the causeway, preventing traffic from leaving or entering the island. At around 8 p.m., the protestors then laid down on the street of North Miami Avenue for five minutes of silence for Reefa, leaving the protests to end at around 9 p.m. As Hashim Benford, a member of the Power U Center who publicly addressed the crowd, said: "Miami has never been shut down like we shut it down. Tonight we shut down Art Basel."