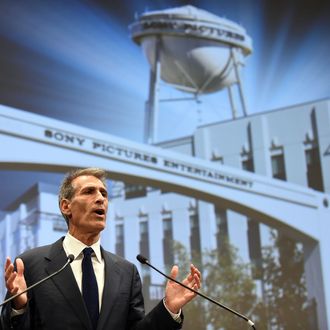 Michael Lynton.
Photo: TOSHIFUMI KITAMURA/AFP/Getty Images
Sony is having a terrible month. Following a devastating string of film and document leaks, Sony executives on Tuesday night confirmed the veracity of the compromised assets in a staff-wide memo. Variety obtained a copy of honchos Michael Lynton and Amy Pascal's email, which added that the mysterious cybercriminals who targeted the studio's computer systems probably still have their employees' personal information:
The privacy and security of our employees are of real concern to us, and we are deeply saddened at this concerted effort to do damage to our company, undermine our morale, and discourage us.  … While we are not yet sure of the full scope of information that the attackers have or might release, we unfortunately have to ask you to assume that information about you in the possession of the company might be in their possession.  While we would hope that common decency might prevent disclosure, we of course cannot assume that.
The execs said they are working with law enforcement to get to the bottom of the attacks that disseminated illicit cuts of almost half a dozen of the studio's forthcoming films, as well as the personal data of thousands of employees. Earlier news reports pointed to North Korea as having potential involvement in the hack attack because of the country's outrage over the James Franco–Seth Rogen comedy The Interview. As of now, however, the identities of the hackers, dubbed Guardians of Peace, have not been revealed. Unfortunately, as Mashable's Christina Warren pointed out, this isn't the first time Sony endured a brutal hack, and the studio's IT policy could use some work.
To make matters worse for the studio, Deadline reported that three class-action lawsuits involving an alleged anti-poaching and wage-fixing conspiracy with two of Sony's animation divisions and other heavyweights have been lumped into one big complaint. Pixar, Lucasfilm, DreamWorks Animation, the Walt Disney Company, Blue Sky Studios, ImageMovers LLC, and ImageMovers Digital LLC are named as co-conspirators.
The fixing allegedly began when a handful of animation-studio heads were displeased to learn about Sony's competitive compensation and recruitment efforts, according to the documents. After restraining wage practices, the studios involved proceeded to agree upon compensation ranges.
Then: "Pixar's top human resources executive emailed six direct competitors with the future amount that Pixar would be raising salaries and then requested the same information from the other studios," according to the filing. "Similarly, despite his concern that it was 'taboo' to do so, DreamWorks' Head of Production Technology emailed the heads of human resources at Pixar, ILM, Sony Pictures Animation, and Disney in January 2009 to learn how they handled overtime — an issue that was competitively sensitive in an industry where workers are regularly asked to work dozens of hours of overtime a week."
Deadline added that the filing seeks a jury trial as well as reclassification to a class action that could grow to thousands of employees — many of whom were essentially deprived of money while the films they worked on amassed no dearth of cash.